Bollywood News
Shahid Kapoor's Wife Mira Rajput Spotted Outside the Gym in a Slogan Tee Shirt
Like husband Shahid Kapoor, Mira Rajput is also a fitness enthusiast. She is regular the gym and is often spotted working out. It seems that Mira Rajput is all set to shed away her baby fat after son Zain Kapoor.
Shahid Kapoor and Mira Rajpoot got married in 2015. This marriage came as a surprise for most of the people because the Bollywood hunk was one of the most eligible bachelors of Bollywood. After a string of relationships with the Indian film actresses including Kareena Kapoor and Priyanka Chopra, everyone expected Shahid Kapoor to marry someone from the film fraternity. However, Shahid Kapoor decided to go for an arranged marriage with a Delhi girl Mira Rajput. Most of the people had no idea who she was until Mira Rajput married Shahid Kapoor.
Mira Rajput had no interest in Bollywood
The 21-year-old English literature student was not even remotely interested in or related to Bollywood. According to Mira Rajput, she was not a Bollywood buff and hence did not know much about Shahid Kapoor. During the time of their engagement, Shahid Kapoor was shooting for 'Udta Punjab'. In an interesting interview, Shahid Kapoor revealed that Mira had laid only one condition for marrying him which was getting his hair and beard trimmed for the wedding (which he sported at that time for the character he played in Udta Punjab.) Soon they had two children: Misha and Zain.
Mira Rajput outside her gym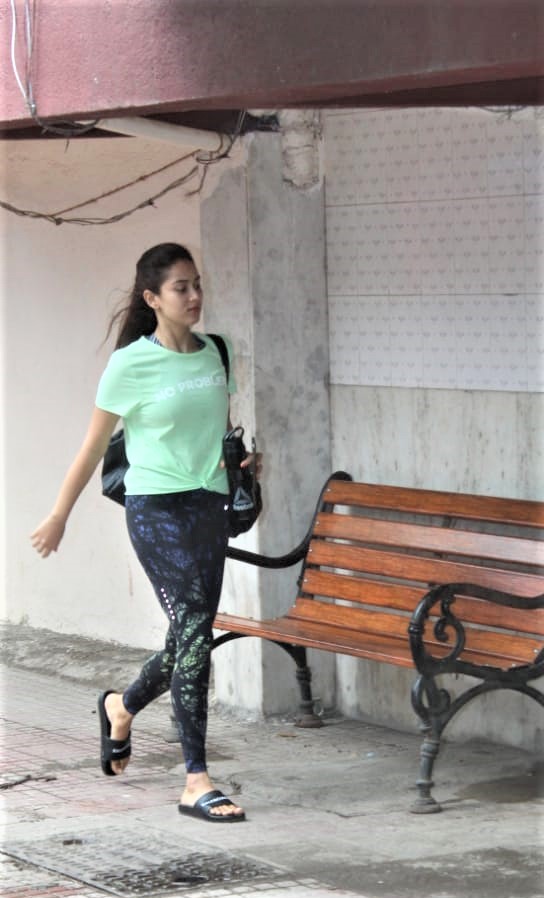 Mira Rajput
As everyone knows, Shahid Kapoor has always been a fitness enthusiast. Shahid Kapoor has always been particular about his strict vegetarian diet and workouts. Shahid Kapoor was such a strong influence on Kareena Kapoor in terms of diet that she has been a vegetarian since then. Mira Rajput also seems to be inspired by husband Shahid Kapoor when it comes to fitness. The couple also works out together at times. Mira was recently spotted outside her gym wearing a slogan pastel green tee shirt and printed yoga pants with black slides. According to Shahid Kapoor, Mira initially had a problem dealing with the constant media attention but now she is fine with it.