Bollywood News
Shah Rukh Khan and Aamir Khan Click a Selfie With PM Modi, Break The Internet
Shah Rukh Khan, Aamir Khan and PM Narendra Modi come together for an event, hosted by the PM and Twitter has a lot to say about it. Check out some of the comments below.
It's not a usual Saturday night until something massive breaks out. Prime Minister Narendra Modi, Shah Rukh Khan and Aamir Khan among other Bollywood stars came togther for an event which focused on inviting the film industry to create films and television shows that popularise Mahatma Gandhi and Gandhism, to mark the 150th birth anniversary of India's founder.
"Gandhi is synonymous with simplicity. His thoughts reverberate far and wide. The power of creativity is immense, and it is essential to harness this spirit of creativity for our nation. Several people from the world of films and television have been doing great work when it comes to popularising the ideals of Mahatma Gandhi," noted Prime Minister Modi.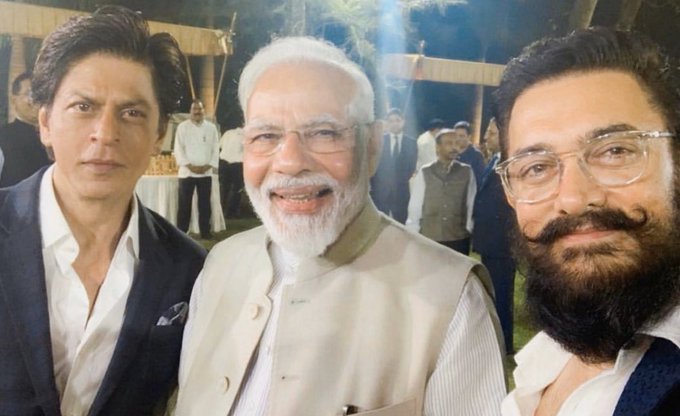 The PMO (Prime Minister Office) Twitter handle shared a video where the Bollywood's superstars are appreciating  Modi for the initative. 
"I would like to thank the Prime Minister for bringing us all together, that too for a cause such as this. I feel we need to re-introduce Gandhi ji to India and the world. The film industry can get self-obsessed and it is important we create work that is not only about business," said Shah Rukh, about the need of the industry to come forward and make films on Gandhi that can help in the nation-building process.
Said Aamir, about the interaction session with the Prime Minister: "It was a wonderful interaction we had with the Prime Minister today. He was very inspiring, very warm and very deep in what he had to say. I want to appreciate the PM for thinking about this effort. As creative people, there is much we can do, and I assure the PM that we will do even more."
Twitter had a thougth or two about the meet up. While some joined the bandwagon of praising PM Modi, other criticised the actors for being a part of 'the drama, perpetuated by the government.'
State of it.....lol. https://t.co/6VH8WDS9vS

— Maganlal (@Maganlal1303) October 19, 2019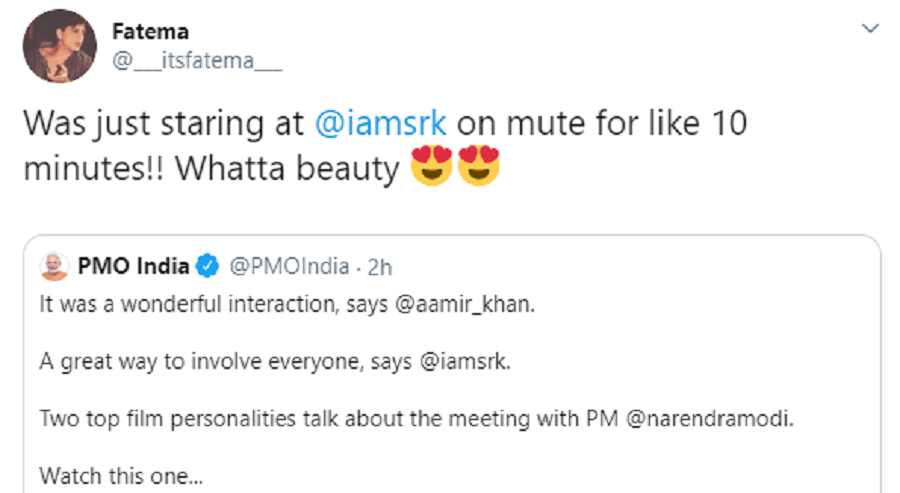 Shahrukh Khan and Aamir Khan have been cancelled. https://t.co/9zSG9jKNPv

— Kunal (@SoFlaneur) October 19, 2019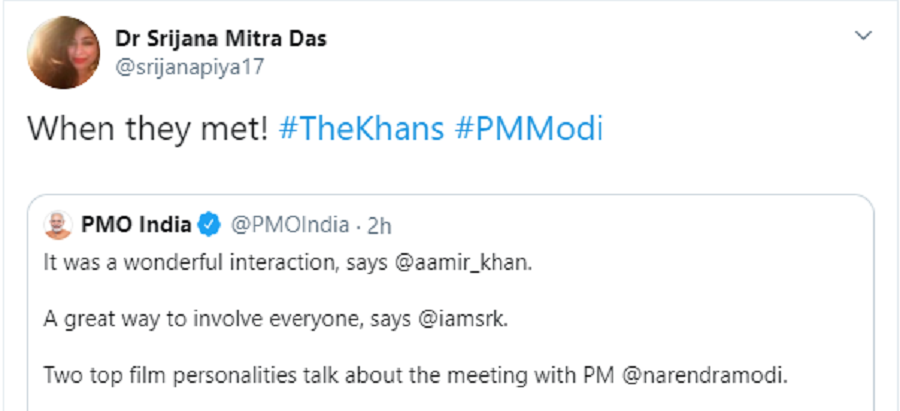 just Faking it! https://t.co/aGGokBHBx0

— Setul (@Setul) October 19, 2019
Is it me or they look like they're at an utter loss of words?
Either way, utterly spineless.@iamsrk You're talking of countering self-obsession by creating 'suitable content' at the behest of a megalomaniac?

Brilliant.
It is true. You are rather self-obsessed. https://t.co/5R8nNR2syg

— Sidrah (@SidrahDP) October 19, 2019
Was just staring at @iamsrk on mute for like 10 minutes!! Whatta beauty https://t.co/c1qC0iIudH

— Fatema (@___itsfatema___) October 19, 2019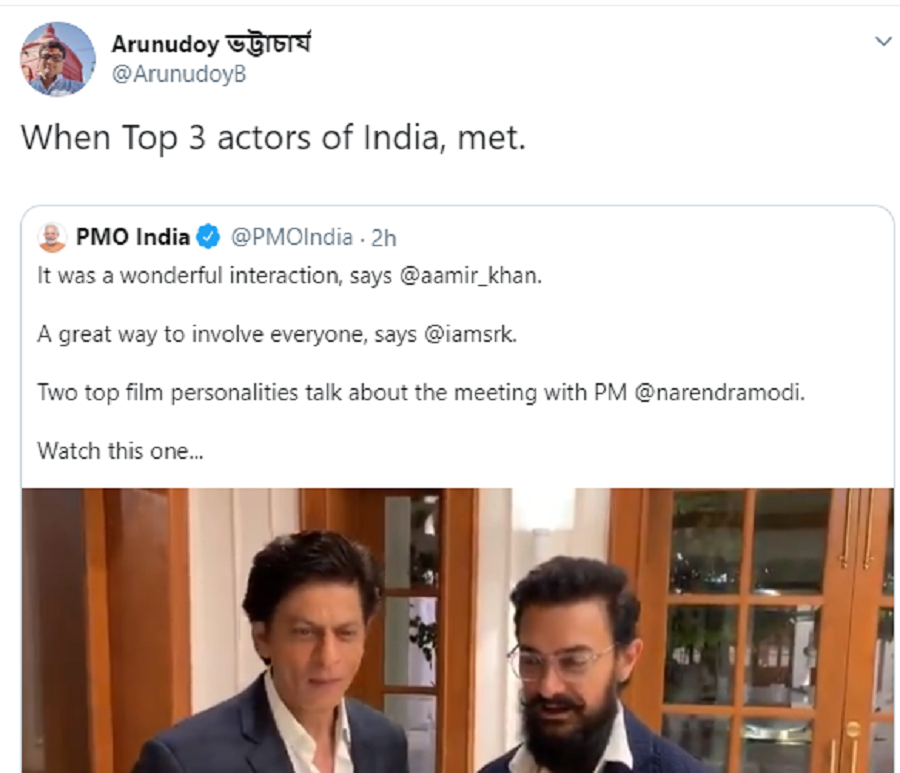 Bahut Badiya... After film industry's box office is main factor for betterment of our #IndianEconomy https://t.co/zAdMKT95Nh

— Mr.stranger_.18 (@patilakaash18) October 19, 2019

Two top film personality's

Caption https://t.co/82GKYol5oY

— Sabse bade star ka Fan (@iamvijay79) October 19, 2019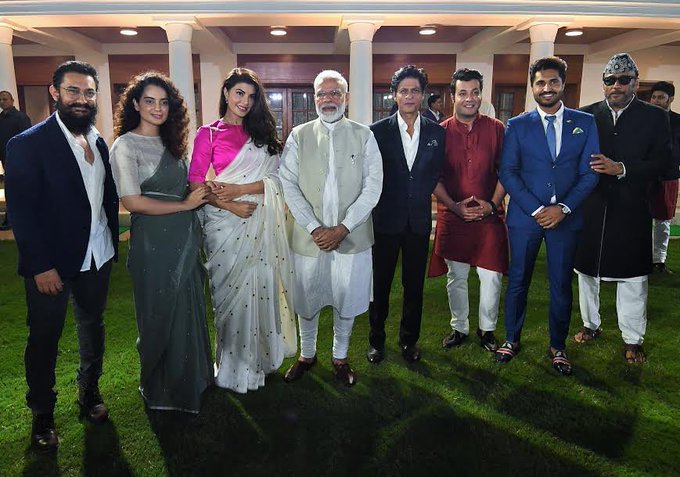 Spotted at the occasion were several eminent stars and filmmakers, including Shah Rukh Khan, Aamir Khan, Kangana Ranaut, Jacqueline Fernandez, Imtiaz Ali, Ekta Kapoor, Anurag Basu, and Boney Kapoor.