Celebrities
Scooter Braun Pens Public Plea to Taylor Swift After Receiving Anonymous Death Threats
Taylor Swift has been embroiled in the longest feud with her former label's head Scooter Braun. He has now posted long note on Insatgram and urged Swift to end their nearly six-month dispute
Singer Taylor Swift has been embroiled in the longest feud with her former label's head Scooter Braun. Earlier this month, she accused Braun – who purchased Big Machine Label from her – for "exercising tyrannical control" over her. She also accused him of blocking the inclusion of some of her songs at Sunday's American Music Awards and in an upcoming Netflix special. Braun denied the allegations last week, allowing her to singer her old hits and denied ever forbidding her from doing so. Amid the tussle between the two, music manager Braun has now posted a public plea to Taylor Swift on Insatgram, to end their nearly six-month dispute over her music catalog.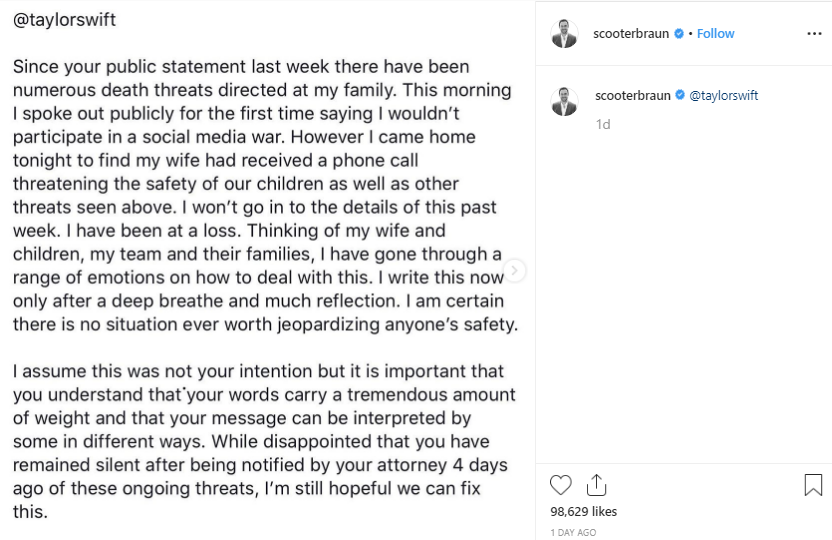 In a long note on Friday, Braun tagged Swift's official profile on the photo-sharing platform and stated that he's been receiving anonymous death threats. "Since your public statement last week there have been numerous death threats directed at my family," he wrote. "This morning I spoke out publicly for the first time saying I wouldn't participate in a social media war. However, I came home tonight to find my wife had received a phone call threatening the safety of our children, as well as other threats."
Don't know what else to do pic.twitter.com/1uBrXwviTS

— Taylor Swift (@taylorswift13) November 14, 2019
Swift left Big Machine Label Group last year and signed with Universal Music. Swift appealed to other musicians and her fans for support in a social media post about the dispute. "Neither of these men had a hand in the writing of those songs. They did nothing to create the relationship I have with my fans. So this is where I'm asking for your help. Please let Scott Borchetta and Scooter Braun know how you feel about this," Swift wrote. But Big Machine Label Group has denied her claims. "Taylor Swift can 100% perform all of her catalog, past and present, on the AMAs," a representative for the company said in a statement. "Big Machine has no issue with her performance going out on the live broadcast, because it recognizes it doesn't have the right to block her." Braun has said he has asked to meet with Swift to resolve their issues.