News
Sati Achath – The One Man Entertainer That's Been Featured in the Washington Post and David Letterman
Hand shadow artist, ventriloquist, musician, cartoonist – Sati Achath's many talents is a testimony to his passion to seek something new from life everyday
"I am short on time. Twenty-four hours are not enough," smiles the soft spoken Sati Achath describing a day in his life. You have to believe him. After all, he is a man of varied interests and several passions. On the career front, he is a high ranking World Bank official – a Project Evaluation Specialist that leads him to travel around the world to examine and evaluate WB ventures. But that, in retrospect, is a tiny part of his eventful life. Achath is also a ventriloquist, hand shadow artist, cartoonist, caricaturist, author, magician, saxophone and tabla player – and he approaches each role with equal fervour. So it's perfectly understandable – 24 hours would not be enough for this man to make the most of his many talents. Talents that have led him to being featured on the David Letterman show and articles in Washington Post and Baltimore Post and being recognized by the U.S. Government as a 'Person of Extraordinary Ability'.
Currently, Achath is bringing his talent to the UAE in an attempt to spread the message about his art in newer destinations. "The appearance on the David Letterman show became my passport to life! Even today I get asked about it," chuckles Achath who is taking to social media and adopting newer methods to popularize what are essentially, old art forms.
His art and hobbies define his core but Achath's professional graph has been nothing short of spectacular. He started his career as a banker with the State Bank of India, then worked with the Life Insurance Corporation (LIC) for four years post which he took the Indian civil service exams and got a job with the Indian Revenue Service (IRS). During his stint with the IRS, he worked towards a French scholarship for a Masters degree which took him to Paris. In Paris, he prepared for his GMAT and got admission in a US University to pursue MBA and later, an MS. It was then that he started working for the World Bank, based out of Washington.
Anybody would be happy to focus entirely on a glittering career but Achath took his hobbies alongside him wherever he went.  In fact, the persistence with which he has pursued his talent is inspiring to say the least. Born and raised in Kerala, he learnt the art of making hand shadows thanks to his dad, a government officer who used to practise it with the help of the light falling off a street lamp onto the walls of his house. Soon Mr CK Menon started getting obsessed with creating hand shadows and slowly began to perform it for an audience. His hobby caught the fancy of his young son who used to accompany him on his tours and gradually mastered the art.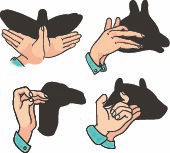 Once he joined the workforce, he started devoting time to it and began giving performances as well. For hand shadows, Achath focuses more on personalities. So from Donald Trump to Mother Teresa, he can create anything with the smart positioning of his fingers against a shadow. "I felt it was a dying art," says Achath. "It needed to be popularized. I then wrote a book Fun with Hand Shadows which got quite a bit of acclaim. People started noticing my art and soon I got calls and emails from around the world."
Around 25 years ago, while still in Washington, Achath got fascinated by ventriloquism and contacted a professional ventriloquist, Steve Myer, based in Baltimore. After six months of training, he was ready to perform on a professional stage. And over the years, he has entertained audiences across universities, offices, cultural organizations and the like with both, his hand shadow art and ventriloquism.
Achath has about 10 puppets most of which he has bought from the USA. "I usually write the script of what I am going to perform but keep adding to it as new ideas come to my mind," he explains the process of working with puppets. "At times I forget I am a person and the object in my hand is a puppet." Achath's puppets have developed a personality of their own. One of them is Kishore, a young naughty boy while there is another one that resembles a politician. One of his favourites is a puppet modelled on a Bollywood actress who he has named Shilpa Kulkarni. In his hands, each of these objects tell a unique and often funny story.
Achath's performances are marked by humour but he says he doesn't go into the controversial realm. So even if he is caricaturing a politician or making a social statement, unlike other comics or artistes these days who make it a point to turn their art into political commentary, Achath prefers to focus on the lighter side of things.  However, his shows are integrated with his other talents – magic, caricaturing and cartoons. So while he is giving a motivational lecture (yes, he is also a motivational speaker and has written books on the subject), he adds  bit of magic tricks (which he learnt on his own), then proceeds to make a caricature and play a bit of saxophone or the tabla as the requirement may be. Simply put, he is a one-man entertainment show indeed!
It was these skills that got him featured in the Washington Post and he sent a clipping of the same to the David Letterman show. Much to his surprise, he got a call and made an appearance in it. Life hasn't been the same ever since.
Two years ago, Achath moved back to Kerala, after the demise of his wife. The familiarity of his roots comfort him while he continues to travel with his shows and work. How does he find the time for his many hobbies? "I am an early riser, so I can manage my time better. Also, I am not in a typical 9-5 job so I have the flexibility and freedom to follow my heart," he says.
More than anything though, it's his own curiosity and urge to learn and upgrade his skills that keep him going. "I am always fascinated by new things. I believe that there should always be something to look forward to in life. I could have led a comfortable but boring life as an IRS officer, not knowing what to do after retirement. Often I have seen people get so engrossed in their job that they don't know what to do afterwards. I didn't want that to happen. These passions of mine keep me motivated to face another day."