Bollywood News
Sania Mirza's son Izhaan is All Smiles at the Airport
Sania Mirza was recently spotted with son Izhaan Mirza Malik at the airport as the tiny tot smiled heartily for the camera.
Sania Mirza and Shoaib Malik were blessed with a son Izhaan Mirza Malik on October 30th, 2018. The couple got married in 2011 after a five-month-long romance. Their marriage came as a major surprise for most of the people and many also did not expect it to stand the test of time. However, the two proved that love conquers all and together have a son who smiles making this world a brighter place for them.
Sania Mirza was recently spotted with Izhaan Mirza Malik at the airport where the tiny tot grinned ear to ear for the paparazzi present at the airport. Sania Mirza could be seen wearing green pants with a black t-shirt that said, 'Eat Sleep Hustle Repeat' while Izhaan was dressed in a yellow track shirt and printed grey pants. Since mummy was holding Izhaan, he did not need to wear shoes.
Sania Mirza often shares cute moments spent with her son on her Instagram. She recently shared a photo where her face was half cropped but baby Izhaan could be seen smiling wholeheartedly as he saw the camera.
On Izhaan's first birthday, Sania Mirza had shared an endearing note with the newborn picture pf Izhaan as he smiled the day he entered the world. Sania Mirza wrote, 'Exactly one year since you came into this world and became our world .. you smiled the first day you were born and continue to spread smiles everywhere you go.'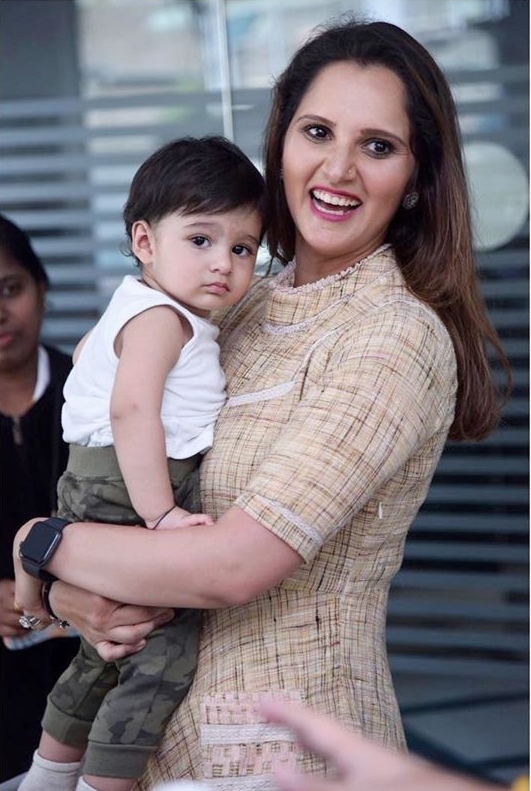 Sania Mirza with son Izhaan Mirza Malik
Sania Mirza has always been vocal about the stereotypes that Indian women have had to battle for generations. She recently spoke about an incident where a fan met him at the airport and asked her where her son was. When Sania Mirza replied that he was home in Hyderabad, the gentleman quoted that she would have been with him. Taken aback by this misogyny, Sania Mirza asked him why he was not with his children at home.