Bollywood News
Sania Mirza Shines Like the Sun in a Yellow Ensemble
Sania Mirza is a famous Tennis start from India who changed the face of sports for young girls in India.
Sania Mirza is one of the most stylish sports [ersonalities in India. The glamorous tennis star became the international sensation during the start of her professional career in 2003 when she won the Wimbledon Girls Doubles title. In 2013, she was declared World's number 1 in both singles and doubles category. She was recently spotted at We The Women Asia Event in Mumbai today. Sania Mirza looked radiant in an all-yellow flowy ensemble with cuffed sleeves and a tight waist. She kept her makeup somewhat soft and her hair tied back. Sania Mirza teamed up her look with beige and golden stilettoes as she smiled for the camera.
Sania Mirza was styled by her sister Anam Mirza who styles her for most of the occasions.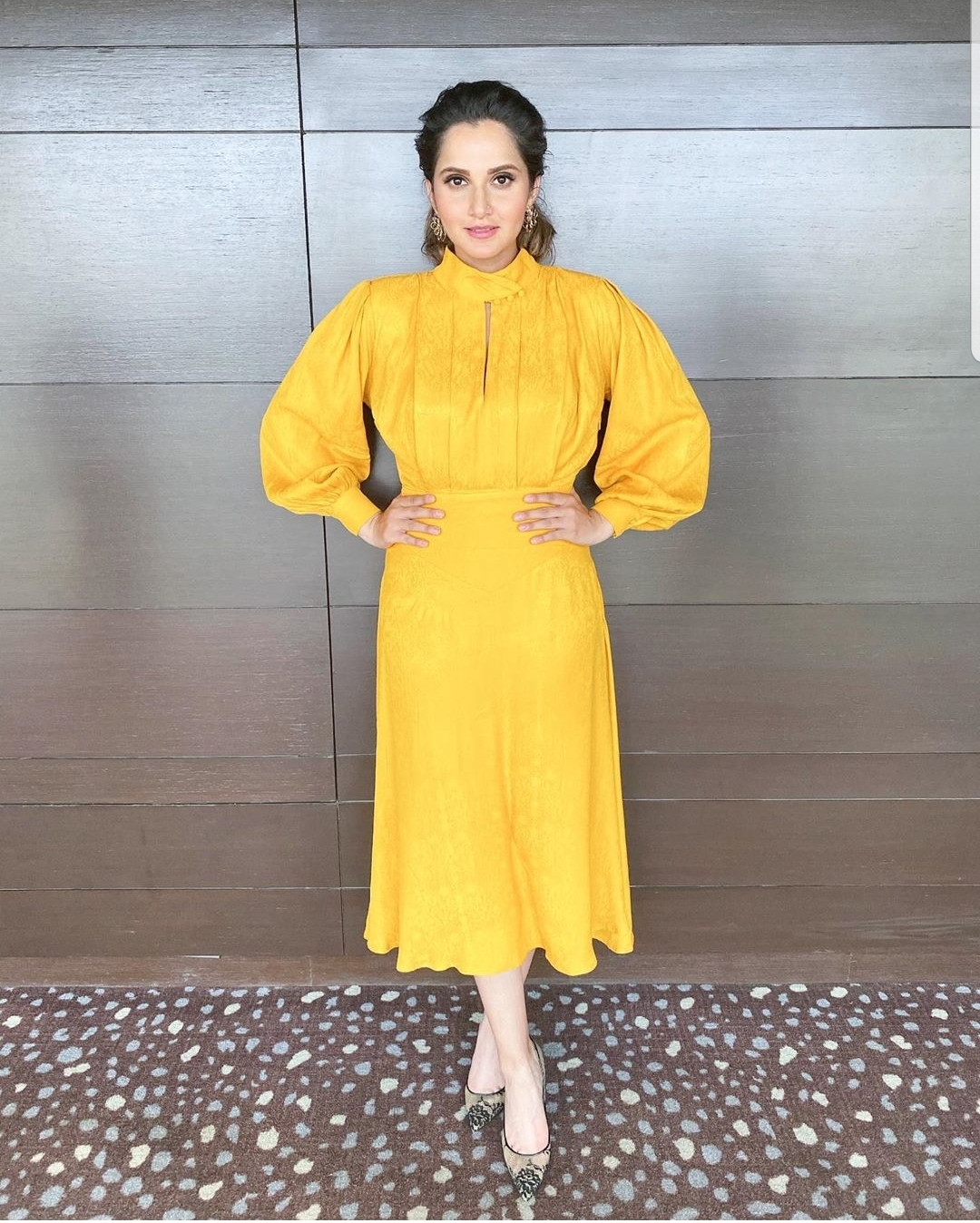 Sania Mirza is back to the ground after a two-year hiatus. She took a break first due to an injury and then became pregnant with her son. Sania Mirza gave birth to her adorable son Izhaan Mirza Malik on October 30th, 2018. Sania Mirza often posts pictures with Izhaan on her social media expressing her love for her one-year-old toddler. Sania Mirza married Pakistani cricketer Shoaib Malik in 20111 and contrary to all the popular beliefs the two have always led a stable and happy marital life.
Sania Mirza was born in Mumbai but the family moved to Hyderabad when Sania was still young. She started playing Tennis when she was only six years old. Sania Mirza was trained by her father Imran Mirza who was a sports journalist. Sania Mirza was raised in Hyderabad and still considers it her real home where her family resides. Sania Mirza has always been vocal about her views and is known to be a steadfast and independent spirited woman. According to Sania Mirza, she was told at the age of eight that no one would marry her if her complexion turned too dark. But she was determined since childhood and hence manage dto make it big.