Bollywood News
Saina Update: Parineeti Chopra Makes Her Comeback on the Badminton Court After Recovering from Neck Injury
Parineeti Chopra suffered a spasm in her neck and spine and was required to rest. She is now back to the grind and will shoot for another sequence for eight hours at a stretch! You go, girl
On November 16, Parineeti Chopra announced that she was forced to take time off from shooting the upcoming biopic on renowned badminton player Saina Nehwal due to an injury. The actor, who does not leave any stone unturned when it comes to going all out with her projects, suffered a spasm in her neck and spine and was required to rest. She was advised by the doctor to not play badminton for at least a week. And now, the starlet is back to filming! She is scheduled to begin shooting for another sequence on Wednesday which requires her to play badminton for eight hours at a stretch.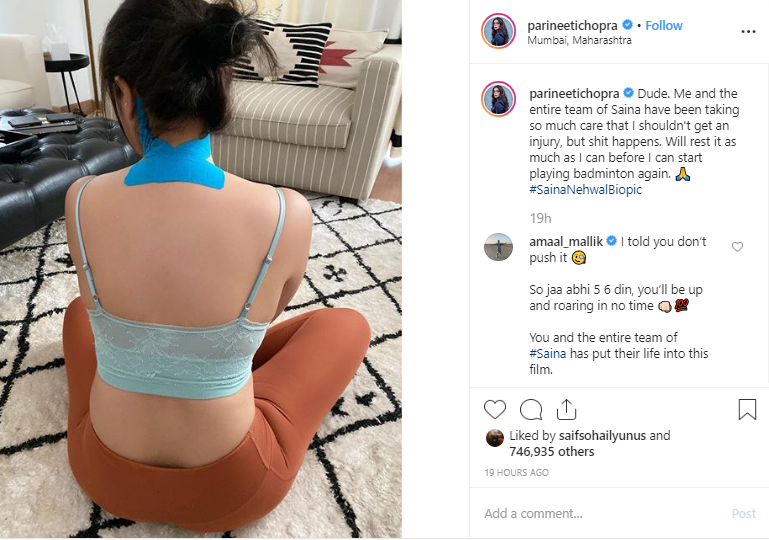 "Yes, this is accurate information. I'm a 100 percent fit now and I can't wait to step into the badminton court and play the game again," Parineeti said in a statement, adding "I thank my entire Saina team for their invaluable support and my medical team for making me heal so quickly and getting me back on court. I'm feeling very positive to pull off the intense shooting schedule that lies ahead of me because it will involve me playing badminton for 8 hours to 10 hours at a stretch. So, I'm glad I'm back to full fitness."
Parineeti Chopra
The biopic, titled Saina, will be directed by Amol Gupte. From living in the stadium for 15 days to visiting Saina's home in Hyderabad for a better feel of the character, Parineeti has gone the extra mile for the role and so, audiences have high expectations from her forthcoming project. Sharing the news of her injury with her fans and well-wishers earlier, Parineeti requested for prayers for her speedy recovery so that she can resume playing the sport. Updating fans about her condition, the Namaste England actor shared a picture on Twitter where she can be seen wearing a blue bandage on her neck. "Dude. Me and the entire team of Saina have been taking so much care that I shouldn't get an injury, but shit happens! Will rest it as much as I can before I can start playing badminton again," she captioned the picture.