Saboor Aly Saheefa Jabbar Khattak Make Fun of Their Assistant Director Cleaning Windows, Social Media Reacts
Saboor Aly and Saheefa Jabbar Khattak mocked someone in their insta story for cleaning windows. It was actually their assistant director Ehsan Sheikh. The internet reacted hence
Social media can be a warzone. A lot of videos, once they go 'viral' take a life of their own and become entities of their own. Some become memes, some fade away. However, some manage to haunt careers and images of celebrities and public personalities for the rest of their lives. As unforgiving the internet is, it is also a tool to teach people how to behave and serve as a learning ground on political correctness. Something similar happened recently on Pakistani social media when actress Saboor Aly (Mom fame Sajal Aly's younger sister) mocked a man cleaning windows on her instastory. Her colleague, model and actor Saheefa Jabbar Khattak, also joined in on the trolling. Television actor Affan Waheed was seen smiling and defending the man cleaning the windows.
Some "artist" called Saboor Aly has ridiculed a window cleaner at her set on her insta story. Safe to say TV media is full of uneducated low lives. pic.twitter.com/KoC3R2eYwA

— Puffin Man (@junaidakram83) May 10, 2019
Social media responded immediately and called out the actresses' behavior and lauded Affan Waheed for standing up for the man. It was later revealed that the man cleaning the windows was the assistant director of the play the trio was working on.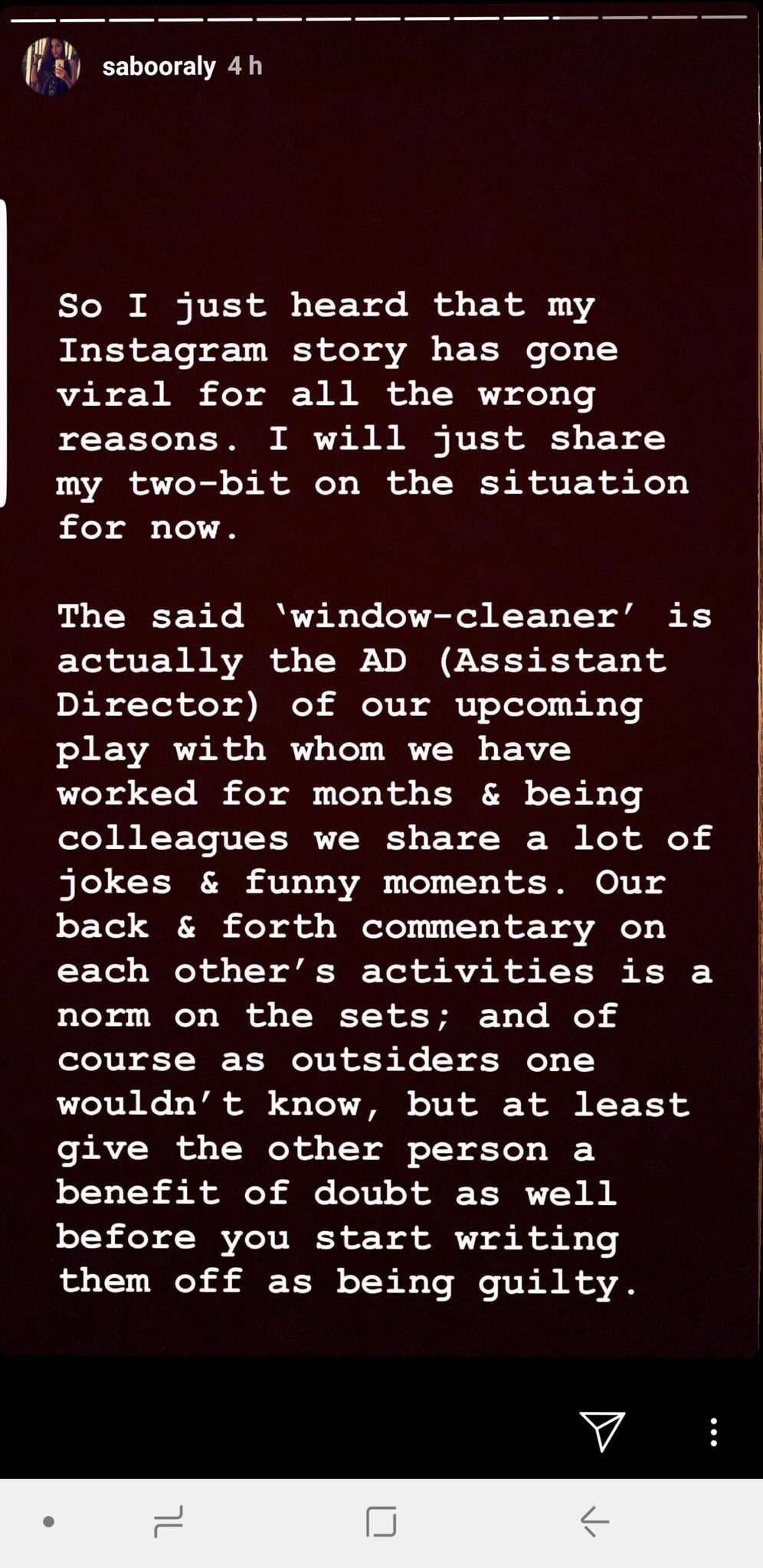 The assistant director, Ehsan Sheikh, had been cleaning the windows and Saboor and Saheefa thought it was an 'inside joke' as Saboor explained later in her insta story. Saheefa Jabbar Khattak also took to her insta story to speak about it in a video where she asked the public not to listen to bloggers since all they want is 'ratings'.
She clarified and said it was not an insult but a joke and specially the person in the said video is AD Assistant Director not a window-cleaner. Can't we give her a benefit of doubt? And if it's true please delete your this tweet.

— Shahzad (@pakistanprobe) May 11, 2019
Earlier it was Yasir Hussain who was in hot water due to his transphobic comments on social media. Yasir had dressed up as a woman for an upcoming play and a user had inquired why they did not choose an actual transgender to essay the role. Yasir had responded pejoratively to the user and made a transphobic comment to the young man saying that maybe he (the user) should have been given that role.
Interestingly, Saheefa Jabbar Khattak had also been trolled on social media for her short hair in a photo shoot and had taken to Facebook to express her grief about being bullied online. "We talk about woman rights and freedom of whatever she wants for her and here in the comments section, people are saying things which should never be said," she had expressed back in 2017. Earlier model Sadaf Kanwal had also come under fire for issuing irresponsible statements regarding the #MeToo movement.
I'm disappointed how Sadaf Kanwal made light of #metoo movement, how I was her fan, how her privilege blinds her to ordeals of sexual abuse victims who find courage to fight the evil, how all this education and exposure doesn't bring empathy, how this is how she uses her impact. pic.twitter.com/XqY4u4Fw55

— Shazia's Dottuh (@maryamful) September 18, 2018
The best path to take in such a situation, perhaps, is to issue an apology and understand the problematic nature of mocking workers and the labor class who is working hard to pay their bills. Whether or not it was an inside joke, a lame attempt at humor or just friends having fun, it still comes off in poor light. Ideally, social media ire on this subject should be of some cause for introspection for the actors. However, based on their current responses, this is seems unlikely. Masala! has reached out to Saboor Aly for a comment and is awaiting a response.