Saas Bahu aur Devrani Stardom Awards: Are Award Shows Trying Too Hard To Be Original?
By Shaheera Anwar Thursday, 07 November 2019
The recently held Saas Bahu aur Devrani Awards had its fair share of some of the weirdest categories that seemed to be rather confusing
Last night saw a grand celebration where some of the biggest stars of television were seen attending the first edition of News18 India's Saas Bahu aur Devrani Stardom Awards. The red carpet were home to a star-studded affair which was followed by  stunning performances and notable winners as the ceremony progressed. Some of the industry's favorite shows, characters and actors won the top honors and fans' favourite Hina Khan was awarded with the Devrani Ki Super Didi trophy. While the evening was high on glitz, glamour and entertainment, the name of the award show along with some of the categories, did strike as somewhat confusing.
Like any other award show, the Saas Bahu aur Devrani Stardom Awards had some of the usual categories that are present in every other award show. Awards for the likes of Best Actor, Male and Female, Best Jodi in a Leading Role, Best Actor Editors' Choice, Male and Female, Best Actor in a Negative Role, Performer of the Year, Best Actor in a Comic Role and Best Child Actor were handed out to their deserving nominees. However, what came next was rather perplexing. With categories such as Devrani Ke Best Jodidaar, Devrani Ki Sachchi Saheli, Best Gruhni Award, Devrani Ki Super Didi, Devrani Ke Social Media Stars, Devrani Ke Best Devar and Devrani Ki Best Devrani, it was quite confusing to figure out what these trophies were meant for.
However, later, upon revisiting the name of the award show, there might be a possibility that it's a special kind of signature award created by the organisation to reward more stars wherein Devrani's Jodidaar meant Most Popular Couple and Sachchi Saheli meant Most Popular Face. In an effort to try and be more original, it seems like award shows might just be losing their worth. And with numerous new award shows coming out each year, the likes of IIFA, Filmfare and other prestigious awards will lose their value as new ones would reward just about anyone and anything without question. The Saas Bahu aur Devrani Stardom Awards had a fair share of its own weirdest award categories, much like last year's Star Screen Awards which were criticised for the same. Last year, Kriti Sanon received the Star Screen Award for Nothing To Hide and Twitter users had lost their cool.
Winners of the Saas Bahu aur Devrani Stardom Awards are as follows: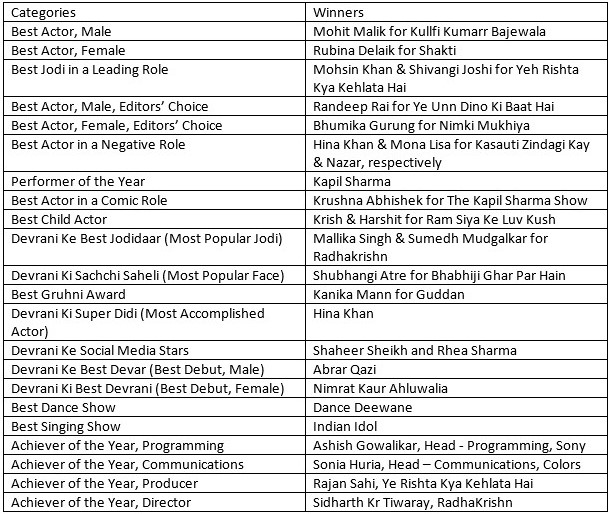 For all the latest Bollywood News and gossip, follow us on Twitter & Instagram, like us on Facebook and subscribe to our channel YouTube. New videos up every day!
Comments