Tips
Rujuta Diwekar, Celebrity Nutritionist's Quarantine Plan: What to Eat During This Period
Rjuta Diwekar is the nutrition guru of many celebrity clients including Kareena Kapoor Khan and she has come up with a diet plan for those in quarantine
Rujuta Diwekar, famous celebrity nutritionist, who was behind Kareena Kapoor's 'size zero' frame, has helped many a celebrity and commoner walk the right path of fitness. Rujuta has not only mentored Kareena Kapoor Khan in her nutrition lifestyle but also many other famous people like Anil Ambani, Alia Bhatt, Varun Dhawan, Shahid Kapoor, Saif Ali Khan, and Karisma Kapoor. She is one of the most vital forces who changed the perspective of healthy eating in India. But what separates Rujuta from a lot of other nutritionists is her emphasis on local food and wisdom in maintaining a healthy lifestyle.
Recently, the nutritionist shared a meal plan in the times of quarantine for common people. Since most of the people are staying home these days and gyms are shut to prevent the spread of the virus,  dietary requirements need to be altered in the healthiest possible way. The 'Quarantine Plan' has been divided into six meals: rising, breakfast, mid-meal, lunch, evening mid-meal and early dinner with some easy yoga practices at home.
According to Rujuta, this meal plan will relieve you from the constant struggle of deciding what to cook and has a balanced proportion of all nutrients not only to keep your body but also the mind healthy. It is a combination of grains, millets, pulses, nuts, and spices. Rujuta is a strong advocate of desi ghee hence all meals are prepared in it to help the body fight the virus with the right quantity of healthy fats. The 'Quarantine Plan' has been compiled from the meal plans Rujuta Diwekar prepares for her clients within and outside India. Take a look at what she has prescribed.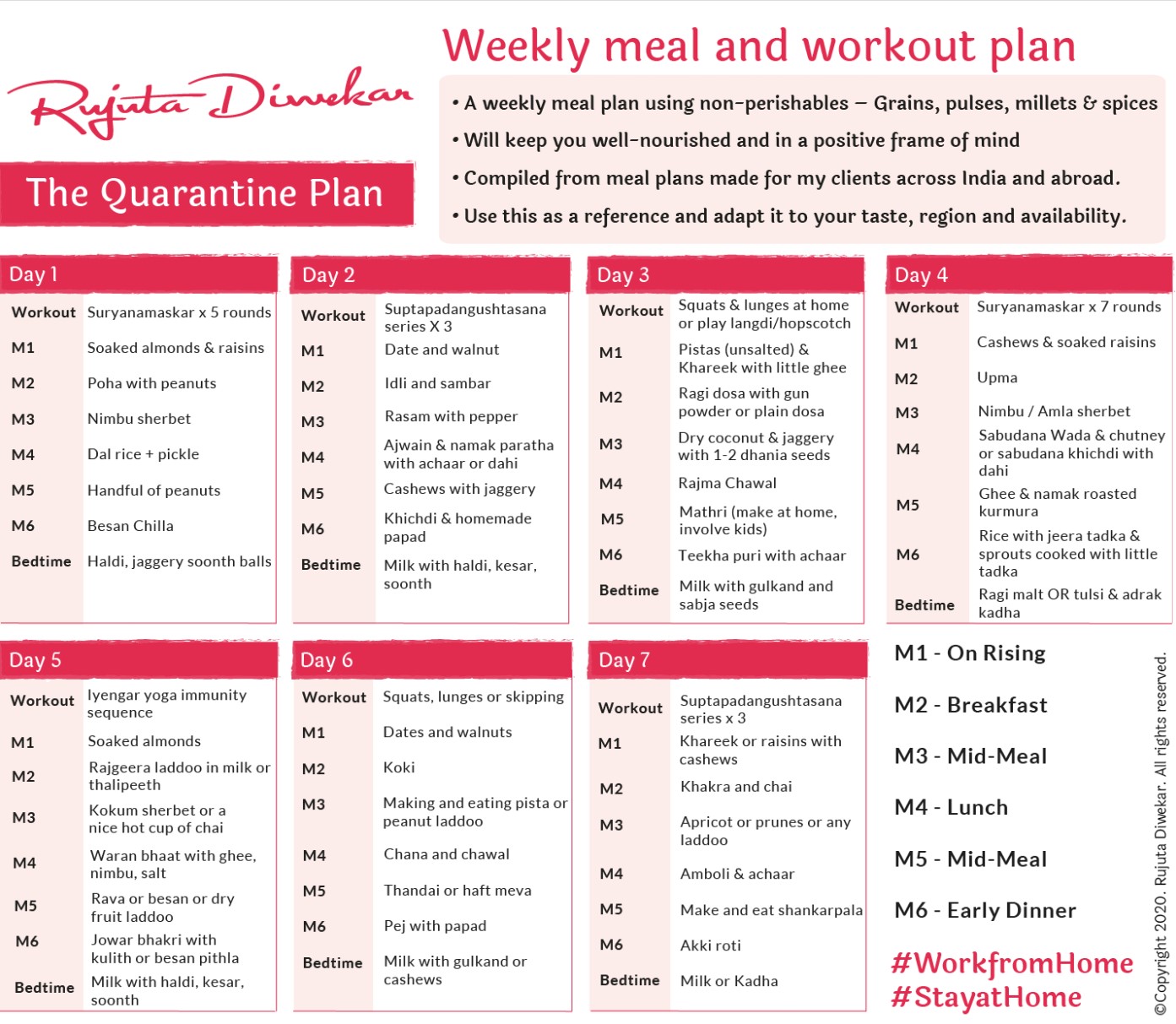 Rujuta, the 46-year-old sports science and nutrition expert, is among the 'world's most followed nutritionists' (as her website suggests). She is not only a nutritionist but an eminent author and advocate of the oriental wisdom in India.  Thus, when Kareena Kapoor surprised everyone with her size zero body in Tashan, it was revealed that Rujuta had actually helped her reach the next-to impossible goal by devouring 'aloo parathas'! Rujuta is strictly against fad diets and counting calories. She believes that only following the wholesome foods that come from the soil can people achieve their health and fitness goals. Hence, her mantra 'Eat local, think global' is followed by many.