Roxette singer Marie Fredriksson Passes Away at 61, See Tributes Below
By Ayesha Hoda Wednesday, 11 December 2019
Roxette singer Marie Fredrikson, 61, passed away on Tuesday. She had been battling cancer for the last 17 years. See tributes below
Marie Fredriksson, the lead singer of Swedish pop duo Roxette, passed away yesterday at the age of 61. She was diagnosed with a severe brain tumour in 2002 and had been battling the disease for the past 17 years. In a statement, her family announced the news of her death, which said, "It is with great sadness we have to announce that Marie Fredriksson of Roxette has passed away in the morning of December 9, following a 17-year long battle with cancer." She is survived by her husband Mikael Bolyos and their two children, daughter Inez Josefin, 26, and son Oscar, 23.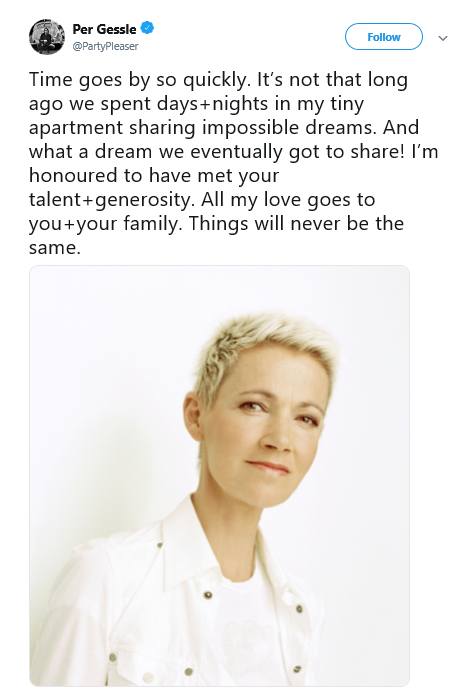 Marie had formed Roxette in 1986 with guitarist and songwriter Per Gessle. They gained international recognition in the late 1980s and sold more than 80 million albums worldwide during their career. Paying tribute to Marie, Per Gessle wrote on Twitter, "Time goes by so quickly. It's not that long ago we spent days+nights in my tiny apartment sharing impossible dreams. And what a dream we eventually got to share! I'm honoured to have met your talent+generosity. All my love goes to you+your family. Things will never be the same."
Guns n' Roses guitarist Slash wrote on Twitter, "Sorry to hear about the passing of Marie Fredriksson. You will live on through your unmistakable voice for all time. Rest easy lady #mariefrediksson #roxette."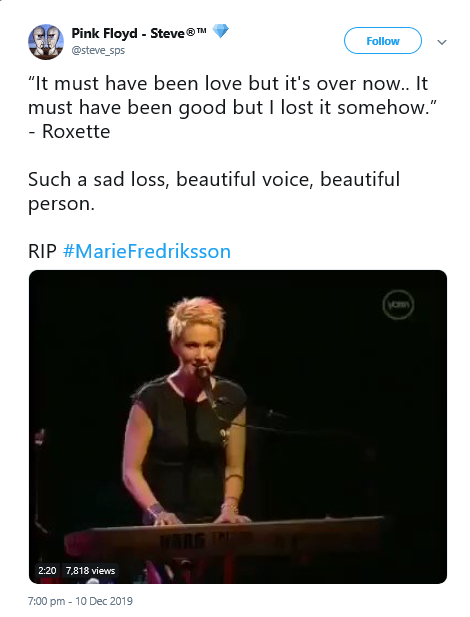 The Swedish popstar's fans also took to social media to share the lyrics of some of her best songs and to express their sadness on her death. Pink Floyd - Steve (@steve_sps) tweeted, "It must have been love but it's over now.. It must have been good but I lost it somehow." - Roxette Such a sad loss, beautiful voice, beautiful person. RIP #MarieFredriksson."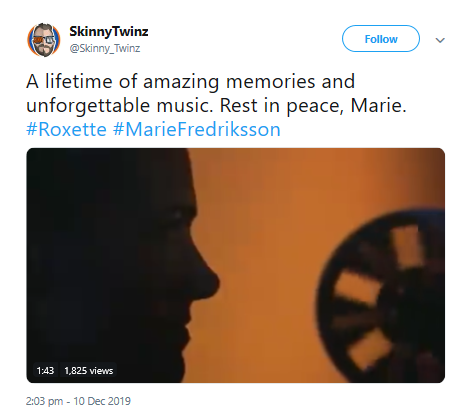 SkinnyTwinz (@Skinny_Twinz) wrote, "A lifetime of amazing memories and unforgettable music. Rest in peace, Marie. #Roxette #MarieFredriksson."
Mαɾყ (@marywithluv) said, "I grew up with #Roxette music, they were one of the first bands I loved. Rest In Peace #MarieFredriksson."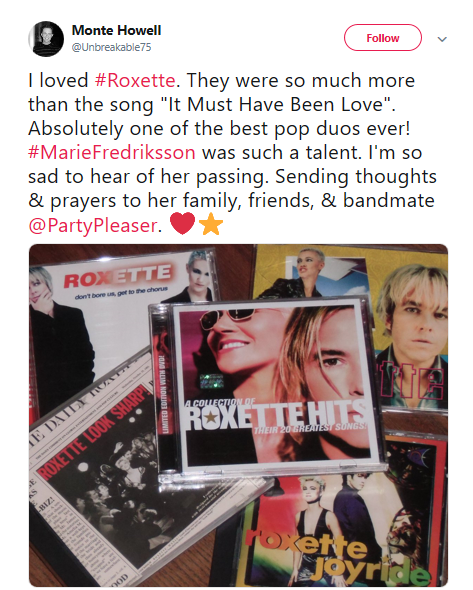 Monte Howell (@Unbreakable75) posted, "I loved #Roxette. They were so much more than the song "It Must Have Been Love". Absolutely one of the best pop duos ever! #MarieFredriksson was such a talent. I'm so sad to hear of her passing. Sending thoughts & prayers to her family, friends, & bandmate @PartyPleaser."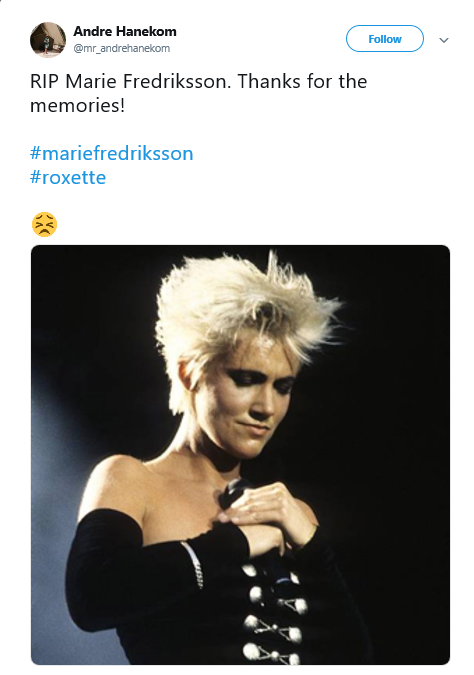 Andre Hanekom (@mr_andrehanekom) shared, "RIP Marie Fredriksson. Thanks for the memories! #mariefredriksson #roxette."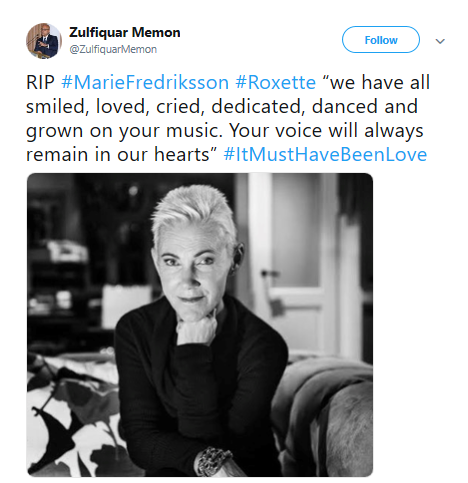 Zulfiquar Memon (@ZulfiquarMemon) tweeted, "RIP #MarieFredriksson #Roxette 'we have all smiled, loved, cried, dedicated, danced and grown on your music. Your voice will always remain in our hearts' #ItMustHaveBeenLove."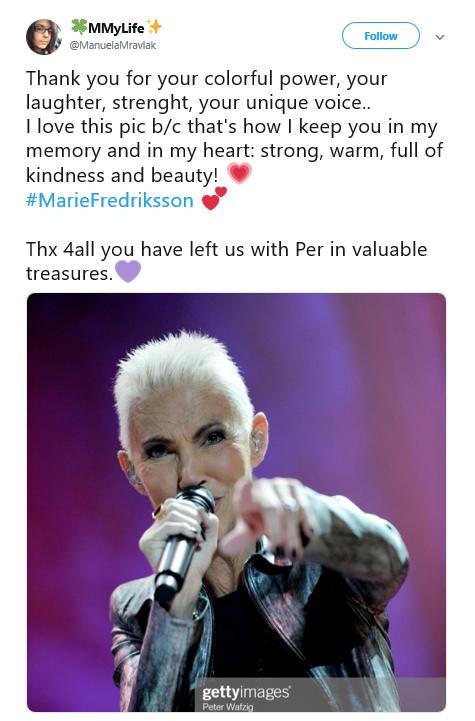 MMyLife (@ManuelaMravlak) shared one of Marie's memorable pictures and wrote, "Thank you for your colorful power, your laughter, strenght, your unique voice.. I love this pic b/c that's how I keep you in my memory and in my heart: strong, warm, full of kindness and beauty! #MarieFredriksson Thx 4all you have left us with Per in valuable treasures."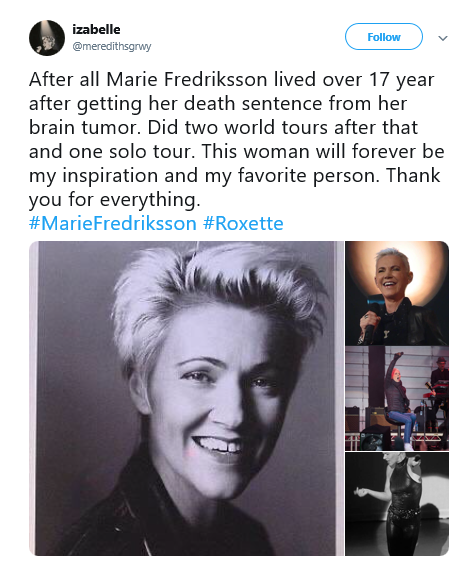 Izabelle (@meredithsgrwy) expressed her admiration for the pop star, saying, "After all Marie Fredriksson lived over 17 year after getting her death sentence from her brain tumor. Did two world tours after that and one solo tour. This woman will forever be my inspiration and my favorite person. Thank you for everything. #MarieFredriksson #Roxette."
Marie Fredriksson returned to music in 2010 and was active until 2016, after which left the limelight due to her doctors' advice to stop touring. She was forced to cancel the last part of the Roxette 30th-anniversary tour. On her retirement, she had said to her fans, "It's been an amazing 30 years! I feel nothing but joy and happiness when I look back on the Roxette world tours. All our shows and memories over the years will forever be a big part of my life."
For all the latest Bollywood News and gossip, follow us on Twitter & Instagram, like us on Facebook and subscribe to our channel YouTube. New videos up every day!
Comments