Restaurant Reviews
Review: Songkran Menu at Pai Thai
The award-winning restaurant comes up with an award-worthy menu once again
In Thailand, there are no bigger celebrations than during the Songkran festival, the Thai New Year that attracts lakhs of tourists to the gorgeous country. Rich with symbolic traditions, the days from April 13-15 (April 13 is the main day though the celebrations continue for a week or so), see people visit temples, offer food to monks and participate in traditional parades. The most important part of the festivities however is the water fight – mock fights between participants who splash water at each other.
Of course, none of that is possible in Dubai but what we can definitely do is celebrate Songkran in the best way possible – indulge in a Thai gastronomic journey at one of the best Thai restaurants in the city, Pai Thai.
The award-winning venue has put on a special show this week (till April 23) and the offer includes a specially curated menu, entertainment and traditional Thai décor to add that extra flavour. So what makes this so different from the regular menu (which is always popular?). Not much save for the wonderful and carefully thought out selections and some special additions that are must-trys!
The starters gave an indication to what lay ahead. The crispy crab and prawns moneybag (let's forget the Thai names and stick to English descripts, shall we?) deserves mention. I loved the tanginess of the sweet chilli sauce, the flavour of coriander, and smoothness of the prawn and crab mince neatly bundled in a 'moneybag' cover. The sweet-sour-spicy flavour was also the USP of the minced fish and sour mango salad – the crunch of the cashewnut making it even more delicious. Absolutely loved it.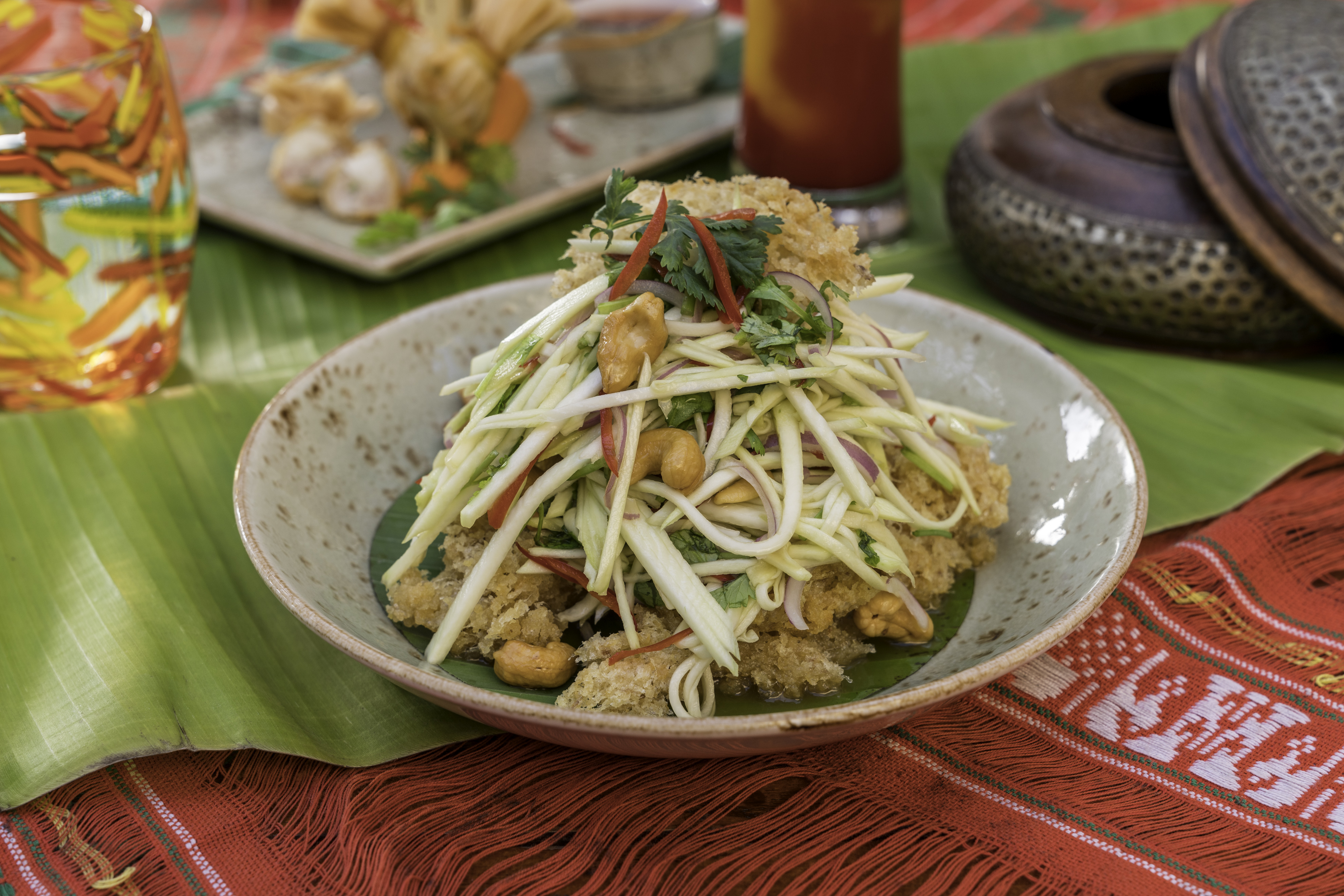 The mains had all my favourites. Wok fried beef, work fried tofu, wok fried asparagus and the piece de resistance – prawn red curry. This was so different from the regular red curry. A thick coating of creamy red curry paste over juicy prawns, flavoured with ripe mango (the combination worked really well!) and the favourite Thai spice, Kafir lime sent my taste buds into overdrive.
And finally, dessert, that had the eternal favourite – water chestnut, coconut milk and crushed eyes with sugar syrup.
You may or may not have tried these delicacies before but as I mentioned, it's the perfectly curated tastes, the balance of flavours and the beauty of the ambiance that will inspire to take another abra ride to this gorgeous restaurant.
INFO: The Songkran Menu will be available at Pai Thai till April 23. Priced at Dhs 280 per person