Bollywood News
REVEALED: The Secret Behind Sushant Singh Rajput's To-Die-For Physique
The actor revealed his 6 pack abs mantra!
Sushant Singh Rajput has been killing it with his good looks in all the recent posters and songs from his upcoming film Raabta. With girls going gaga over his chocolate boy features, the guys have been hunting for tips on how to get Sushant's fab physique.
Ever wondered what it would take to have that chiselled body? Upon the request of his fans, the actor has finally revealed his diet and work out regime to achieve those 6 pack abs! Here is his mantra!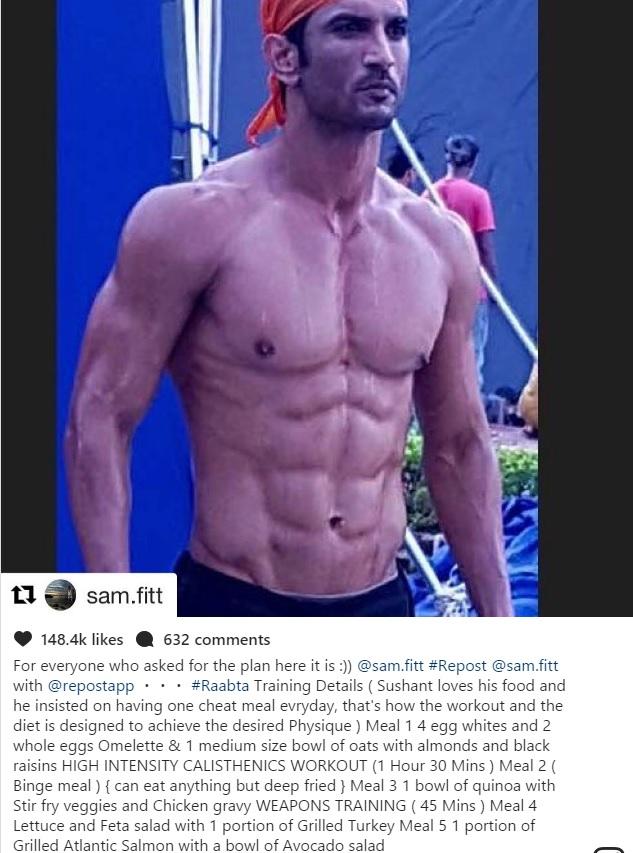 Wow, don't miss the part where his fitness trainer mentions that Sushant love's food and insists of having one cheat meal a day (excluding anything that's deep fried)! Based on this requirement, the following diet and fitness plan was designed. Let us break it down for you!
Meal 1:  4 egg whites and 2 whole egg omelettes, along with 1 medium sized bowl of oats with almonds and black raisins.

Followed by a high intensity calisthenics workout for 1 hour and 30 mins. For those of you who are unaware of what this routine entails, it is basically a no equipment, body weight training workout. The included high resistance exercises such as pull ups, push ups, on the spot jogs and jumps!

Meal 2: BINGE MEAL

Meal 3: 1 bowl of quinoa with stir fried vegetables along with a chicken gravy

Followed by weapons training for 45 Mins.

Meal 4: Lettuce and feta salad with 1 portion of grilled turkey

Meal 5: 1 portion of grilled Atlantic salmon with a bowl of avocado salad
To round up, Sushant dedicates 2 hours and 15 minutes to his workout every day and spaces his meal intake into 5 smaller meals. There! Now you finally have all the secrets to achieve that killer body. Go get it guys!