Bollywood News
Revealed! Ranveer Singh's Co-star in the Kapil Dev Biopic
This talented actor to play Team India manager Man Singh in Karbir Khan's '83; said the script made him cry
The makers of Ranveer Singh starrer '83 have one more addition to the stellar cast. Pankaj Tripathi has joined the team of the Kabir Khan's biographical drama based on India's incredible 1983 cricket World Cup victory. However, the actor will not be playing a cricketer but will be seen in the role of Man Singh, the manager of 1983 World Cup-winning cricket team.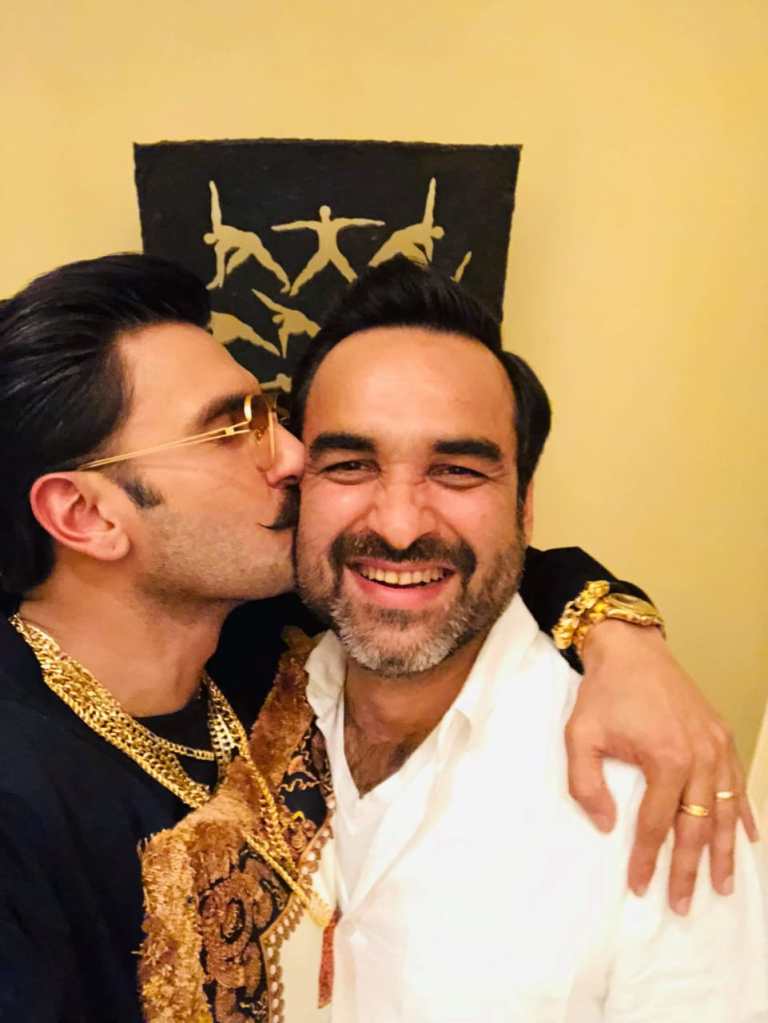 Ranveer Singh and Pankaj Tripathi
The film's director Karbir Khan took to Instagram to welcome the actor and in the post he welcomed the actor as he wrote, "An actor I'm so excited to work with... He's going to be our "Man Bhai"- the unsung hero of 1983!! #Repost @83thefilm The man behind the champions, #ManSingh, will be played by Actor Extraordinaire @pankajtripathi__. #CastOf83"
According to the report in Mumbai Mirror, Tripathi said the script made him tear up at certain points. He also revealed, "I was good at bowling and fielding and I am hoping to brush up my batting skills while prepping for this film. will also meet Man Singh ji and talk to him about his experiences. For now, I have been given some books and documents to refer to."
Talking about the role and director Kabir Khan, Pankaj shared that he was always inspired and impressed by the latter's films. "He is one of my favourite directors and we met a couple of times but never got an opportunity to work together. Then one day, he called me to narrate the story of 83 and at certain points, it made me tear up," Pankaj said.
The actor further added that he has not watched the match in which dark horse India beat team West Indies by 43 runs at Lords. Tripathi used to listen to the cricket commentary on the radio as he didn't have a TV set to watch matches on at that point. "I must have been around eight or nine at the time but I did read about the win in the papers. It's an inspiring story and I leapt at the opportunity to be a part of the film," he added.
Ranveer Singh has already started prepping up to play the role of the former cricketer Indian skipper Kapil Dev. After Balwinder, Kapil Dev will now be training Ranveer for the film. Confirming the same, the actor has said, "I am looking forward to spending time with Kapil Sir. I feel like that time spent would be integral to my process of transforming myself into him. I want to absorb as much as I can from him. His story, his experiences, his thoughts, feelings, his expressions, his energy."
While Ranveer will be seen playing the role of then team India captain Kapil Dev, Sahil will be seen as team members Syed Kirmani, Chirag as his father Sandeep Patil, Jiiva as Kris Srikkanth and Ammy as Balvinder Singh Sandhu in the film. The casting of the other cricket players will be announced soon.