Restaurant Review: Molecular Gastronomy at Signature by Sanjeev Kapoor
A novel way of cooking and popular eating Indian delicacies
As far as Indian food is concerned, there are very few people who are unfamiliar with a name like Chef Sanjeev Kapoor's. A household name in many Indian kitchens these days, recipes by this chef par excellence are almost foolproof and difficult to fault. The man behind Masterchef India and some of the bestselling cookbooks, is a messiah for home cooks as well as connoisseurs of Indian food.
Reviewing a Sanjeev Kapoor restaurant usually is a piece of cake, because the food never disappoints! But this time the kitchens at Signature by Sanjeev Kapoor at Melia Hotel intended to go beyond the norm and surprise us with a bit of Molecular Gastronomy! Explaining the idea behind this novel concept is Chef Chandrachur, who insists that the texture of food sometimes requires changing to allow us to appreciate the old in a new light.
Starter: Chaas tikki with raita sphere, lamb mint chop, grilled prawn, parmesan chicken tikka
The highlights of the elaborate five course meal were the silken tomato broth subjected to 'molecular' treatment, the most beautiful starter platter of grilled prawns, succulent mint lamb chops and melt-in-the-mouth parmesan chicken tikka served with a unique chaas tikki and a raita sphere. Once our palates were cleansed with cherry tomato sorbet, we couldn't get enough of the never-tired-before mango butter chicken and the fragrant prawns in coconut gravy cooked in a coconut shell!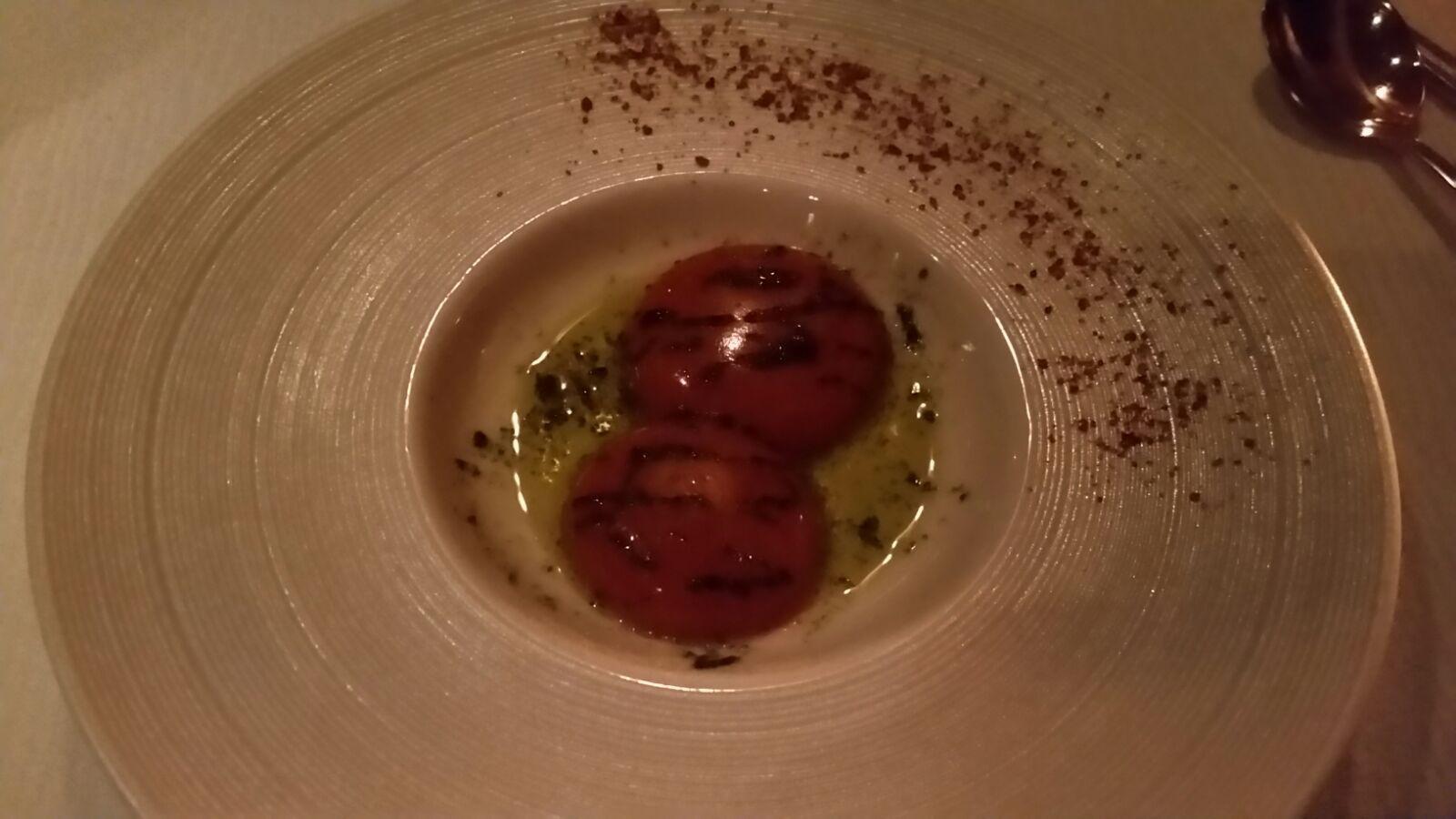 Soup: Tomato sphere served with tomato consomme
The finale and of course the star of the molecular gastronomy menu was the dessert. It was a sight to behold! Our table was cleared of the standard cutlery and covered with a rubbery spread. We watched spellbound as the deft hands of the chef created an edible artwork with powdered peanuts, dried berry powder, chocolate soy powder, an assortment of coulis, fruity bubbles bursting with flavor, saffron milk with a brûlée top and strawberry and chocolate mousses dipped in liquid nitrogen. Mouthing spoonfuls in various permutations and combinations, we allowed ourselves to just sit back and savour the familiar yet tantalising tastes.
Reasonably priced, we'd say the meal is not just excellent value for money, but one of the most satiating experiences for the eyes and the taste buds!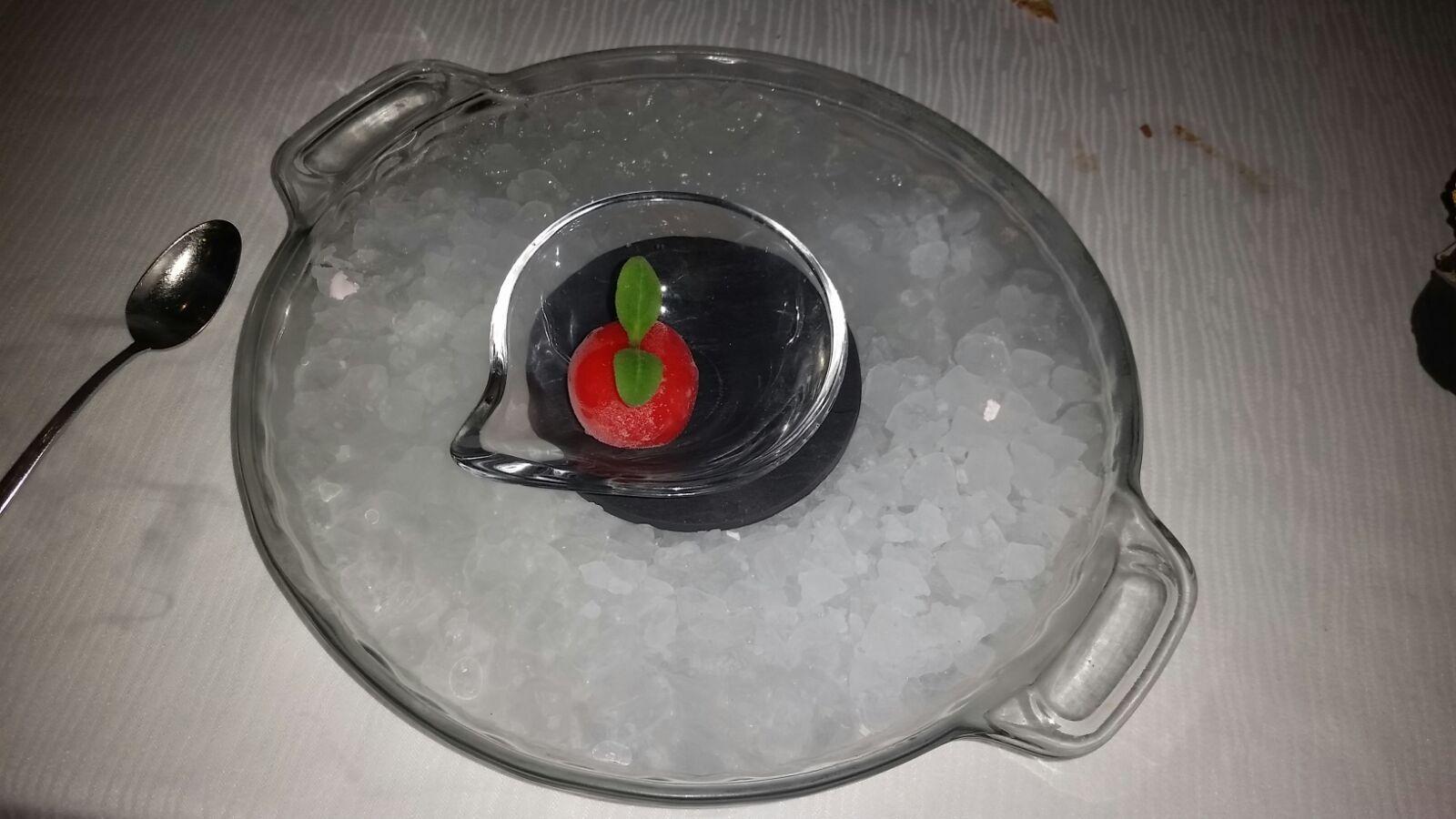 Cherry tomato sorbet
WE HAD:
Pineapple Sphere with Olive powder
Tomato sphere served with tomato consommé (soup)
Starter: Grilled prawn, mint lamb chop and paremesan chicken tikka served with glazed carrot, broccoli and deconstructed chaas
Mains: Mango butter chicken, normal butter chicken, kaali daal, prawn in coconut gravy served with Indian bread and steamed rice
Dessert: A table full of goodies enhanced with secret molecular gastronomy tricks!