Bollywood News
RELEASED! This is the First Official Picture of Newlyweds Ranveer Singh and Deepika Padukone
The suspense is over as Ranveer and Deepika finally let the big secret out
For the last two days, the internet and the world has been waiting with bated breath for the first look of Ranveer Singh and Deepika Padukone as a bridal c ouple. While the media has been trying its best to capture some moments from the wedding, the stars managed to keep it hidden from the public eye.
They chose to get married at Lake Como, in Italy at a private resort with only around 40-45 guests. All that the paps managed to get were blurry images of the couple and some guests at the venue and some shots of the resort. The extreme security measures that were taken had apparently paid off.
While yesterday (November 14) was the date for the Konkani wedding (as per Deepika's community's rituals) today (November 15) is the Sindhi wedding. Ranveer Singh belongs to the Sindhi community. It was then announced by some media houses that Ranveer and Deepika would be releasing their first official images of the wedding at around 4.30 pm Dubai time. However, with the deadline over, fans were a dejected lot.
Not anymore though. As is the practice, the couple has released their first images from the wedding and boy, don't we love it!! Deepika, dressed in what looks like a red Kanjeevaram sari and royal jewellery (quite reminiscent of what she sported in Padmaavat)looks happy and thrilled with a huge beaming smile at her beau, Ranveer who is dressed in white. Both have a rose garland around their necks and lots of baubles. In another image, Deepveer appear to be sharing some secret! Here, Ranveer is dressed in red sherwani and turban with lots of jewellery. 
Check it out peeps, this one is for keeps!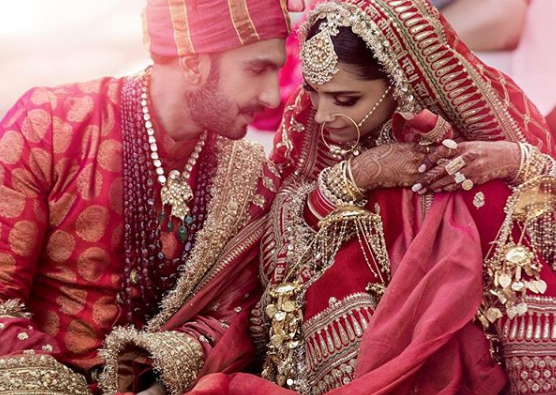 They both will soon be heading to India where they will make their first public appearance as a married couple at a reception in Bangalore scheduled for November 21. They will then have a reception in Mumbai on November 28 and December 1 respectively.