Bollywood News
'Refrain from Making Up False Stories'. Abhishek Bachchan's Angry Response to Gossip!
Find out what story made Abhishek Bachchan lash out on Twitter
Abhishek Bachchan has hit out at gossip websites for suggesting that he and his wife Aishwarya Rai-Bachchan had a huge fight. Abhishek has also urged the gossip portals to function and report responsibly. Abhishek slammed a report that claimed that he and wife Aishwarya Rai Bachchan had a fight as they returned to Mumbai from a vacation. Abhishek tweeted directly to the news portal that had published the story, asking them to 'refrain from making up false stories.'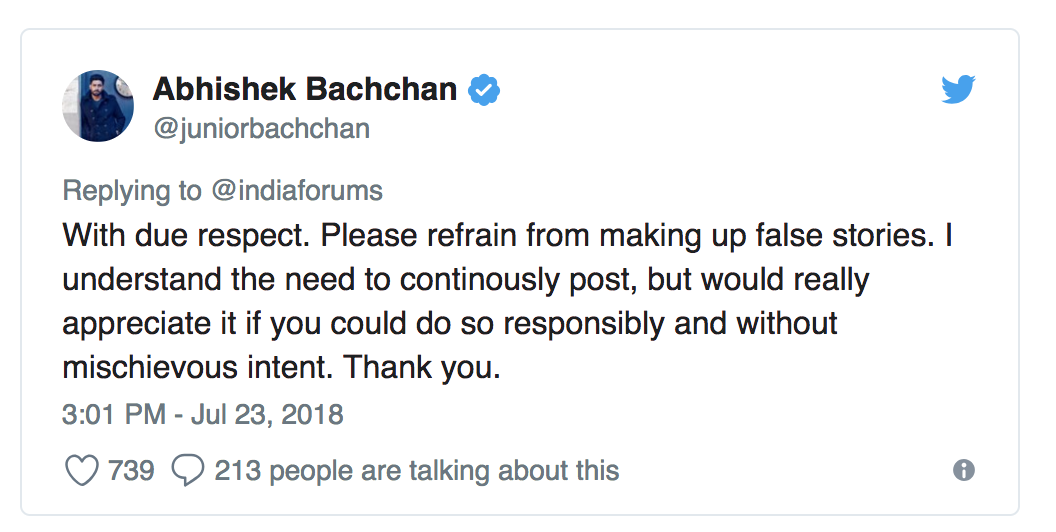 "With due respect. Please refrain from making up false stories. I understand the need to continously post, but would really appreciate it if you could do so responsibly and without mischievous intent. Thank you," Abhishek wrote in reply. The website deleted the tweet soon after. The original report was based on a video of Abhishek and Aishwarya arriving at Mumbai airport.
The report said that the Bollywood couple was fighting. In the video, the couple's daughter, Aaradhya, can be seen clinging to her mother as Abhishek walks at a slight distance from them. The report claimed that Aishwarya would not let Aaradhya hold her father's hand. The site took down the story after Abhishek's tweet.