Celebrities
Ranveer Singh and Zoya Akhtar Share a Gully Boy Moment on Video Chat
Ranveer Singh has worked under the direction of Zoya Akhtar for the film Gully Boy.
Ranveer Singh has many ground-breaking performances to his credit. The actor has often stated that he does not believe in being a star but an actor capable of giving memorable performances as this is how the world of films works today. While it is hard to pick any one major performance where Ranveer Singh has amazed the audiences, it can be rightly concluded that Gully boy tops the list for now. Under the direction of Zoya Akhtar, Ranveer Singh outdid himself playing the character of a rapper Murad from the slums of Mumbai. Paired opposite Alia Bhatt, Ranveer Singh did give one of the finest performances of his career.
Gully Boy has been one of the most successful films of the year 2019. Hence, the film has also managed to bag all accolades and awards across the country. Ranveer Singh recently shared a cute moment with the director Zoya Akhtar from a video chat where the two pulled crazy faces. Both looked thrilled beyond words as they spoke to each other since Gully sweeping off all the available awards.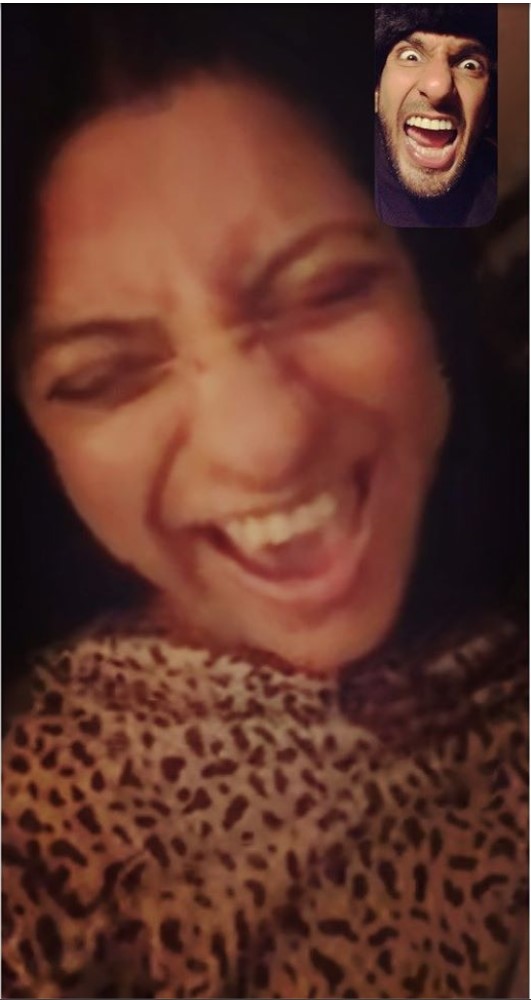 Ranveer Singh and Zoya Akhtar making crazy faces during a video call
Ranveer Singh's wife Deepika Padukone was among the first ones to express her love for the picture and the moment under this post. Many other celebrities including Siddhant Chaturvedi, Dia Mirza and Sikandar Kher also shared similar sentiments.
Gully Boy did not only become famous for the powerful screenplay and concept but also for its music.  Since the film was based on the real-life of the rappers Divine and Naezy, it had many exclusive rap numbers that embodied the spirit of the film. The 18-song soundtrack involved around 54 contributors including the protagonist Ranveer Singh himself. His rapping skills came as a surprise to the audiences. Ranveer Singh's look for Gully Boy was also completely different from his previous films as he played the character of a poor boy living in the slums of Mumbai passionate for rap music. Apart from Ranveer Singh, Gully Boy included the actors Alia Bhatt, Kalki Koechlin and Siddhant Chaturvedi among many others.