Bollywood News
Ranveer-Deepika, Priyanka-Nick: Bollywood's 5 Most Loved Couples of the Year
Let's bring our focus to the jodis who served major #relationship goals this year, be it through glimpses of their PDA, style statements or cheering each other on. Their stories will make you fall head over heels
Love is and has been in the air all year round in Bollywood. Tinsel town has been lit with celebrity weddings over the past few years. While some leading stars tied the knot, others have been going strong with their significant others. Rumours of possible marriages being on the cards for some of the power duos have been making headlines for quite some time too. It seems like 2020 is already turning out to be year filled with exciting moments and surprises. In the meantime, let's bring our focus back to the jodis who served major #relationship goals this year, be it through glimpses of their PDA, style statements or cheering each other on. From Deepika Padukone and Ranveer Singh to Anushka Sharma and Virat Kohli (You may already have guessed that!), here is a list of the five most loved couples of the year and how their fairytales began. Their stories will surely make you fall head over heels for them, if you weren't already!
Deepika Padukone and Ranveer Singh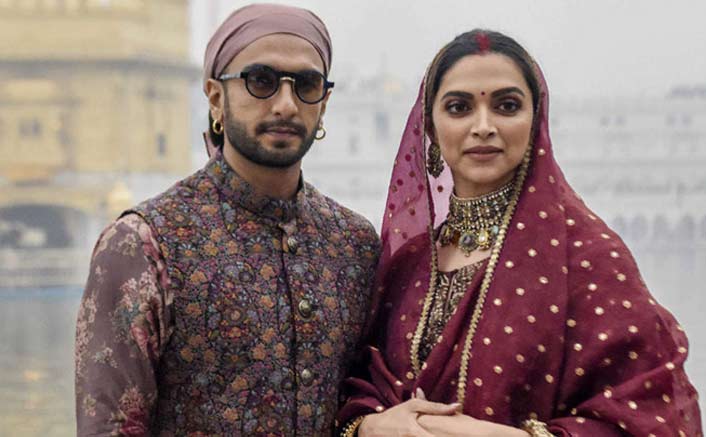 Their real-life chemistry is as drool worthy as their on-screen presence, their constant digs at each other on social media and their most adorable pictures, makes #DeepVeer one of the most loved couples in Bollywood, if not THE most! The pair kicked off their romance on the sets of Goliyon Ki Rasleela Ramleela and has been an item since. While they went on to star together in Bajirao Mastani and Padmaavat, their dating period grabbed eyeballs world over. And when the two eventually tied the knot one year ago on November 15, 2018, there was noone who was not stuck to their gadgets to follow their festivities. From family members and cameramen who were present to the paparazzi to fans, there was only love love love for the couple and the same still holds true.
Reuniting on the screen after four long years, Deepika and Ranveer will be seen sharing the frame in the upcoming '83, set to release in April 2020. Well, this gives #DeepVeer fans something to look forward to in the New Year already. As they reprise their roles on the silver screen, Ranveer will be seen playing Indian legendary cricketer Kapil Dev while Deeps will essay his wife Romi, who played a vital role in his journey to bagging the winner's trophy for the World Cup. The two are hands down the most picture perfect couple and suitable fit for the role as Deepika has mentioned on multiple occasions that they are each other's support system and cheerleaders. And we are theirs!
Anushka Sharma and Virat Kohli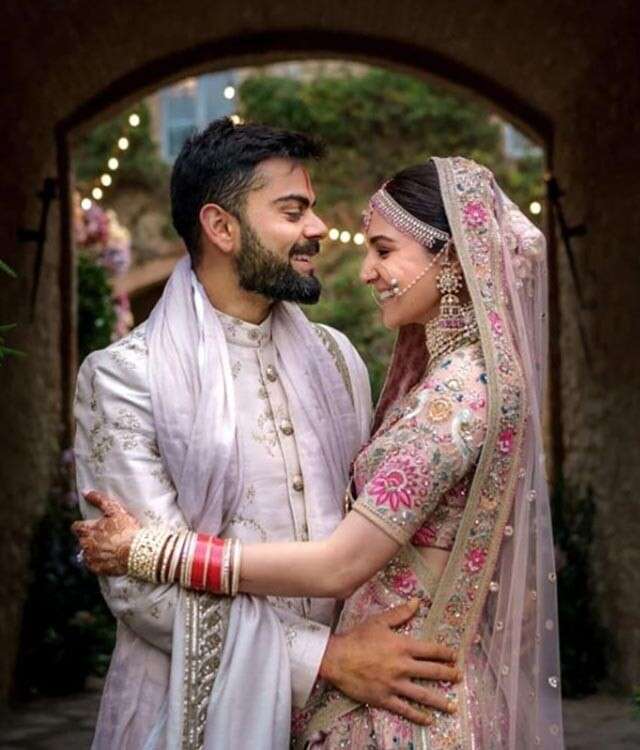 The sportsman and his wife made the cut for one of B-town's most loved couples of 2018 and have bagged a spot once again. While they got married in December 2017, #Virushka followers are still in awe of their bond. They make one of the cutest couples, indeed! The pair reportedly first met while shooting for a shampoo advertisement back in 2013. But the one that stood out from afar was one of India's cricket games against Sri Lanka where Virat was spotted blowing a kiss with his bat to his lady love after scoring a half-century. That gesture was appreciated around the globe and their love has been one of a kind since.
Fun fact: The Indian skipper was once asked who he would like to go on a drive with, to which he responded, Anushka Sharma. He also said that Anushka too would wish to go on a drive with him while mentioning that it had been some time since the two had gone on a long drive together. What's better than a long drive, with good music and your partner by your side? "We haven't been able to go on long drives as times have been hectic. Whenever you get time, you go for a holiday mostly, so, maybe, when I spend more time in the city and at home, I will find places to go for long drives. I think highway is a good place to go on for a long drive," he said earlier.
Alia Bhatt and Ranbir Kapoor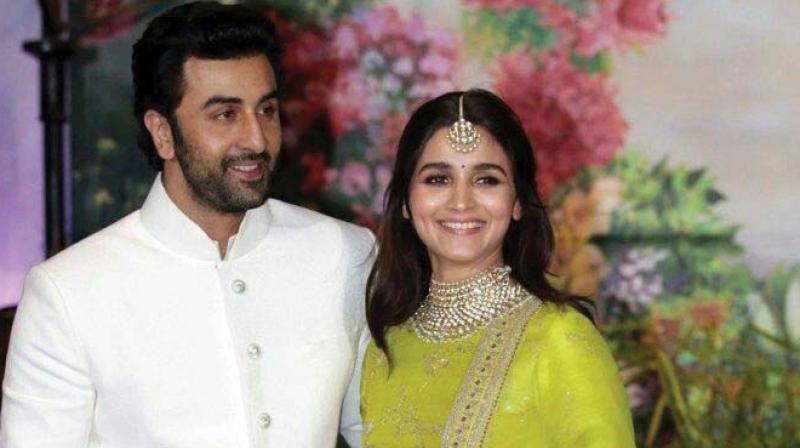 The world and we want to say one thing to the Brahmastra stars: Get married already! If not now then when love birds? It has been a year!
Ranbir and Alia were linked together for a long time before finally admitting they are in a relationship. It all started when the latter was spotted spending time with Ranbir and his parents – Rishi Kapoor and Neetu Singh – in Indian and overseas. When Rishi was undergoing cancer treatment in NYC, Alia made sure to head to the Big Apple with her beau. According to several media outlets, she is loved by his family members and he is extremely loyal to her too. Then, what are they waiting for? According to Alia, she is still 26-years-old and wants to focus towards building her career. But who says she can't do that after marriage too? After all, they both belong to filmy families and know how it's done!
When speaking about Ranbir's troubled past, Alia earlier told India Today, "How does it matter? It's part of someone's life and who cares. Aur main thodi na kam hoon (I am no less). He's not difficult. He's a gem."
Priyanka Chopra and Nick Jonas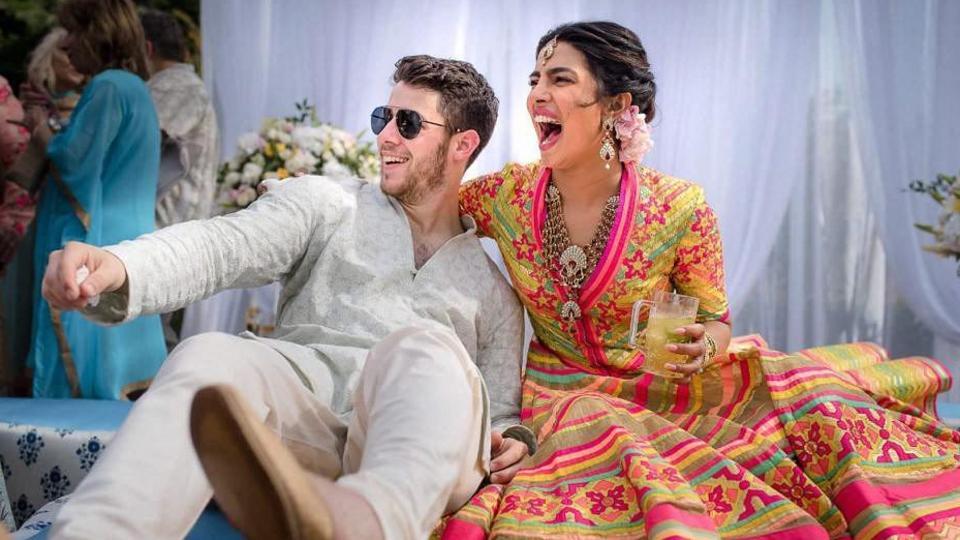 The Bollywood-Hollywood, desi-gora and actor-singer duo share a love that crosses all boundaries! Following an elaborate wedding at the lavish Umaid Bhawan palace in Jodhpur in December 2018, the couple has been the apple of everyone's eyes. While their pictures that are almost often popping up on our newsfeeds are proof that they are one of the most popular couples on the block, they have confessed their love for each other and what makes them get along so well in various interviews.
What we love about them? Their story is a sure-shot fairytale! It went like this: PeeCee got a Hollywood offer and she accepted it. She headed there and bumped into Nick! It was love at first sight and soon they made their first public appearance together at the Met Gala 2017. The two dated for over a year, after which followed the wedding vows and then came their happily ever after!
Mira Rajput and Shahid Kapoor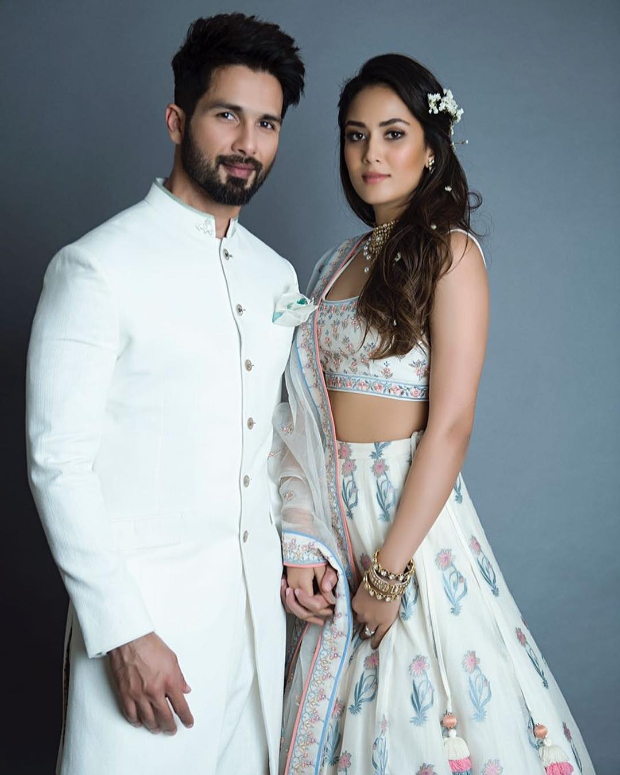 Who would expect this Bollywood heartthrob to find someone out of nowhere who has no role whatsoever in the Indian film industry? But he did! And he shook the world with the announcement of his marriage to Mira back in July 2015. The two then gave birth to the most adorable baby girl Misha and then followed their second bundle of joy, baby Zain. The couple are hands-on parents and the family of four is too cute to handle!
Did you know of the 'moment' Shahid knew he loved Mira:  "I'm still falling in love with her….a bit more every day," he told India Today earlier. "The first time we met, we spoke for seven hours. We were at a friends' farmhouse in Delhi. We went for a walk outside and the sun was setting behind her. I realised her eyes were not dark. They had a hazel tinge. That moment, I felt shayad main iss ladki se shaadi kar sakta hoon. But I also told myself, "What are you thinking? Bees saal ki hai besharam!" How sweet is that? Despite their age gap, the tied the knot and are extremely happy together. After all, age is just a number!