Ranbir Kapoor & Family Give Neetu Kapoor A Special 57th Birthday!
Neetu Kapoor brought in her 57th birthday with her family including son Ranbir Kapoor, husband Rishi Kapoor, daughter Riddhima Kapoor Sahni and her most special guest granddaughter Samara
Neetu Kapoor's 57th birthday was special! For one, she celebrated with her loved ones – hubby Rishi Kapoor, sister-in-law Rima Jain, daughter Riddhima, granddaughter Samara and son Ranbir Kapoor! Buzz is Neetu was heard telling friends how her biggest gift was her son attending the celebration despite being super occupied with his multiple upcoming projects.
Yesterday, the family members gathered at Wasabi at the Taj Mahal Hotel. Riddhima and Samara flew in from Delhi a day in advance to be with Neetu on her special day. The veteran actress put Samara on her lap and together they blew out the candles and cut the cake! A happy Rishi Kapoor posted a few pictures of the celebration on social media wishing his wifey on her day, "Happy Birthday, Wife, God Bless! With Samara blowing the candles, with family at Wasabi, Taj Mumbai!"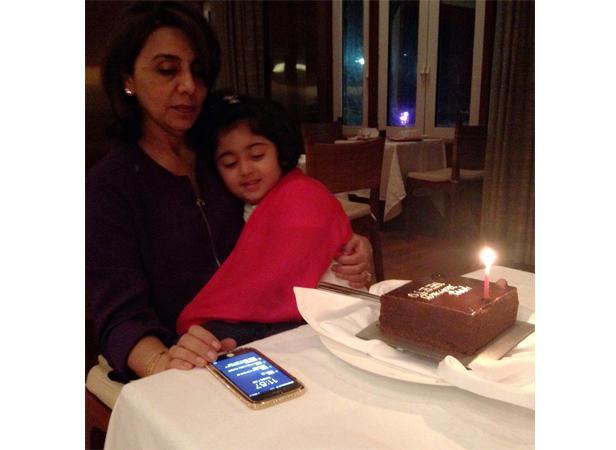 However, what didn't go unnoticed was Katrina Kaif's absence! We wonder what kept the actress from attending the do.