Recipes
Ramadan Recipe: Chicken Kabsa from Sofitel Dubai Downtown
Whip up this finger-licking good Arabic specialty by Chef Nouman AlAmeer from Sofitel Dubai Downtown
Serves 6-8 guests
Ingredients:
* 1 kg of basmati rice
* 2 chickens - each cut into four parts
* 1 teaspoon -  mixed spices
* 1 teaspoon  -  ground cumin
* 1 teaspoon - soft coriander
* 1 teaspoon -  paprika
* 1 small spoon - salt
* Fresh turmeric - grated
* A pinch of brown pepper -  added as desired
* 2 tablespoons -  ghee
* 5 grains  - black pepper
* 2 bay leaves
* 3 grains -  cardamom
* 2 Cinnamon sticks
* 1  - half chopped onion
* 2  - tomatoes, finely chopped
* 2 tablespoons - tomato paste
* 1 Hot Green Pepper (optional)
METHOD
1.    Rinse the rice well and then soak it in warm water for half an hour.
2.    In a small bowl, mix the coriander, cumin, salt, black pepper, fresh turmeric, paprika and mixed spices. Set aside.
3.    Place the chicken in a bowl and sprinkle with a teaspoon of all mixed spices.
4.    In a frying pan, place the two tablespoons of ghee and cook on low heat, the chopped onion, until its color turns golden. Add the chicken pieces and toss them well with the onions until their colour change to golden brown. Add the tomatoes, tomato paste, cardamom grains, cinnamon sticks, bay leaves, green pepper, and toss well.
5.    Pour water over the frying pan until the chicken pieces are completely immersed and leave on medium heat for 45 minutes.
6.    Take the chicken pieces out of the frying pan, cut them in half, and put them in an oven to roast.
7.    Add to your frying pan, two cups of chicken broth, then add the rice. Cook the rice on high heat until boiling, then lower the fire, cover your pan and leave it for 15 minutes. 
8.    Drain the rice and place it on a serving dish, add the chicken pieces over it, then spread few roasted nuts (almonds, pine nuts) over your dish.
BON APPETIT !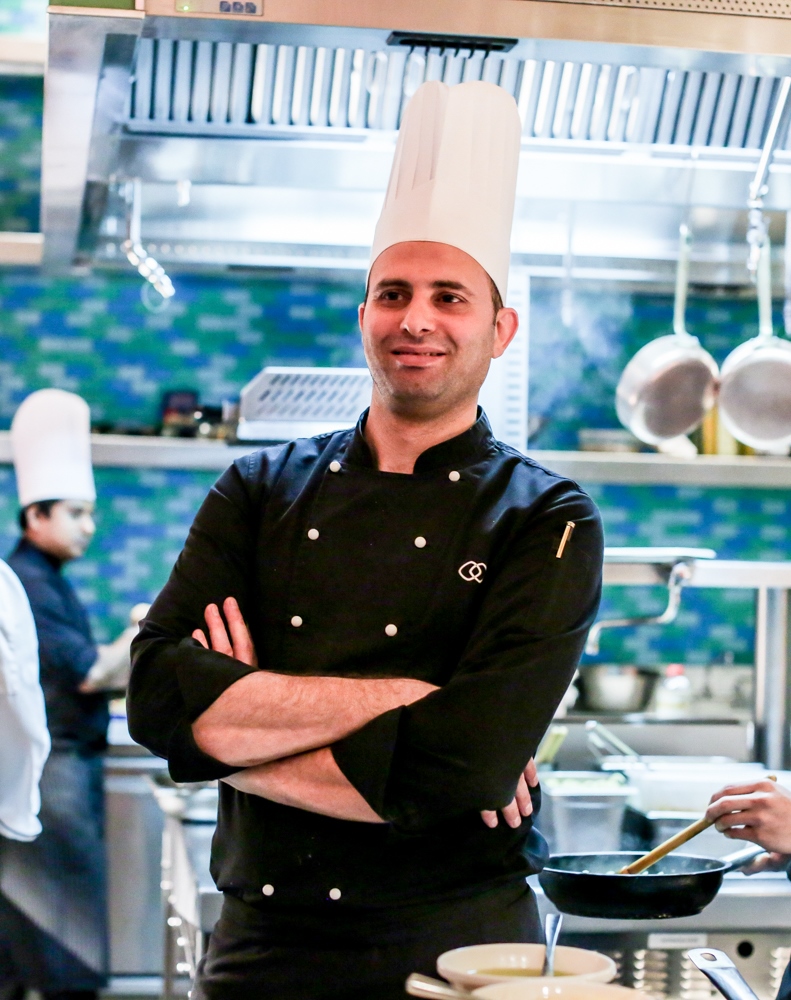 Chef Nouman AlAmeer