Bollywood News
Ramadan Offers 2019: Grocery Sale Discounts in Dubai, UAE Are Offering Great Deals
Ramadan 2019 in Dubai offers great discounts from various grocery stores across the United Arab Emirates
Ramadan 2019 in the United Arab Emirates offers a wide variety of offers. These offers are not just restaurants but also in grocery stores. Ramadan is a great time for family feasts, guests and people coming down to eat with you. It's also a great time to do charity and feed the people who may not have enough money to buy essentials. Therefore, many households also do Ramadan drives, feeding the hungry and helping them to break their fast. This adds to a great cost to the grocery list but different grocery stores in Ramadan offer fantastic discounts.
Carrefour
The supermarket chain Carrefour is offering multiple discounts on its products as a part of the Ramadan Kareem sale. The offers will be valid from Sunday, May 5 until Wednesday, May 29 at stores across the UAE.
The items on discount include both food and non-food items and customers can also participate in charity by buying boxes that include basic food items. These boxes can later be distributed by volunteers.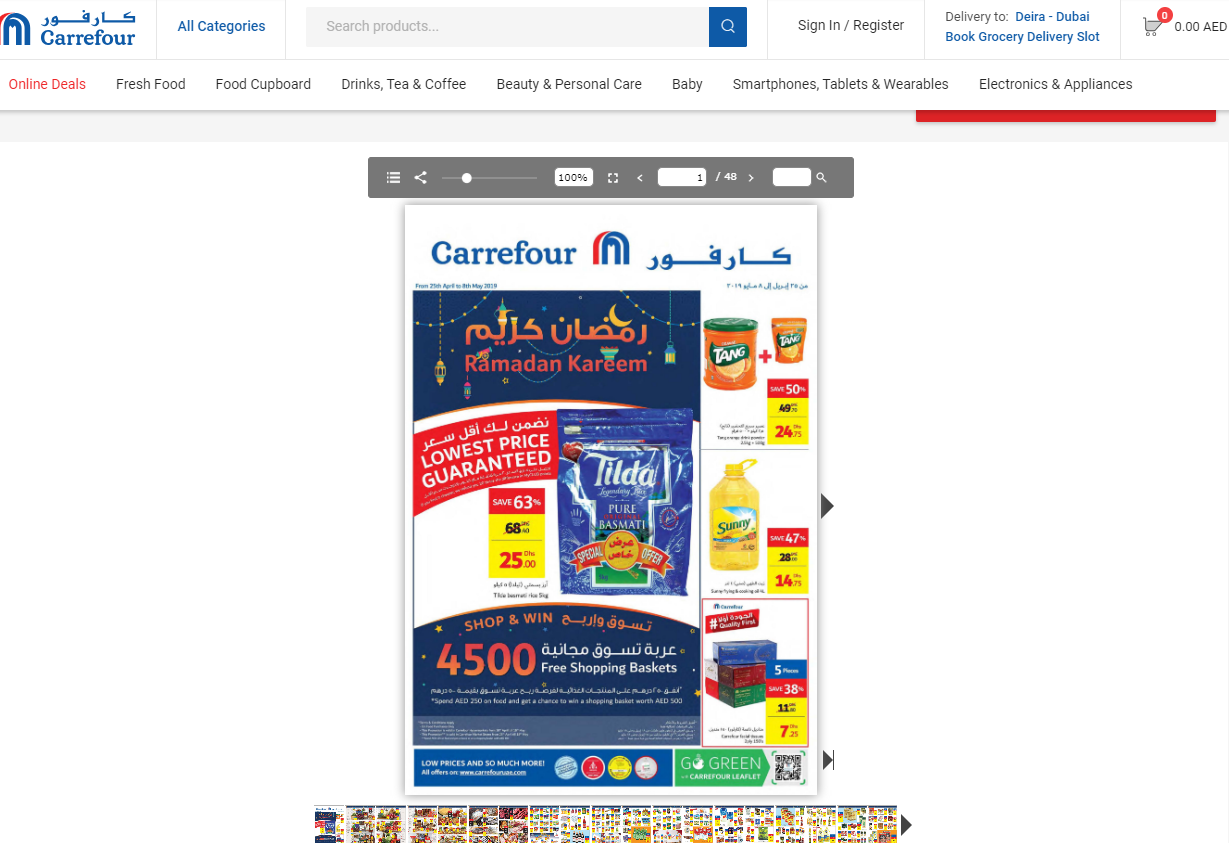 Union Coop
Another major grocery store, Union Coop, is said to be reducing prices on over 25 thousand products in Ramadan. The offer includes both food and non-food items and will benefit over 2.5 million people by the end of the two-month sale

Khaled Humaid Al Falasi, chief executive officer of Union Coop, has said, that he expects sales of Dh650 million for this Ramadan.
Sharjah
The Sharjah Cooperative Society (SCC) has announced its biggest sale for Ramadan, where more than 10,000 food and non-perishable items will be on offer at a discounted price. The Sharjah Cooperative Society board's aim is to alleviate the burden on consumers.
Fujairah
According to a report in Khaleej Times, massive discounts on basic food items, including rice and oil, will be run through Ramadan in the emirate of Fujairah. Dr. Hashim Al Huaimi, the director of the consumer protection department at the ministry of economy has announced that "all active outlets shall abide by this discount across Fujairah."
In celebration and respect of the Holy Month, Dr. Hashim Al Huaimi added that all the "75 outlets across the eastern coast have been urged to secure the basic goods and food items needed over the holy month."
If you see any changes in the prices given by the ministry, you are encouraged to report it. As Dr. Hashim Al Huaimi has urged all the people nationwide to help monitor and track changes in prices and report any breaches. In addition, all outlets have been instructed to have small screens displaying the price of all goods.

Amazon/Souq
Souq.com which is now Amazon, also is offering various deals on its items. Usually it would even have a deal of the day but owing how Ramadan has come around, the special Ramadan deals can also be found on the website.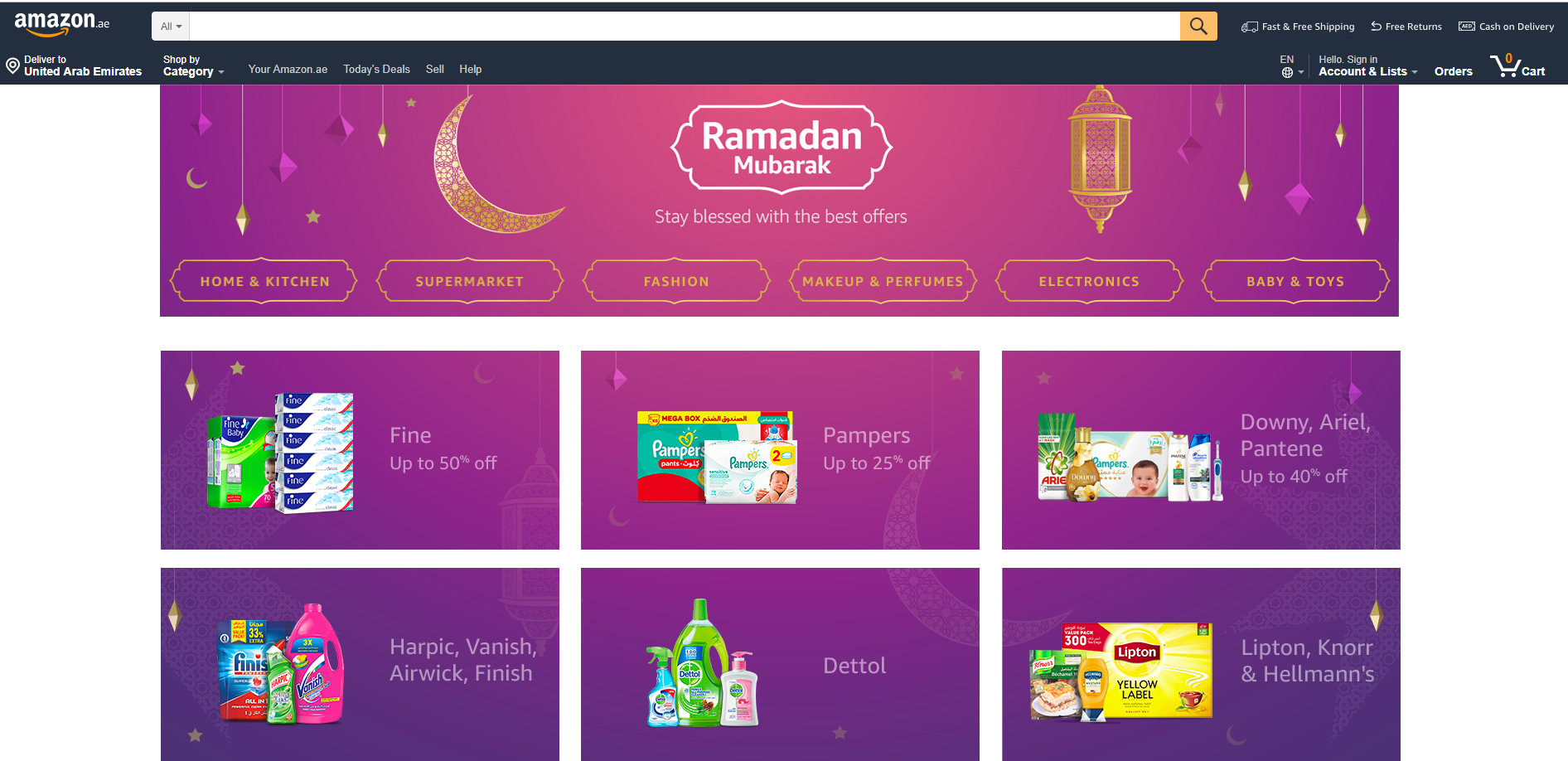 Since Ramadan is a great month for giving, sharing and spending time with family, food is an essential part of the month. There are a lot of iftars at home and also in restaurants, and deals such as these can also help benefit small business owners. These deals can also mean that you can avail all the great discounts on the non-food items in order to save on gifts that you will have to give friends and family on Eid. There are also a lot of people who visit Dubai on Eid and a lot of expats return home for the holidays – these discounts, especially on the non-food items, can make for great gifts from Dubai to those back in the home countries!
Read More on Ramadan: