Bollywood News
Priyanka Reddy Case: Kabir Singh Director Sandeep Reddy Vanga Slammed on Twitter
Kabir Singh director Sandeep Reddy Vanga recently spoke about using fear being the new rule against rapists as while condemning Priyanka Reddy's rape.
Priyanka Reddy's case has shaken the entire country to the core. The 35-year-old doctor was brutally raped and murdered in Hyderabad. Not only this, her rapists and murderers also burnt her body not to leave any remains of their heinous crime. This incident has greatly moved the film industry, as well as many people, came out to speak against the cruelty Priyanka Reddy was subjected to. Arjun Reddy and Kabir Singh's director and producer Sandeep Reddy Vanga also had something to say about the unfortunate incident. He took Twitter to say,
'FEAR is the only factor which can change things radically in  society and FEAR should be the new rule. Brutal sentence will set an example. Now every girl in the country needs a firm guarantee.I request @warangalpolice to come into action.#RIPPriyankaReddy'
According to Vanga, the culprits should be brutally sentenced because only fear could change things radically in society.
Well, what Vanga might have said with good intentions did not sit well with the social media users. People instantly brought back the references from Sandeep Reddy Vanga's Arjun reddy and Kabir Singh which glorified violence against women.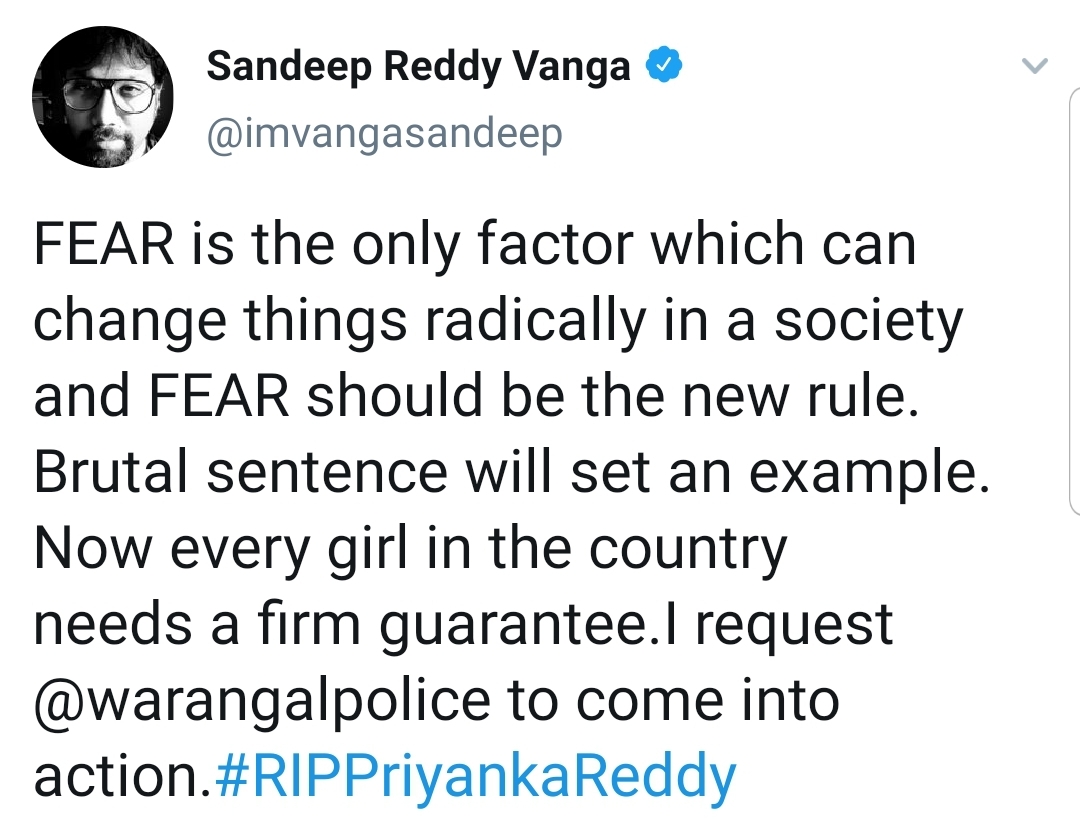 Singer Sona Mahapatra instantly called out the writer and producer urging him to produce the work which did not glorify misogyny, violence, and toxic masculinity.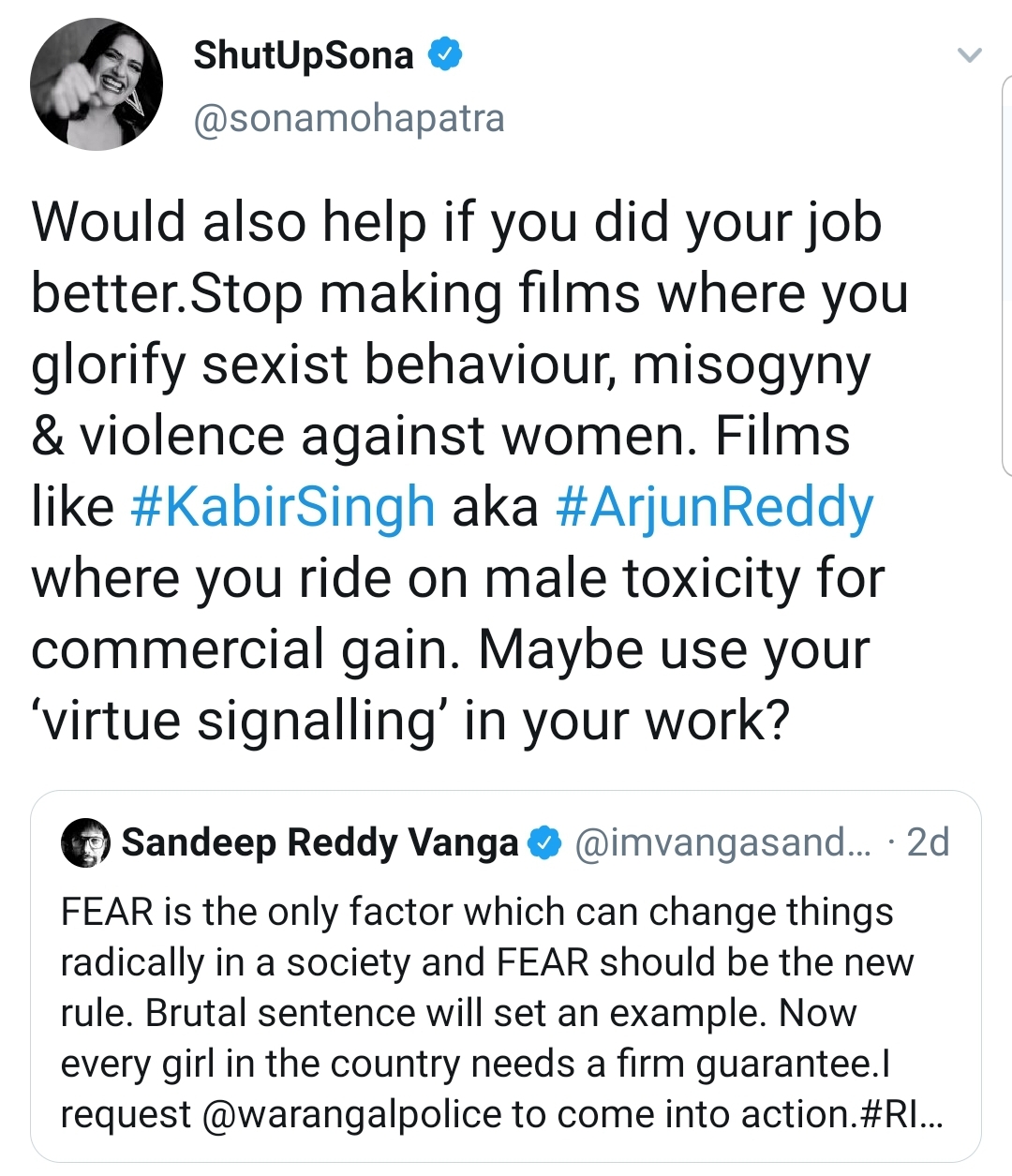 Vikramaditya Motwane, the famous film director, asked Vanga if fear could stop people from slapping women, taking a dig at Arjun Reddy and Kabir Singh.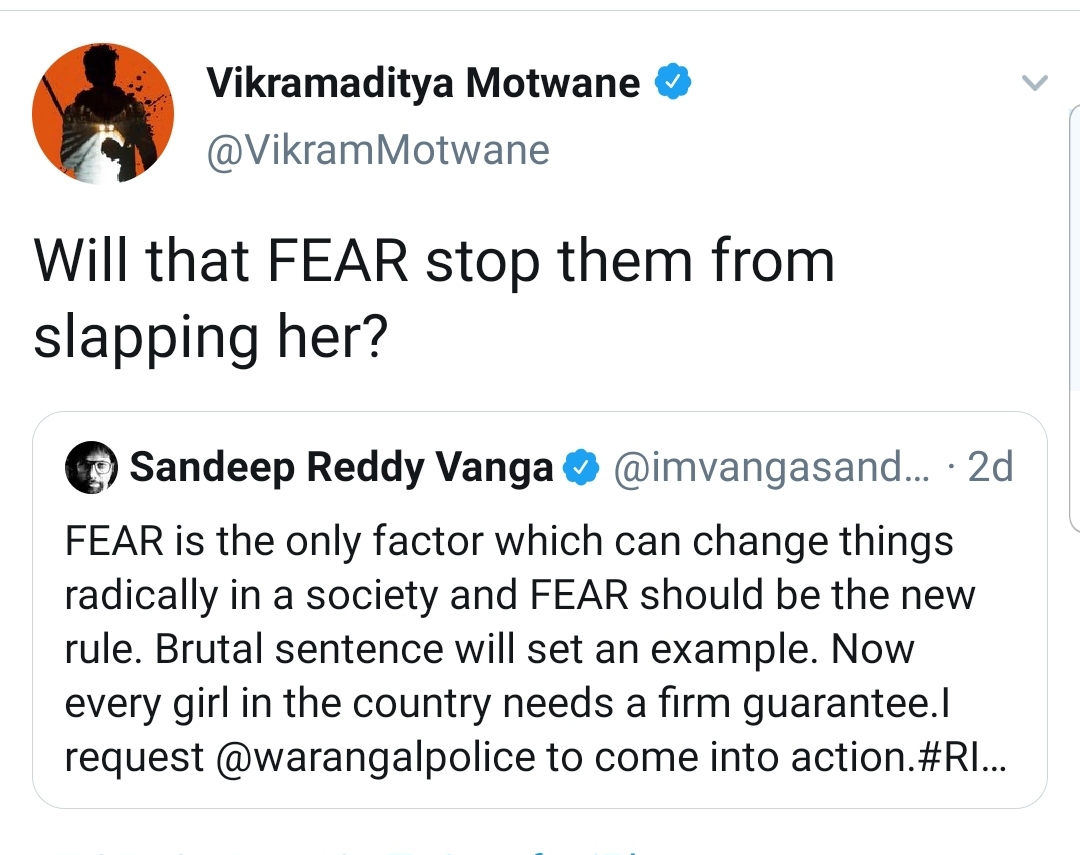 Author Rituparna Chatterjee reminded Sandeep Reddy Vanga of his statement justifying the violence in Kabir Singh saying there was no love if the man and the woman did not have the liberty to slap one another.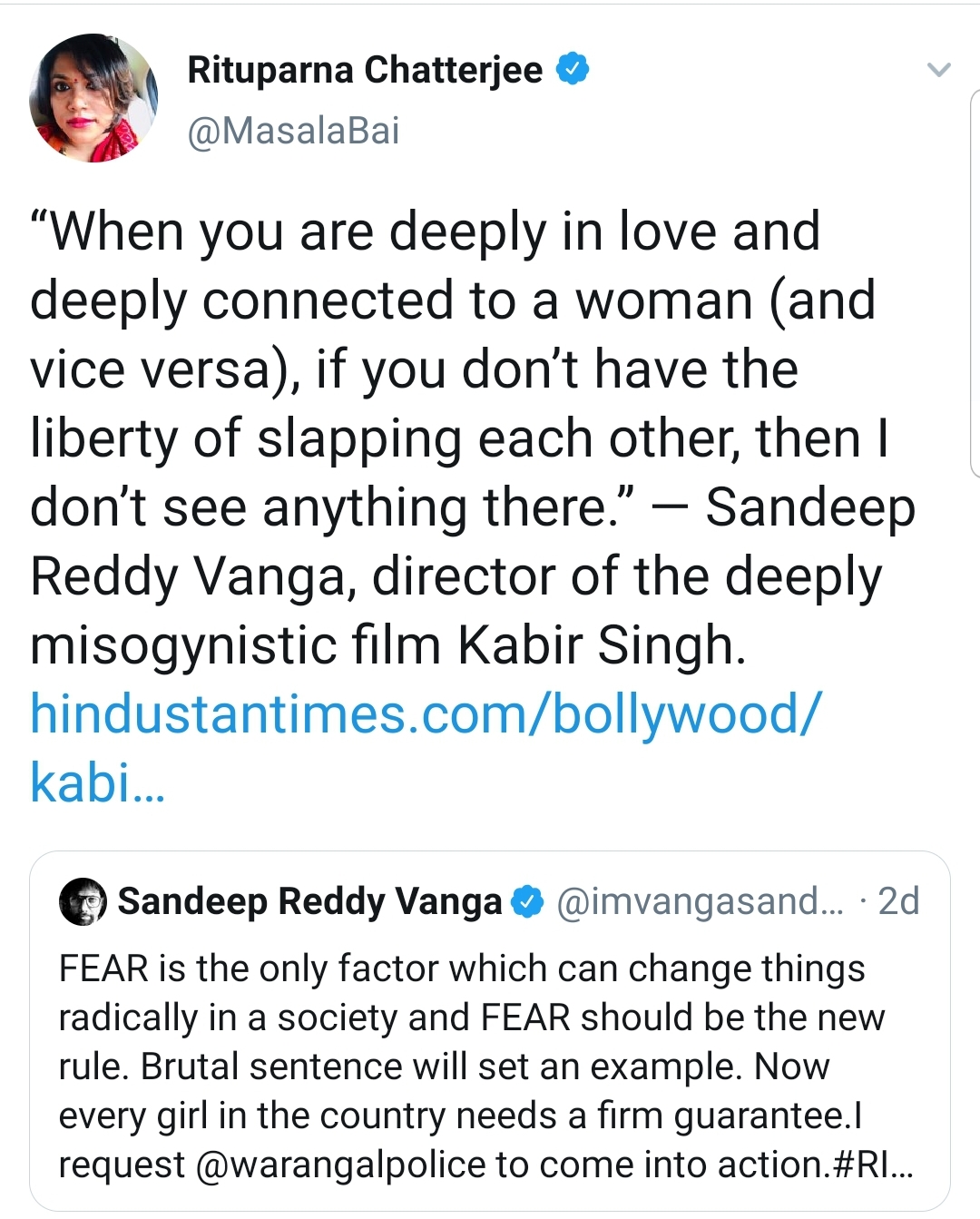 Many other social media users could also not help recalling the misogyny Vanga's films had presented. Arjun Reddy and Kabir Singh were constantly brought to the director's memory. However, a few people also came out in his support.
The Hindy remake of Sandeep Reddy Vanga's famous Telugu film Arjun reddy was Kabir Singh. Shahid Kapoor played the character of a troubled surgeon who could not handle his love interest leaving him for another man. The film received mixed reviews. While some people appreciated the dark story-telling, many were regarded it misogynist and sexist celebrating violence and toxic masculinity by presenting the problematic character as a hero. Sandeep Reddy Vanga justified the violence in the film saying that there was no love if the lovers did not have liberty to slap one another.  Kabir Singh had Shahid Kapoor and Kiara Advani in the main roles.
The original Telugu film Arjun Reddy was the directorial debut of Sandeep Reddy Vanga who started his career as n assistant director. The film was a massive success and hence remade in Hindi as Kabir Singh. Arjun reddy was also made in Tamil as Adithya Varma. He had started writing the script for Arjun Reddy in 2013 and took one year to finish it.