Bollywood News
Priyanka Chopra's Heart Goes Out To Those Who Can't Protect Themselves From Delhi Pollution
Priyanka Chopra posted a selfie wearing a mask to protect her from Delhi pollution as she shoots for her film 'The White Tiger'.
Priyanka Chopra recently posted a picture with a face mask on due to Delhi pollution. Priyanka Chopra is currently shooting for The White Tiger in Delhi with Rajkummar Rao. On Sunday, the pollution indexes showed that Delhi's air quality had reached hazardous levels. Priyanka Chopra shared the picture with a caption worrying about those who did not have the access to to air purifying facilities and masks.
In Priyanka Chopra's words,
'Shoot days for #thewhitetiger. It's so hard to shoot here right now that I can't even imagine what it must be like to live here under these conditions. We r blessed with air purifiers and masks. Pray for the homeless. Be safe everyone. #airpollution #delhipollution #weneedsolutions #righttobreathe'
On Sunday, thirty-seven flights were diverted from Indra Gandhi international Airport. New Delhi has been ranked the most polluted city in the world. The poor air quality damages the lungs of 2.2 million or 50% children of India since seven of the world's most polluted cities are located in India.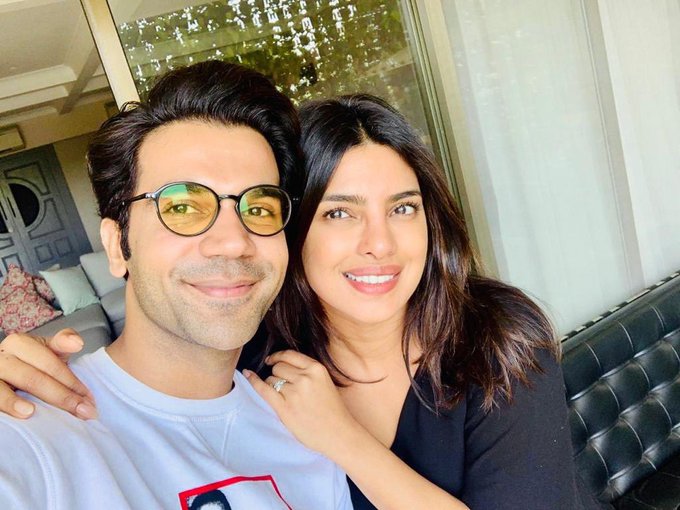 Rajkummar Rao and Priyanka Chopra Jonas
Priyanka Chopra was last seen in the film 'The Sky Is Pink' marking her comeback in the Hindi film industry. She is currently working on the Netflix project The White Tiger which she is also producing in association with Netflix India.  The director Ramin Bahrani is also writing the screenplay for 'The White Tiger' which is actually the winner of the Booker Prize in 20088. It is the story of a tea seller from a small village who becomes a successful entrepreneur in a city. However, his ambition comes with a price.
Priyanka Chopra has also done the voice-over for Elsa in the Hindi version of the famous Disney film 'Frozen 2'. Releasing on November 22nd, 2019 worldwide, this film gave Priyanka Chopra the opportunity to work with her cousin Parineeti Chopra who has done the voiceover for Anna., Elsa's sister. Hence the two sisters will now be playing the characters of sisters in the film.