Bollywood News
Priyanka Chopra-Nick Jonas' Marriage: What Makes it So Strong
Subhash K Jha looks at one year of Priyanka Chopra's wedding to Nick Jonas and how she transformed into an American bahu for the Jonas family
Priyanka  Chopra  clocks a year of supremely  blissful marriage. Congratulations are in order.  Girl, you've come  a  long way! While her life does have its  lows (her brother Siddharth's  marriage  was  broken twice  just before the wedding ceremonies) she really has no reason  to complain. She married into one of  America's most  respected families of entertainers.  The Jonas brothers are not only popular, they are also treated as a scandal-free exemplary  celeb-family in their home land.
Respectability has  always been high on Priyanka's wish list. Roles may come  roles may go, but no compromising  on  the swabhimaan front. I remember when she was just starting out this top-notch filmmaker whom I had  introduced her to, ditched  Priyanka in a costume drama for a much more popular and well-known actress.  It was  by all yardsticks, an unethical  blow. Priyanka  kept quiet. She  knows when to talk. The rest of  the time she stays  mum.  Priyanka is  fiercely protective  about her family. When her father  was  diagnosed with  a serious illness,  she went to work  on the sets  of  Rohan Sippy's Pocket Maar, spent the  whole day  shooting with Abhishek Bachchan.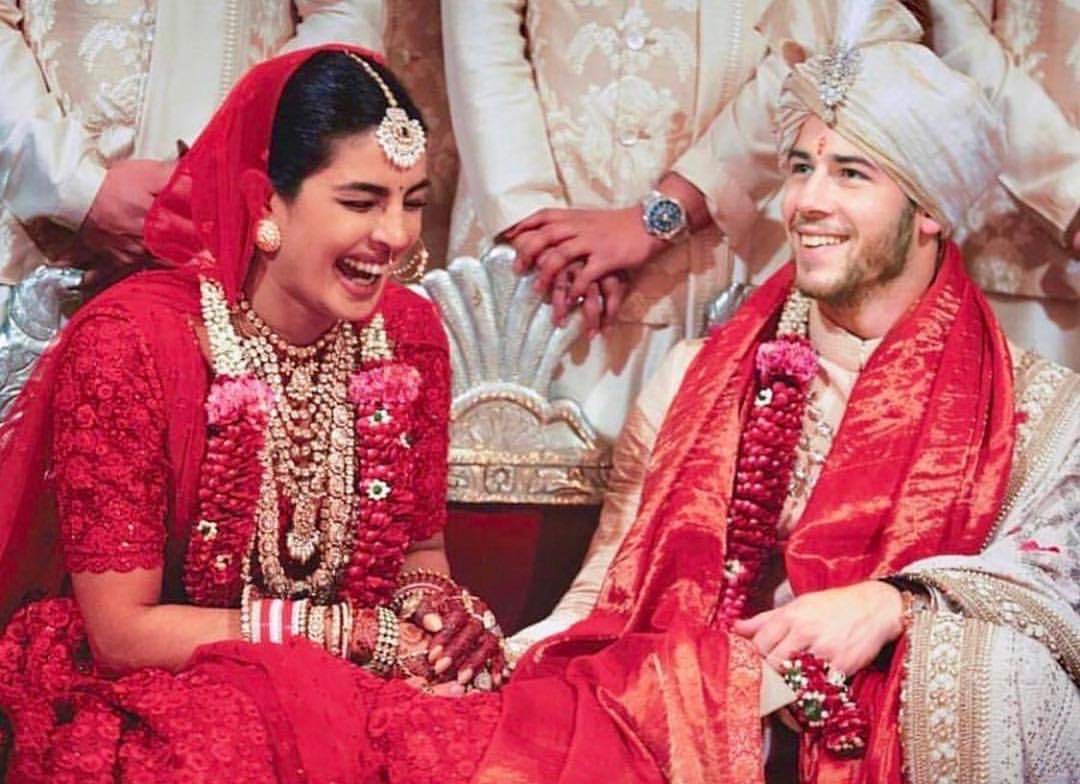 Priyanka Chopra and Nick Jonas at their wedding
 No one  got to know what she was going through. A few days later when I was speaking to Abhishek I  brought  up the  subject of Priyanka's ailing father. He was genuinely shocked. "She didn't say  a thing!" Abhishek  told me.
That's Priyanka  Chopra (now Jonas) for you. She doesn't reveal much  of  what she feels. Though she feels  a  lot. She  is  not insecure, although a lot of star wives  over the  years have felt deeply insecure  about her and banned  their husbands from working with her. The  move to the West was in fact a  career necessity rather than an impulsive  expression of broadened horizons. I  never thought her  move to West would entail an American  husband. Priyanka and I  had  spoken  on this subject when she was dating poor Harman Baweja. Priyanka  was sure she  would marry  him. "It has  to be  an Indian  husband for me, I am a full-on desi girl in that sense."
It may seem  like a culturally  polarized marriage but Priyanka has actually married into a  family with values  that  seem discernibly Indian. Rare as  it may seem in  the West, Nick Jonas  and  his brothers  are together as a  family. A joint family  is a rarity in America, The  Jonas' are that rarity.
Priyanka adores  the spirit  of kinship shared  in the Jonas parivar. She also loves babies. And I know she won't waste time in becoming a  mother in the  near future.  She has voluntarily cut down on her assignments. After The Sky Is Pink she  hasn't signed any  films in Bollywood either. I have a feeling  Priyanka will be  a mother before the other two Bollywood brides (Sonam, Anushka)   of  2017-18.
As  for Nick,  he is  the  best thing to have happened to Priyanka. Devoted, caring, attentive, and  open to imbibing  his Indian wife's culture even if  it  means  being heckled by his fans  in America for  being  henpecked. Nick is okay with that. He loves his wife to distraction. And she tries to pay him back in his  own  coin.