Priyanka Chopra-Nick Jonas Divorce Story: The Stars Will Sue US Magazine
The US edition of OK Magazine had claimed in a cover story that Priyanka Chopra and Nick Jonas are headed for divorce
Priyanka Chopra and Nick Jonas have always decided to keep away from the US media. They are regularly splashed as celebrities and they have good relations with most of the media. But for the first time, the couple has reportedly decided to sue to OK magazine for the damages that they have caused to their public image. The magazine had claimed in a cover story that the golden couple is heading for a divorce.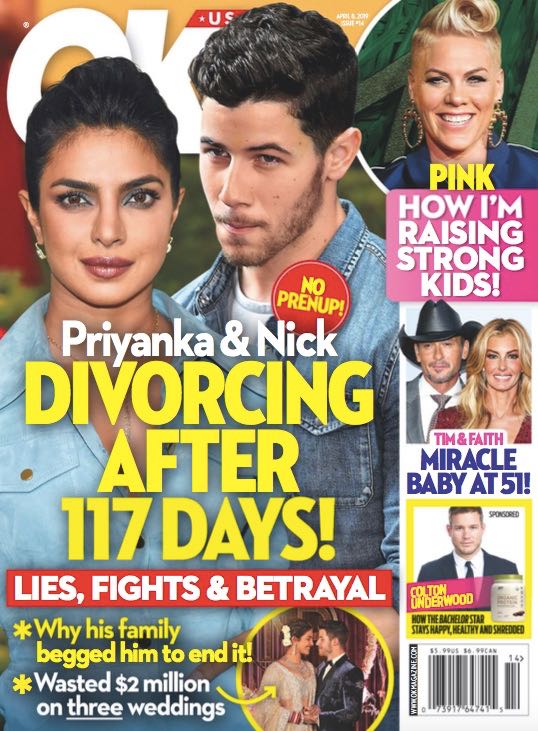 "Once she makes up her mind to deal with negative rumour-mongering, nothing can stop her. Priyanka will let loose her legal team on this news-manufacturing tabloid and ensure they get to their knees," said Priyanka's close associate to In.com.
Sources say that both Nick and Priyanka have fixed an appointment with their legal team in New York to draw up a draft of a claim notice that they plan to send to the magazine before they file a motion in an American court.
As per another source, Priyanka might claim millions of dollars in damages from OK magazine in the USA. "The reports are nonsense. It has been going on for some time and Priyanka has been ignoring it. But this time this was the cover story and naturally, all the negativity associated with it was too much to take for Priyanka as she is a self-made woman. The insinuation that Priyanka is a gold digger and that Nick should have had a prenup agreement in place has pained her to no end. Her husband is extremely hurt. In all probabilities, the magazine can now expect a legal notice from Priyanka," another source claimed.