Bollywood News
Kareena Kapoor, Madhuri Dixit, Alia Bhatt and Others Pitch in For Priyanka Chopra and Freida Pinto's Pet Project
The actresses do their bit for the cause of girls' education
Whoever said Bollywood actresses can't be friends doesn't know Priyanka Chopra. This actress who is now internationally famous, not just packs a punch in all her performaces but the girl has now gone full throttle to further the cause of girl/women's empowerment. 'Girl Rising India — Woh Padhegi, Woh Udegi', is a short film produced by Priyanka Chopra and Freida Pinto, highlighting the importance of girls' education. 
The film aired on a channel network this weekend. And PeeCee is elated that her contemporaries immediately agreed to come on board despite their busy schedule. Bollywood actresses, some alleged rivals, some contemporaries and newbie actresses all pitched in upon PeeCee's request.
As per a report in mid-day.com the actress just had to pick up the phone to get Kareena Kapoor Khan, Madhuri Dixit Nene, Sushmita Sen, Nandita Das, Alia Bhatt and Parineeti Chopra all on board. 
Priyanka also tweeted, "Contrary to the belief that actresses don't get along.. it just took 1 phone call to get these amazing ladies on board."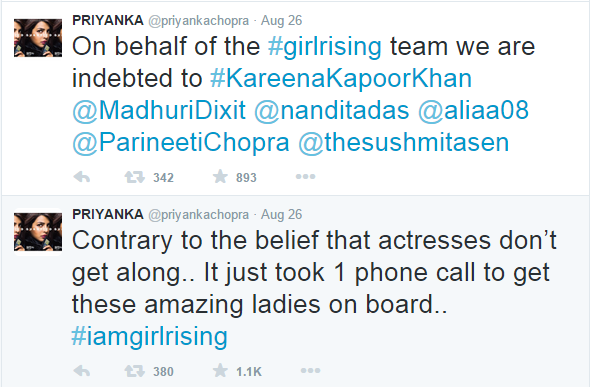 You've truly done us all proud, Priyanka! Take a bow.