Bollywood News
Priyanka Chopra Dazzles in Gold at the Marrakech International Film Festival
Priyanka Chopra is currently in Marrakech where she is being honoured for her contribution. She opted for a traditional look and sported a lovely gold sari on the red carpet
There is no doubt that 2019 was a big year for Priyanka Chopra and she most certainly took the world by storm. The actress has been making waves in the industry and just when we thought she had done it all, she comes back with something bigger and better. There is absolutely no slowing down the starlet as she continues to make headlines. The Bajirao Mastani actress is currently in Marrakech where she was honoured at the 18th Marrakech International Film Festival.
As anyone would be, Priyanka Chopra too was over the moon. Priyanka Chopra is an avid user of social media and often takes to her Instagram account to share glimpses of her life with her fans. And so, the actress took to her Instaram and shared some special moments from the red carpet at the film festival. She captioned her post, "To think that my career started nearly 20 years ago is surreal. I am honored and proud to be recognized tonight at the Marrakesh Film Festival. Thank you, truly, to everyone who came out to Jemaa el Fna square. #Gratitude. Thank you."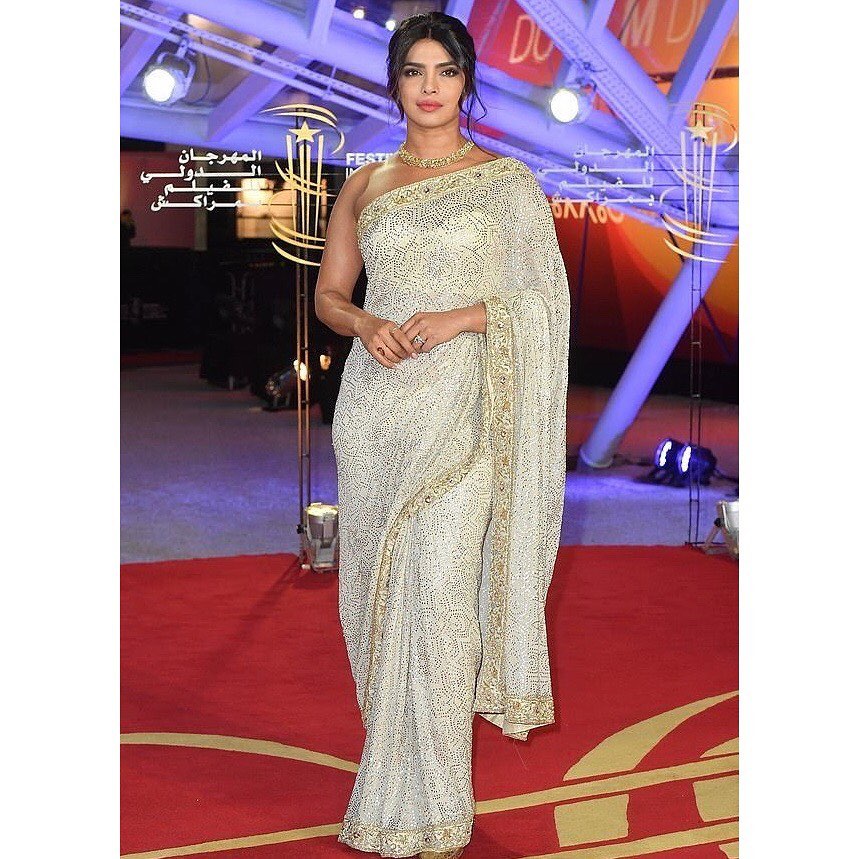 For her red carpet appearance, Priyanka Chopra decided to represent her country and wore a traditional sari to receive her award. Priyanka Chopra dazzled in a gold kamdani sari and of course, left heads turning on the red carpet and beyond. The sari featured a strapless blouse and also an intricately worked border which goes all the way around to the palu. Priyanka Chopra dazzled the night away and added some oomph to her look with a pretty neck piece.
Priyanka Chopra opted for a soft smokey makeup look and a peachy coral lip and had her hair styled in a loose bun with strands of hair left loose on either side of her face. It's nice to see Bollywood actors putting traditional attire on the global map and we'd love to see more saris on international red carpets.