Celebrities
Prince William, Kate Middleton in Pakistan: The British Royal's Famous Sherwani is Now Up for Sale
Prince William became the first royal to wear a sherwani when he visited Pakistan. The designer has now decided to sell and recreate the design in five colors.
Prince William and Kate Middleton's trip to Pakistan is still fresh among the minds of their countless fans around the world. While Kate Middleton dressed up in the Pakistani attire sporting white dupattas and Pakistani shalwar kameez, Prince William also did not stay behind when he surprised everyone by wearing a sherwani on the reception hosted by the British High Commission in Pakistan. Prince William is usually seen dressed in suits or khakis hence this was a pleasant surprise for everyone who was following the visit. Prince William is known for his athletic inclinations hence the sherwani looked great on him. Also, Prince William carried it with great ease becoming the first member of the British royal family to wear a sherwani.
The green sherwani had been designed by Pakistani designer Nauman Arfeen under the brand Naushemian.Prince William coordinated well with his wife Kate Middleton who was also dressed ina dazzling green gown.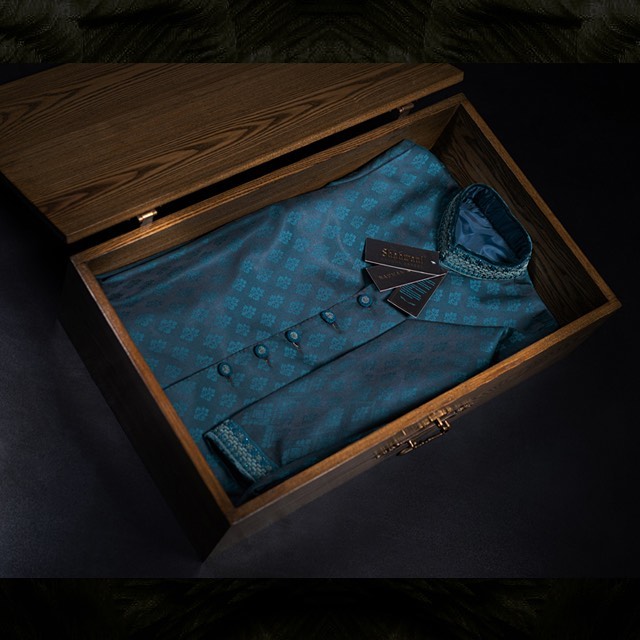 It is well known that Kate Middleton has always impacted the international fashion. Anything she wears sells out within hours at the websites. But now it is Prince William who has taken the lead. Designer Nauman Arfeen has decided to recreate the sherwani worn by Prince William in five different colors along with specialized velvet embroidered shoes to go with it. The intricately embroidered nine button-down sherwani is made in self-embossed jamawar fabric and available for $1450.
Prince William and Kate Middleton's royal visit to Pakistan is among the most successful royal visits to date. During four days of stay, the Brittish royals traveled over 1000 km in Pakistan and visited Islamabad, Chitral, and Lahore. They were widely appreciated for their kindness and respect for the local culture. The couple spent time learning about climate change, local Kalasha culture, inter-faith harmony, SOS village, and the Army Canine Centre having a  good time with the dogs that are trained by the army. This tour was also considered to be one of the most sensitive trips owing to the strategic and security conditions in Pakistan.
Words: 338