Prince William and Kate Middleton Pay Homage to Pakistani Truck Art
Prince William and Kate Middleton are all set to reach Pakistan and begin their five-day trip. They will cover 1000kms in Pakistan during the trip
Prince William and Kate Middleton are reaching Islamabad to embark on their official tour to Pakistan as the representative of Queen Elizabeth II. Amidst the security concerns and the image of Pakistan, this trip is being considered of vital importance to repair and rebuild the image of Pakistan in the world. The tour is of prime importance to the royals too and they have been making it clear through various social media posts. Two weeks ahead of the tour, Prince William and Kate Middleton also visited Aga Khan Centre to meet young Pakistanis who with a forward approach to promoting the softer image of Pakistan in the world.
On their official account, the Kensington Palace posted a beautiful video paying homage to the Pakistani truck art. The video shows two craftsmen painting a rickshaw in the traditional truck art with a symbolic message. The artists paint the flags of Pakistan and Britain on the back of the rickshaw symbolizing the purpose of the tour which is to strengthen the bond between Britain and Pakistan. The instrumental Pashto music plays in the background as the artists paint.
Pakistan came into being on August 14th, 1947 after a two hundred year British rule. Pakistan is a member of the Commonwealth headed by Queen Elizabeth II. Since Prince William is second in line to the British throne, it is likely that he will also take the seat one day.
The official tour is beginning from October 14th, 2019 and will end on October 18th. During the five day trip, the Duke and the Duchess of Cambridge intend to meet and promote the charities which are closer to them. These particularly include promoting the girl child education and protecting the environment to combat climate change prevalent in the world.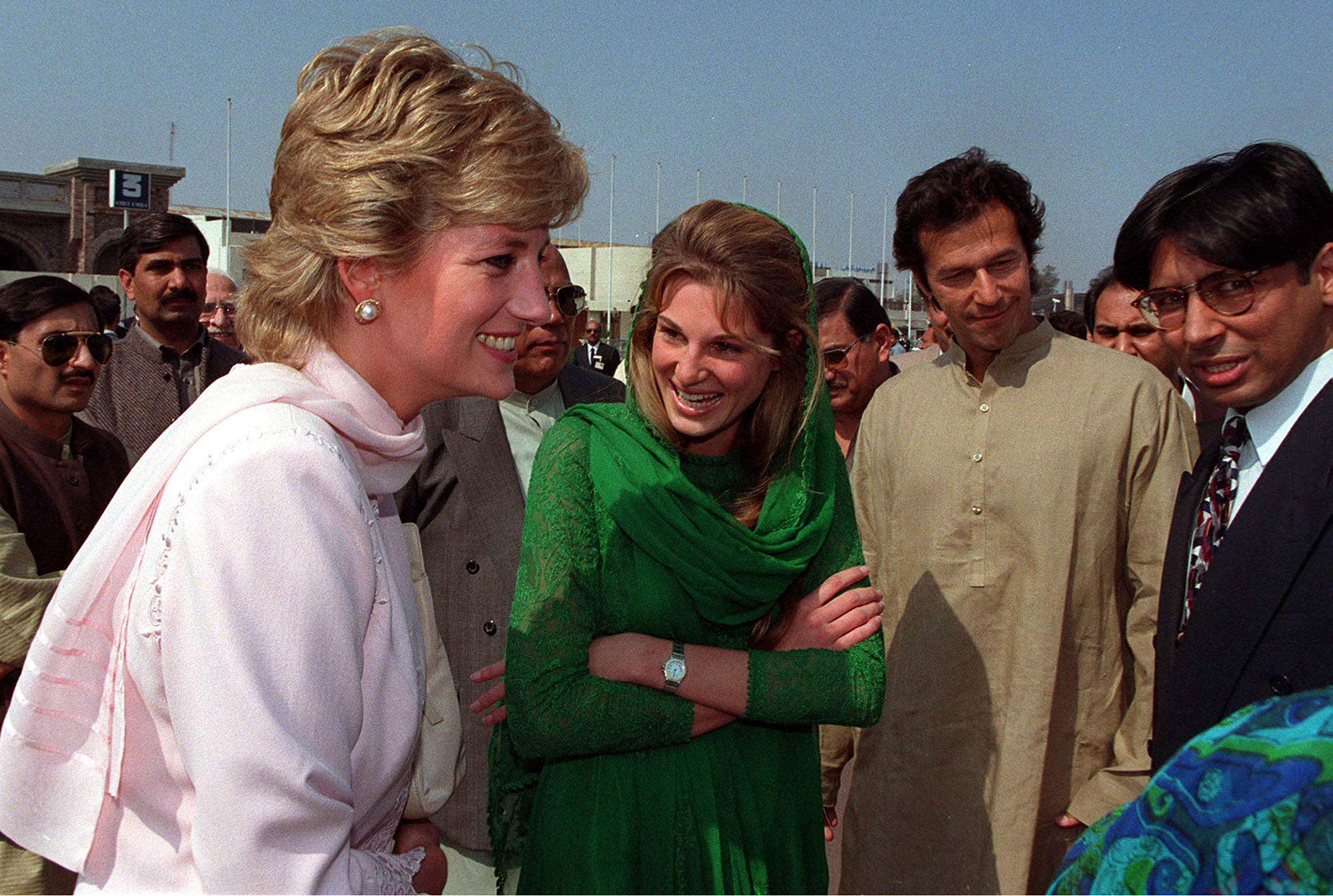 Princess Diana with Imran Khan in Pakistan
Considering the high profile of the Cambridges and the security concerns, around 1000 policemen have been deployed to manage the security of the British royals. Prince William was the first British royal to visit Palestine and Israel. Due to his statesmanship, he and wife Kate Middleton are considered the perfect choice for a sensitive trip.
Prince William and Kate Middleton are excited about the tour and expressed during their visit to the Aga Khan Centre in London. According to Kate Middleton, she was looking forward to enjoying the traditional Pakistani curries as she did not get this opportunity at the home. She candidly spoke about Prince William's inability to deal with the spice while their daughter Princess Charlotte was great at handling the spice heat.