Prem Ratan Dhan Payo Completes 4 Years: Here Are My Memories of Watching The Film
Prem Ratan Dhan Payo was released four years ago with Salman Khan and Sonam Kapoor playing the lead roles.
Just a few minutes ago, I came across Sonam Kapoor's Instagram story which mentioned 'Prem Ratan Dhan Payo' turning four years old. Time flies. Doesn' it? To me, it was still yesterday but if the calendar suggests otherwise it is time to believe the figures and not just vibes that only the heart catches. Like most of my memorable Bollywood memories, Prem Ratan Dhan Payo days were also gloriously spent in Dubai. Unlike most of our former film expeditions, we decided to watch Prem Ratan Dhan Payo a few days after its release. Unfortunately or fortunately, we couldn't be the first ones to enter the dazzling VOX Cinema at Mall of Emirates.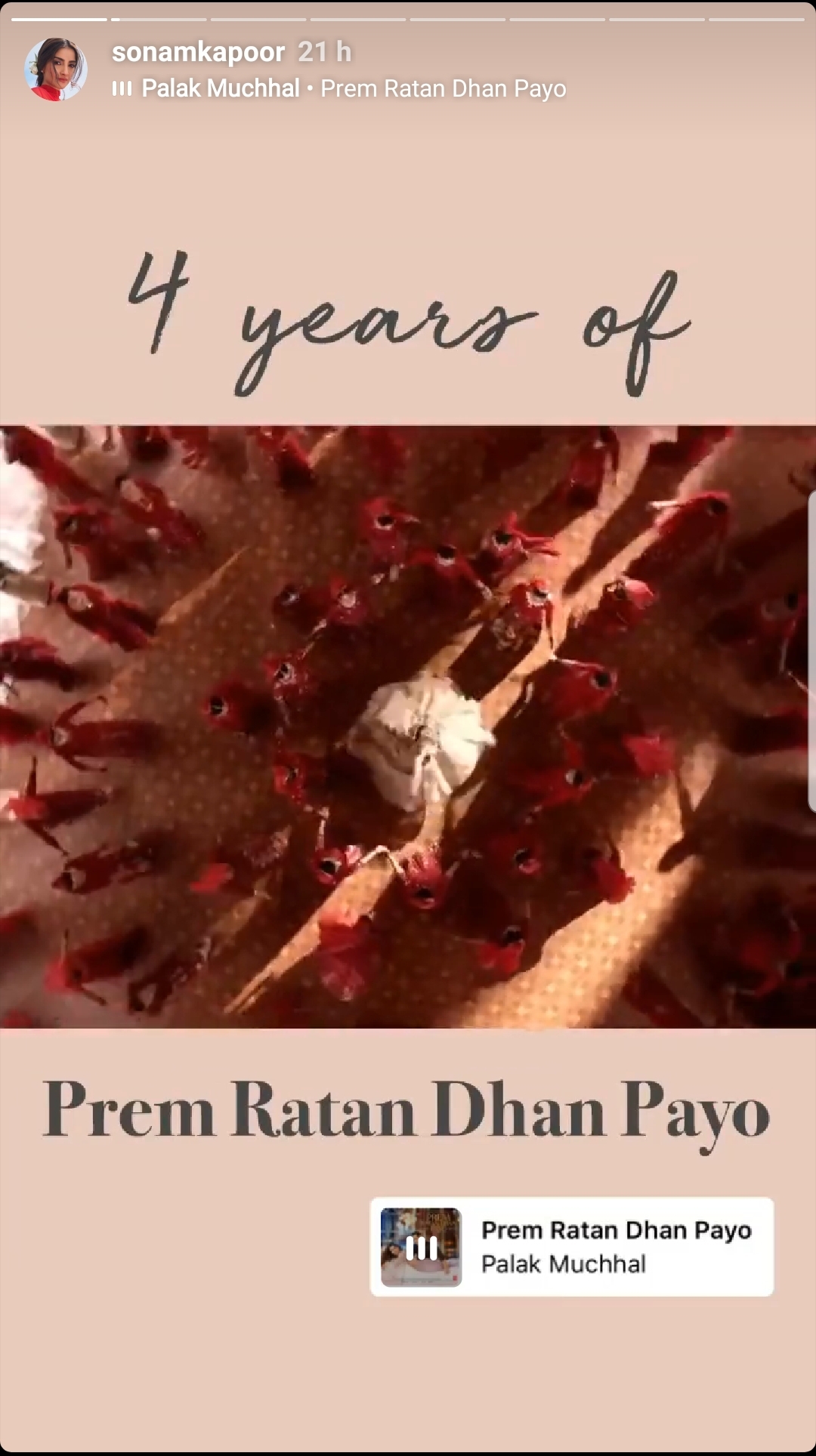 Sonam Kapoor's Instagram story.
Samosas over nachos!
In the honor of the film and the subject, we ( I and my friend M) decided to get samosas instead of nachos because Diwali vibes had to be respected and celebrated.
There were only four people (including us) in the cinema
Sadly or gladly, the cinema hall felt purely exclusive as there were only two more people to watch the Salman Khan and Sonam Kapoor film. But never mind, it meant more room to make all the noise in the house as we matched the steps with Sonam Kapoor at the title track.
I am still in love with Prem Ratan Dhan Payo
I am not here to review the film as the times are gone by, just to share the sweet memories that it still brings to me. Despite all the negative reviews and criticism that affected this film like a hailstorm, I am still in love with Prem Ratan Dhan Payo. It is true that we as film audiences have come a long way and do not appreciate films that are thoughtful or lack solid content. Prem Ratan Dhan Payo was no different from the typical Salman Khan films which are no brainers. But hey, what else is one looking for when watching a film you pay to watch in the cinema screen? At least, I do want to get good entertainment while I sit with my feet up for a film.
Salman Khan has always been true and loyal to his genre
Salman Khan is known for sticking to his genre while other big names from his generation have explored other genres. This is both strength and weakness of Salman khan as not only does it bring his loyal fans back to the Cinema screens every time 'Bhai' is in the house but also does not let him explore with other forms. Also, Salman Khan has a keen ear for good music and Prem Ratan Dhan Payo promises to bring you that with full force. Salman Khan has played the role of a prince engaged to a princess. Simple!
Sonam Kapoor did not have much to do in the film except looking beautiful
Like most of the heroines in Salman Khan's films, Sonam Kapoor did not have much to do in this film except for being a princess whose life revolved around getting the attention of the man she loved despite being a strong independent woman in her own right. But boy, I still remember the royal charm she exuded which can only be Sonam Kapoor's forte. At least, she is good at carrying whatever she wears.
In another life, I would watch Prem Ratan Dhan Payo once again
You know what, if given another life and chance, I would still love to watch Prem Ratan Dhan Payo and flow wild in the fantasies Bollywood has always prepared me to live with. Is intelligence only tickling with the mind of the audiences? Shouldn't it also be about entertaining the people and drifting them away from their real life woes and worries? If the latter is meant to be believed, Prem Ratan Dhan Payo was an intelligent entertainer and still remains as a part of my sweet memories from the past.