Celebrities
Pati Patni Aur Woh Movie Review: Kartik Aryan and Bhumi Pednekar's Film Lags, Soars and Lags Again
Pati Patni Aur Woh movie review is in. According to our reviewer, Mahwash Ajaz, Kartik Aryan and Bhumi Pednekar and Ananya Panday's film barely flies
Movie Name

Pati Patni Aur Woh

Director

Mudassir Aziz

Actor

Kartik Aryan, Bhumi Pednekar, Ananya Panday, Aparshakti Khurrana

Rating

Rating 2.5/5 Stars
2.5/5 Stars
Before we review Pati Patni Aur Woh, here's a lowdown on a newfound genre. The small time hero is now a big presence. It's 2019 and the day of the big hero with big problems is gone. Now the hero has a problem with erectile dysfunction, getting into a live-in relationship, growing hair on his head or having a problem with his best friend marrying someone he doesn't like. This is a genre of Bollywood that is now very mainstream. And with great power comes great responsibility. Not to mention impossible benchmarks.
With Kartik Aryan winning hearts in Sonu Ki Titu Ki Sweety (my personal disdain of the film aside, I thought Kartik was quite likeable) and Ananya Panday recently garnering acclaim in the college fluff-edy (that's a genre Karan Johar has coined all on his own = college drama + deliberate romantic comedy) with Bhumi Pednekar fresh off the success of Bala (another small time hero with big problems, Ayushmann Khurrana starrer won big at the box office despite having a similar vein to Sunny Singh, who also had a cameo in Pati Patni aur Woh - oh man, my head is reeling with how meta all of this is), Pati Patni aur Woh should have been a great success. A sure shot into the hearts and minds of those of us who really liked Luka Chuppi (Kartik Aryan and Kriti Sanon, who also makes a cameo appearance, starrer romantic comedy earlier this year) but it was not.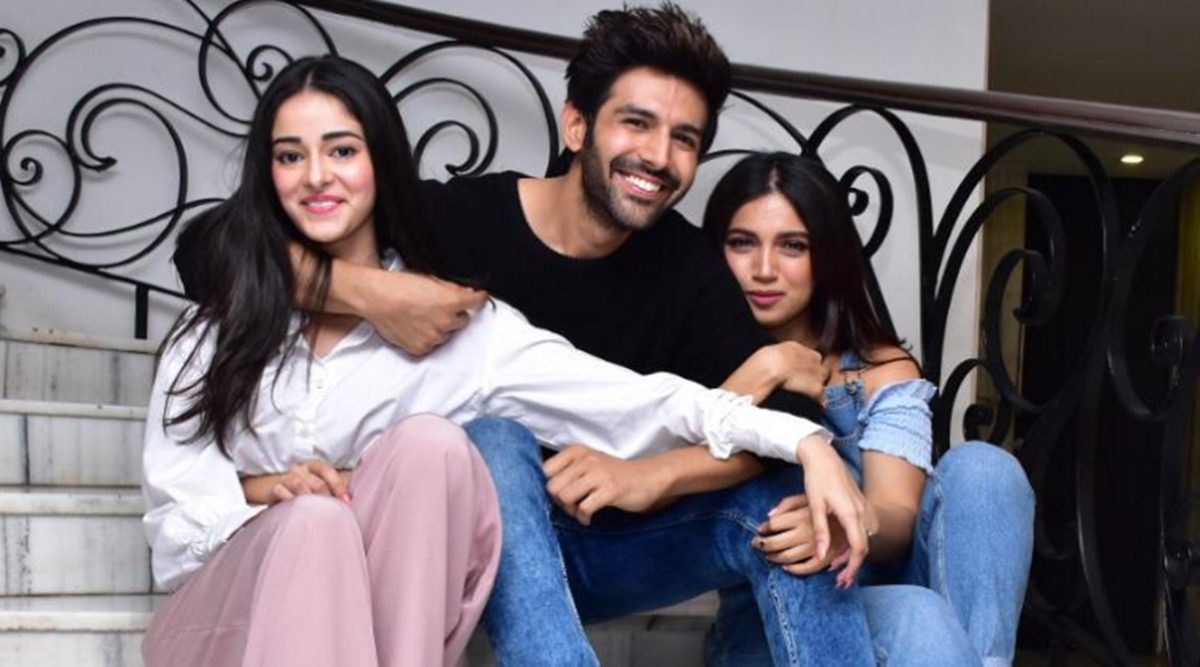 Kartik Aryan, Bhumi Pednekar and Ananya Panday 
The first half is where it all should go right but it all goes wrong. And not in the controlled chaos way. The dialogs are flat, the story is slow and the story is predictable as, well, it's predecessor. And stuff that's also pretty evident from the trailer. Man meets woman. Man marries woman. Man is bored of woman. Man justifies boredom in marriage. Makes extraordinarily stupid remarks about how pathetic middle class men in India have it. Man finds a new girl who he lies to about being married. New girl feels sad for the poor man in a bad marriage. Cue chaos. Or what the moviemakers had thought was chaos.
The second half picks up. The twists and turns are better. The plot has remarkable sensitivity and the actors display more range than happy, sad, pensive, cheesy. Towards the climax, there are some very rational and feminist undertones to the dialogs that come at you from nowhere. Where was this sensitivity in the first half?
Tapasya Singh (Ananya Pandey) isn't a vamp but her character isn't layered properly either. She's basically dressed in skimpy clothes only to serve sweet, naive propositions to Chintu (Kartik Aryan). While there are nuances of jealousy, ambition and heart to Videka (Bhumi Pednekar)'s character, Tapasya's character is written like a bimbo. But Tapasya is running her own business and clearly a happening entrepreneur in a big city. What's a girl like her doing in a relationship like this? We'll never know. But we did see her dance in skimpy clothes, so there's that.
The saving grace of the film (especially in the draggy first half) is Aparshakti Khurrana who plays Fahim Abdul Rizvi, a smart talking comrade to Chintu. The smart talking sidekick is a trope that Aparshakti has done quite a lot as well but he does it extremely well each time and often saves the plot and the scene from being a complete flop.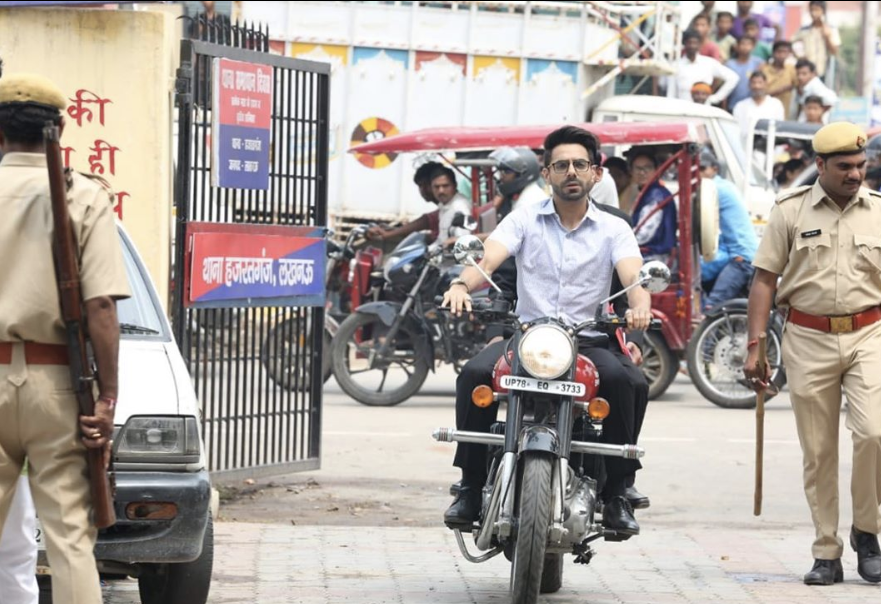 Aparshakti Khurana in Pati Patni Aur Woh
If you're a Kartik Aryan fan and really want to see him do a lot of silly lying and dancing and prancing, you should go watch Pati Patni Aur Woh. If you're into a serious conversation about what kind of misogyny bar is being set in Bollywood with films like De De Pyaar De and Housefull 4, watch Stree instead. If you're just looking to pass some time, go watch Pati Patni aur Woh.