Parineeti Chopra Shares Picture of Injury on Saina Set, Requests Fans to Pray for Speedy Recovery
By Masala Web Desk Saturday, 16 November 2019
Parineeti Chopra injured her neck and has currently paused filming for the biopic on ace badminton player Saina Nehwal. She revealed she will start playing the sport as soon as she recovers!
Parineeti Chopra has gone the extra mile to shoot for the upcoming biopic on world famous badminton player Saina Nehwal. From living in the stadium for 15 days to visiting Saina's home in Hyderabad for a better feel of the character, audiences have high expectations from the Bollywood actor's forthcoming project. The actor recently wrapped up filming for The Girl on the Train and her focus has been Amole Gupte's Saina since. While Parineeti was completely engaged in the shooting of the film, she met with a rather unfortunate incident. The starlet injured her neck and has currently paused filming.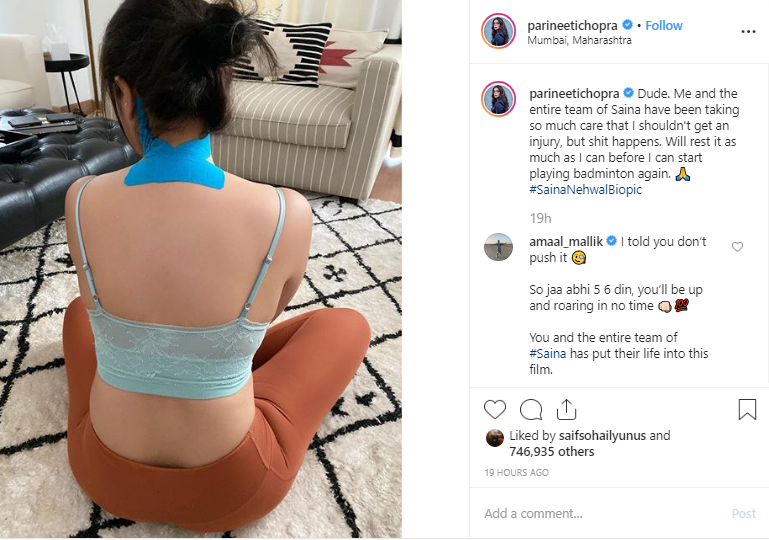 Sharing the news with her fans and well-wishers, Parineeti requested for prayers for her speedy recovery so that she can resume playing badminton. Updating fans about her condition, the Namaste England actor shared a picture on Twitter where she can be seen wearing a blue bandage on her neck. "Dude. Me and the entire team of Saina have been taking so much care that I shouldn't get an injury, but shit happens! Will rest it as much as I can before I can start playing badminton again," she captioned the picture.
After completing rigorous badminton training, Parineeti has now moved to Ramsheth Thakur International Sports Complex for more than a fortnight to shoot as well as practice the game. Speaking about her role in the upcoming film, she earlier said, "I want to become Saina. For that I want to go to her house and see how she lives. We have met many times, but this time I want to go to her house, live like her and eat like her for a day. She has promised me that her mom will feed me the exact food that Saina eats. So I am excited to go to her house and live her life for one whole day."
For all the latest Bollywood News and gossip, follow us on Twitter & Instagram, like us on Facebook and subscribe to our channel YouTube. New videos up every day!
Comments