Bollywood News
Pakistani Actress Hania Aamir Gets Real About Her Acne; Mahira Khan Supports Her Bravery, Yasir Hussain Gets Slammed
Hania Aamir took to her Instagram to share photos of her acne and expressed how she managed to overcome the beauty "standards" set by the world
On Monday, Hania Aamir won the hearts of her fans across the globe and peers from the industry, when she took to her Instagram to share photos of her acne and expressed how she managed to overcome the beauty "standards" set by the world.
Yesterday, the Parwaaz Hai Junoon star got real with the world about her skin and how we beat ourselves over the unrealistic and bizarre beauty standards.
"[My acne] would show on camera and everybody started to ask me [about it], started with the totkas [home remedies] and then came the anxiety," said Hania. "I kept it clean, toner, creams, dermatologists, everything! Nothing seemed to fix my skin and I had my nights AND days of crying. Feeling insecure. Anxiety. Makeup wouldn't help. I was a mess but I went through it and got out of it too."
Hania revealed that after an intense battle with acne, visiting multiple doctors and trying different remedies, she has now come to terms with it and will not let acne slow her down.
"My skin has been better than before. But it made me wonder. Why is my skin defining me? Who has made these beauty standards that we always feel the need to match? Society?" she asked. She slammed the idea that only clear skin is beautiful. "I know that the idea of being "perfect" is appealing to the majority but you don't need to be an airbrushed flawless image to feel beautiful," wrote Hania.
The response to her realness was tremendous with the post garnering over 131,000 likes and many comments. While, celebrities such as Mahira Khan, Meesha Shafi and Syra Shahroz applauded her for her bravery, the screenwriter and host Yasir Hussain tossed an inappropriate joke at the actor's struggles with acne.
The 32-year-old Yasir Hussain took to his Instagram and had fans ask him questions. One of them asked him to describe Hania in a word. Being insensitive like before, Yasir quickly answered by calling her 'Danedaar', aiming at her acne post.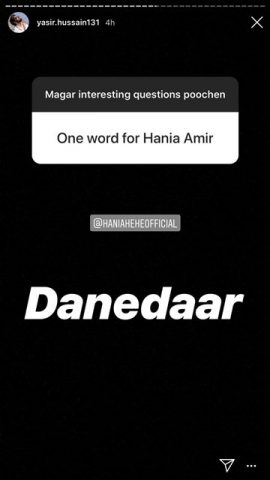 Hania was quick to respond and called him out on social media by reposting his post. 'Muaaf kijiye meray dost ko. Inko aaj kal inappropriate jokes marni ki aadat hogayi hai [Please excuse my friend, he has a habit of making inappropriate jokes nowadays]," Hania wrote.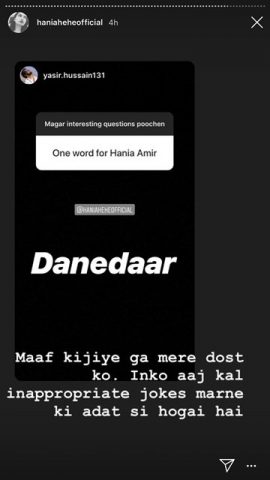 She further added that making jokes of people's insecurities is just downright "disgusting", "disrespectful" to the person's feelings and emotions and is just wrong on "so many level".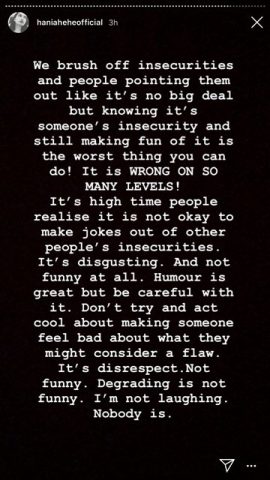 Mahira Khan, showing her support to the actress, shared a screenshot of Hania's post and wrote, "I'm not laughing either. Nobody is! @realhaniahehe thank you and proud of you for showing courage as well as grace."
I'm not laughing either. Nobody is! @realhaniahehe thank you and proud of you for showing courage as well as grace https://t.co/yaIGzBQtRY

— Mahira Khan (@TheMahiraKhan) May 14, 2019
Explaining himself, Yasir posted again on his Instagram handle and said that the previous post wasn't a joke and that in Urdu language acne is called "Dana".