Celebrities
Oscars 2020: Indian American Filmmakers Smriti Mundhra and Sami Khan Nominated for MTV Documentary
Smriti Mundhara and Sami Khan's film St Louis Superman will be competing for an Oscar award in the Documentary Short Subject category next month
Indian-American filmmakers Smriti Mundhra and Sami Khan have received an Oscar nomination for their 28-minute film St. Louis Superman. Their MTV documentary has been nominated in the Documentary Short Subject category of the 92nd Academy Awards, which will be held next month. The film is competing for the Oscar award against films like In the Absence, Learning To Skateboard in A Warzone, Life Overtakes Me and Walk Run Cha-Cha. On receiving the nomination, MTV Documentary Films chief Sheila Nevins said she was gratified as the pool of contenders was so wide and added, "The odds are definitely against you. It's fun being an underdog."
St Louis Superman is based on black rapper and activist Bruce Franks Jr, who was elected to the Missouri House of Representatives and worked to pass an important bill for his community, while tackling personal and political obstacles.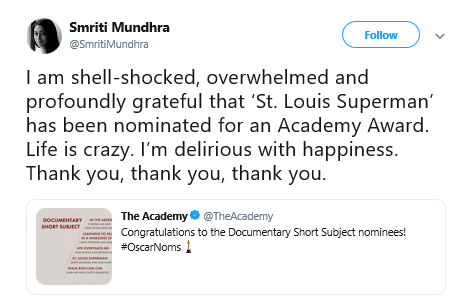 Sharing the news on Twitter, Smriti Mundhra wrote, "I am shell-shocked, overwhelmed and profoundly grateful that 'St. Louis Superman' has been nominated for an Academy Award. Life is crazy. I'm delirious with happiness. Thank you, thank you, thank you."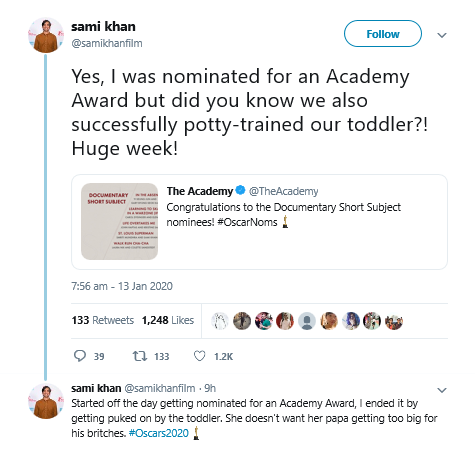 Sami Khan also took to Twitter to share the news with his followers, "Yes, I was nominated for an Academy Award but did you know we also successfully potty-trained our toddler?! Huge week!"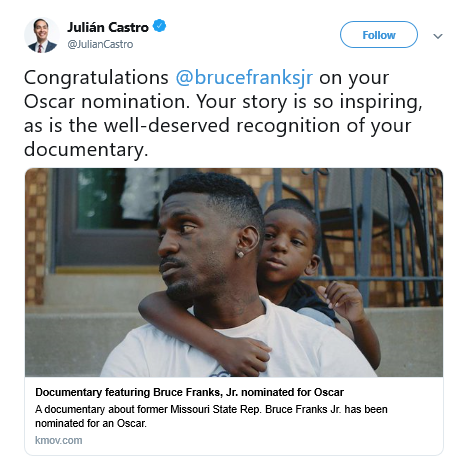 Congratulatory messages poured in for the filmmakers and Bruce Franks after the announcement. Mayor of St Antonio, Julián Castro tweeted, "Congratulations @brucefranksjr on your Oscar nomination. Your story is so inspiring, as is the well-deserved recognition of your documentary." 
The 2020 Oscar award ceremony will be held at Dolby Theatre in Hollywood, Los Angeles, California on 9th February 2020. The awards will be presented in 24 categories. In the main film categories, Joker is leading the show with 11 nominations while Sam Mendes's 1917, Martin Scorsese's The Irishman and Quentin Tarantino's Once Upon a Time in Hollywood have received 10 nominations each.