Bollywood News
Oscars 2019: The Racy Details of What Happens at Madonna's GRAND After-Party
Oscars 2019's grand after-party, hosted by Madonna and Guy Oseary is the one that every Hollywood bigwig, from Leonardo DiCaprio to Ed Sheeran look forward to. But what goes on in this party! Read all the inside info here
It's Wednesday in Hollywood after the Oscars where most of the town is shaking off a brutal hangover as it tries to get back to work. By now you may have seen pictures of the most famous actors, musicians and athletes in the world pouring out of the famous Vanity Fair after-party or even Jay Z and Beyonce's post-Oscar bash. But have you heard of the biggest one? Perhaps the most coveted of all the Oscar after parties is the one simply known as "The Party" hosted by Madonna and Guy Oseary.
This is the one party that Leonardo DiCaprio actually looks forward to. The party where Sam Claflin (rumored to be the next James Bond) puked off of Oseary's balcony. Not to be outdone by Jennifer Lawrence who did the same thing when she won an Oscar, as did Eddie Redmayne when he won his! This is the party Ed Sheeran had to sneak into before he was world famous by hanging out with Rita Ora and pretending he was Calvin Harris. This is...The Party.
With most of these star-studded parties however, there is no social media allowed once you are inside, making the whole thing very secretive. They are very strict about this. In 2017, Oscar nominee Lucas Hedges was almost thrown out for snapping a pic inside. The renowned actor later said in an interview that it was the scariest moment of his life. Madonna's exclusive event had a photographer taking pictures of celebrities before they entered like this one.
Madonna even used this opportunity to squash a long-time feud with Oscar winner and international sensation, Lady Gaga. Here are the two pop icons putting aside their differences.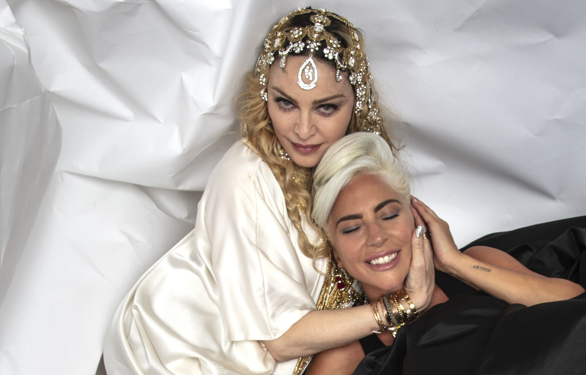 In addition to leaving with awesome pictures with celebrities, The Party gives each guest a Gucci gift bag full of high-end products and accessories that have yet to hit the market. Also, since most people start showing up around 2:30 am, they are treated to a hearty breakfast catered by McDonald's. If you've been partying for 15 hours, I bet an egg mcmuffin tastes like a 5-star meal!
This all began in 2008 when Hollywood was shaken up by a unilateral writers' strike and the famous Vanity Fair Oscar after-party didn't happen. In response, Oseary decided to throw this soiree instead. It quickly became the most exclusive party in town, perhaps the world.
Drama, funny stories, extravagance...what more does a perfect party need? A theme. Madonna has always chosen electric themes for this event that has always been a big hit with the guests. In 2010 it was India, last year it was women and power, and this year the theme was Morocco.
The process of even getting to one of these parties can be an adventure. Usually the star hosting the bash will shut down the street for about a mile, and have several checkpoints and security measures in place. If you are on the list, you usually are sent an address where you check in with security and people running the party. Then you are shuttled to the stars' home. You are greeted with extreme luxury as soon as you get in. Floyd Mayweather rented out the Ritz Carlton grand ballroom for his 40th birthday that boasted 4 white Bengal tigers, a 12 foot ice throne for himself and apple watches for every guest in their gift bag.
These are the parties where celebrities go to be themselves and party like tomorrow isn't coming. This where they make blockbuster deals, kindle a headline stealing romance or just eat pizza and dance like a fool with no one there to judge them.