Bollywood News
Op-Ed: Deepika Padukone's Bravest Stand Yet
Deepika Padukone stood in solidarity with the students at JNU and our Digital Editor, Mahwash Ajaz, talks about how this is her bravest stand yet
Most of us who have stuck around long enough in the entertainment writing business are cynics. You can be a cynic easily if you spend long enough in any industry, to be honest, but the entertainment business, with all its lustre and gleam and shine has its own brand of illusion. A lot of us are attracted to the bright shiny stars, the pretty faces, the spotlight following these supernovas and the ecosystem that it creates for everyone around them. When the illusions break, when the glass houses shatter – you often see that people are, to quote Shah Rukh Khan as he once said about his own stardom, slaves of these images.
Deepika Padukone stood with the protestors at JNU last night which lead to a massive backlash online against her upcoming film Chhapaak. Deepika Padukone had been far away from the controversy as she had been seen promoting her film Chhapaak and her social media also was mostly silent about the situation (whereas other peers from Bollywood such as Alia Bhatt and Taapsee Pannu had spoken up).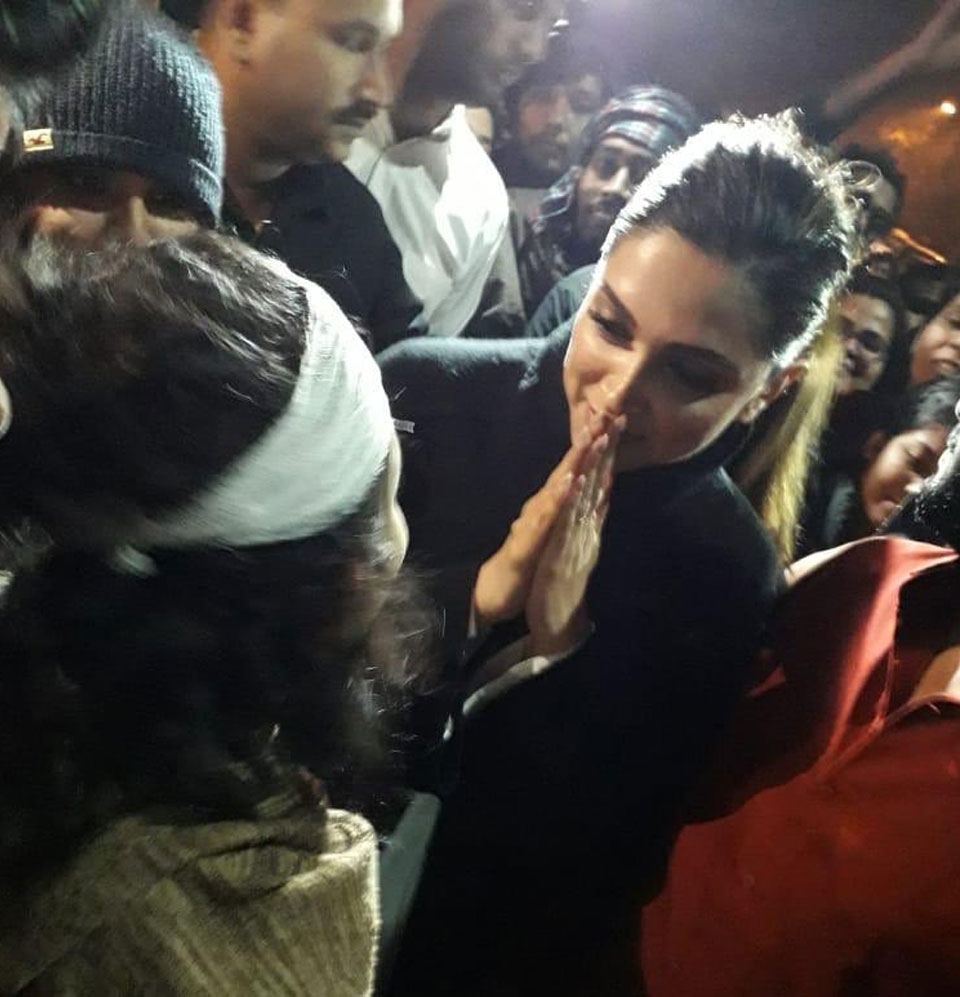 Deepika Padukone joined JNU Protests
Some people from the Bollywood fraternity had attended the protests as well including Anurag Kashyap, Farhan Akhtar, Zoya Akhtar, Dia Mirza, Sonakshi Sinha, Mohammad Zeeshan Ayyub, whereas many others had spoken up on their social media denouncing the CAA and supporting the protests across the country.
Celebs at JNU Protests
Violence broke out at JNU when masked men armed the university and injured students and teachers. These were known to be students from the Akhil Bharatiya Vidyarthi Parishad (ABVP), the ruling party, BJP (Bharitya Janta Party)'s student wing.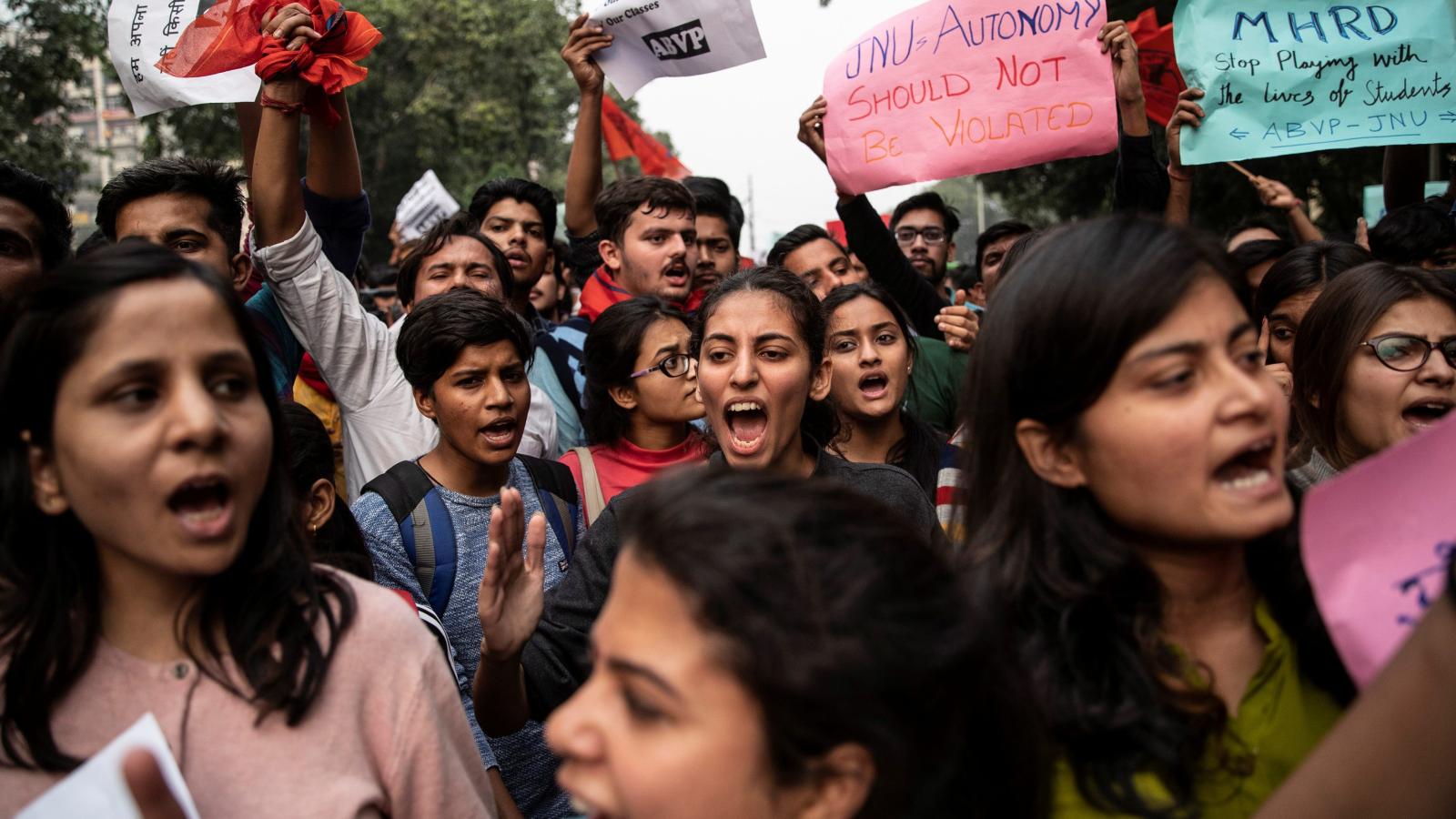 JNU Protests
Protests had been breaking out all over India where students had been speaking out against the NAA and NRC and CAA which specifically targets Muslims as a minority in India. Apart from Muslims, it also targets "Tamil refugees from Sri Lanka, Rohingyas from Myanmar, and Buddhist refugees from Tibet" who will not be eligible to prove that they are Indian citizens unless they show a specific set of documents at a specific date and time. Many are calling these akin to Nuremberg laws that were enacted in September 1935 and stated that 'only those of German or related blood were eligible to be Reich citizens'.
India's Prime Minister Narendra Modi and his ruling party have attempted to deflect from the protests. On 15 December, PM Modi was addressing a rally in Dhumka, Jharkand, where he said, "The Congress party and its allies are creating a ruckus. They are indulging in arson because they did not get their way. Those who are creating violence can be identified by their clothes".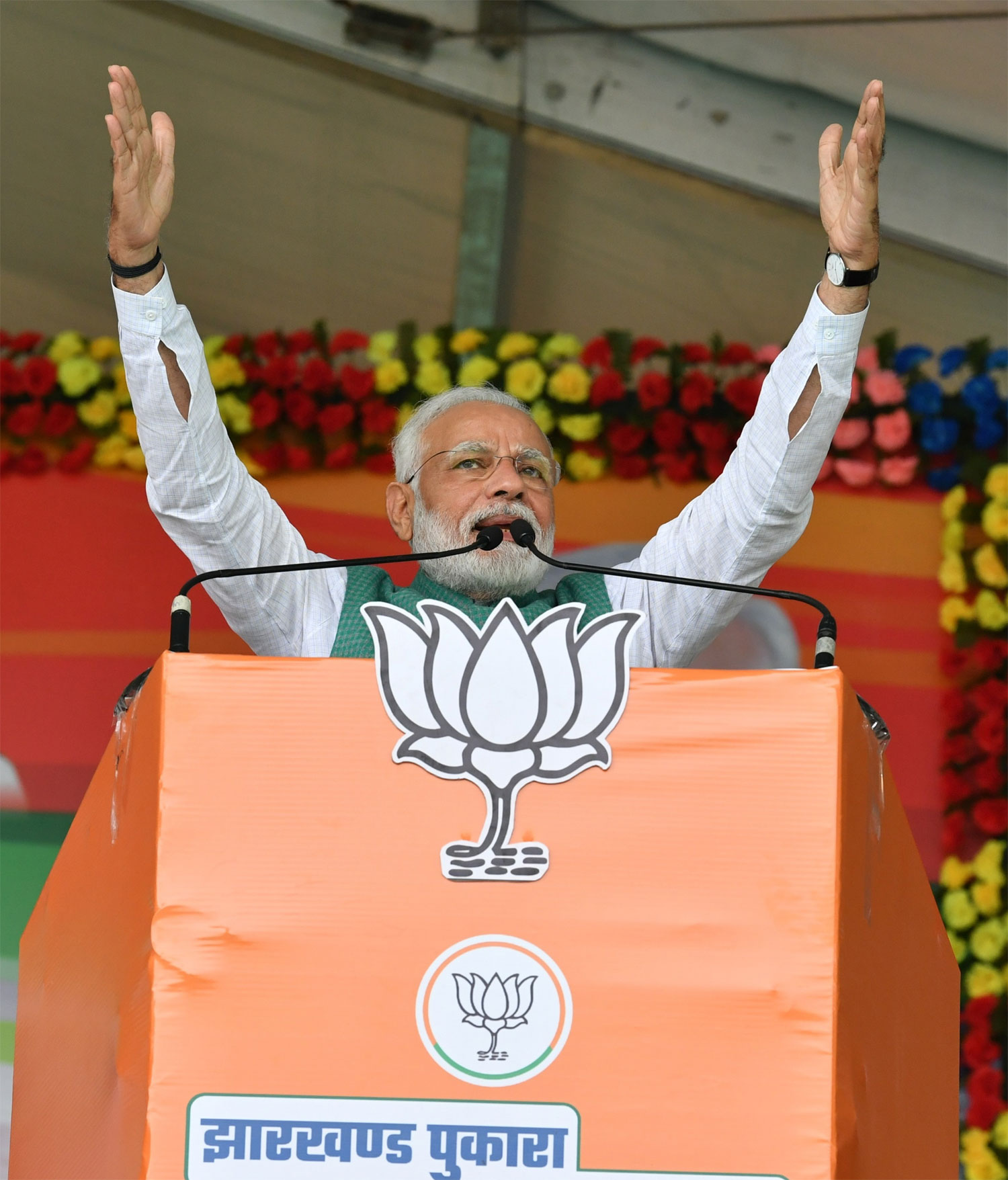 Indian PM Narendra Modi addressing a rally at Jharkand
It's important to note here that Bollywood, India's biggest soft power, has been often used to further nationalist and the ruling party's agendas. The last year alone saw a flurry of nationalist films helmed by mainstream Bollywood stars such as Akshay Kumar (Kesari) and a biopic was made on the PM himself (starring Vivek Oberoi).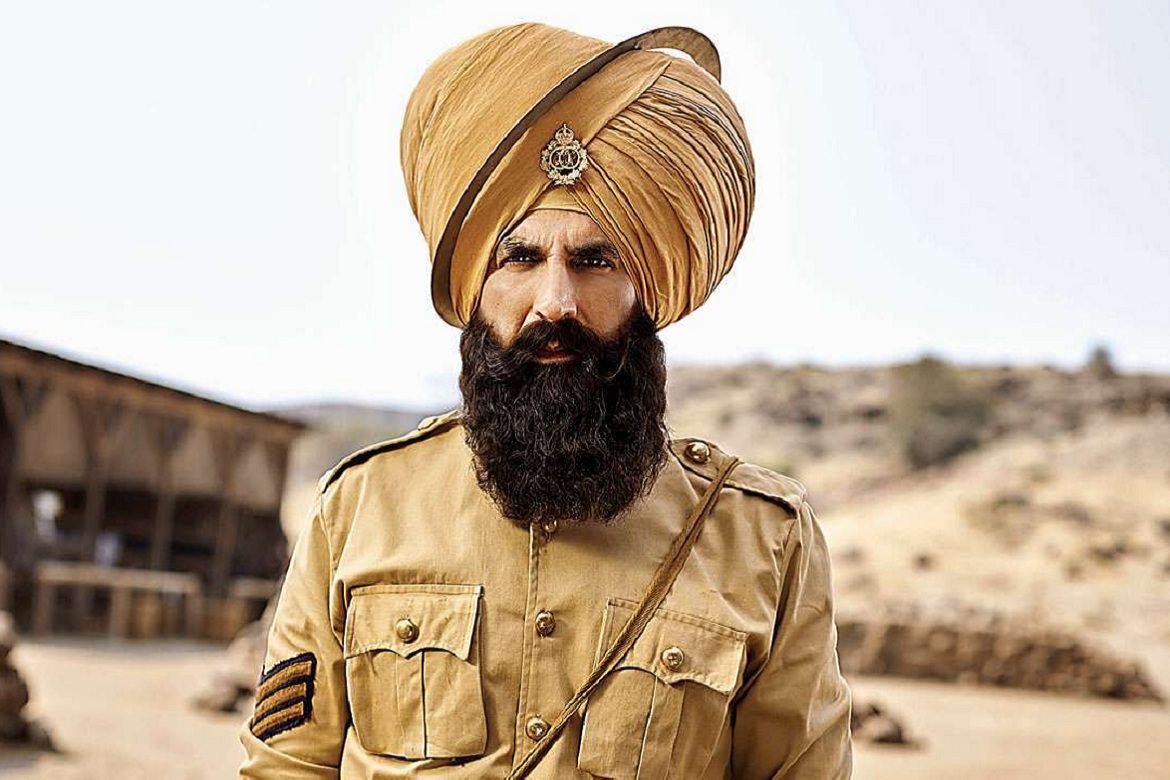 Akshay Kumar in Kesari
The film on Uri (starring Vicky Kaushal) was one of the biggest box office stories of last year and various films on Pulwama and the Balakot strikes are now being made in Bollywood as well.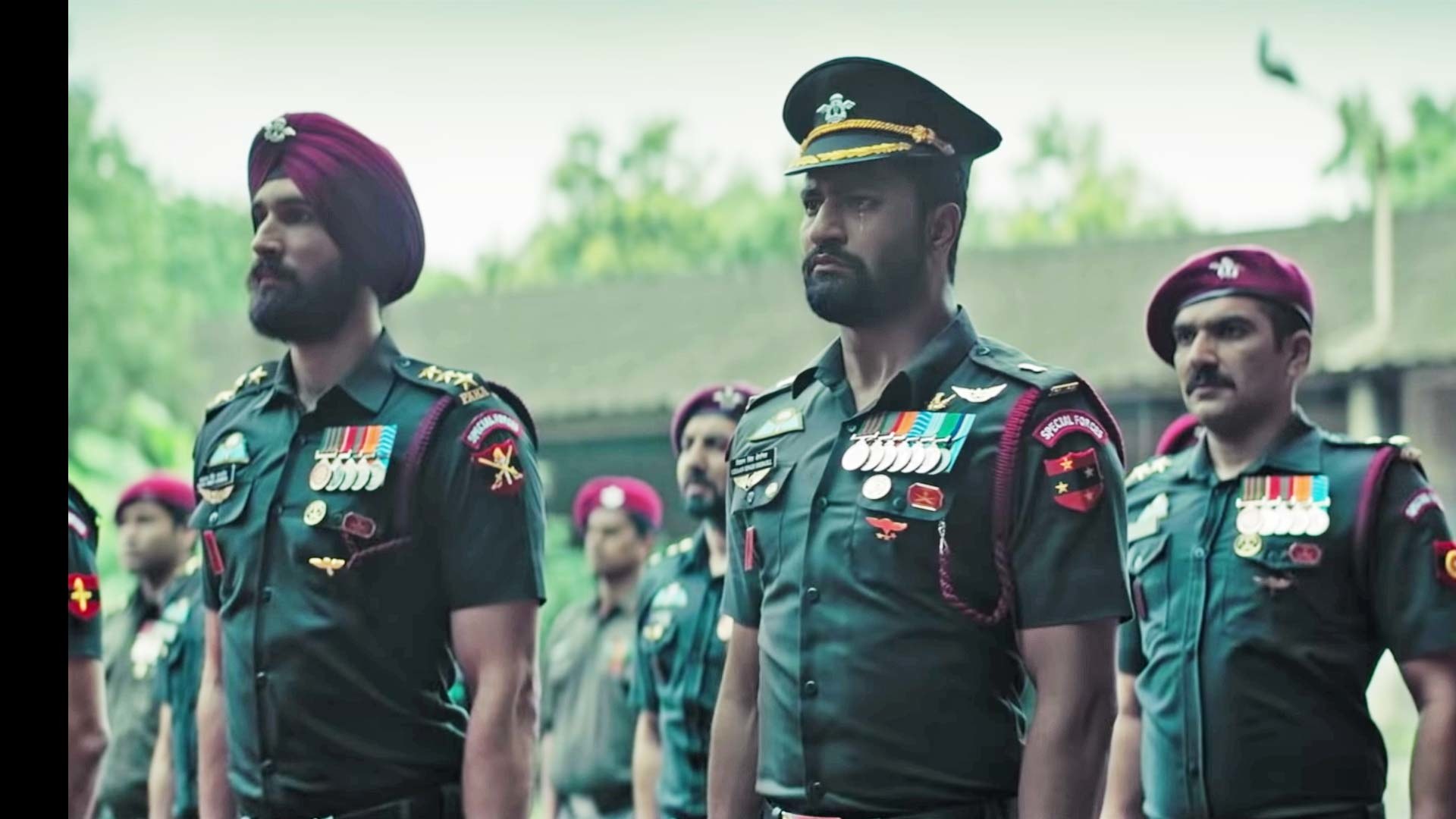 Vicky Kaushal in Uri
Bollywood really doesn't have a problem with furthering nationalist or toxic agendas. It's rampant with various kinds of misogyny (item numbers that blatantly objectify women and storylines that are just plain meninist). Yesterday, Swara Bhaskar was called 'cheap' by the director of the film Dream Girl, Raj Shandaaliya, simply because Swara Bhaskar chose to speak out against the violent protests at JNU (her parents lived on campus).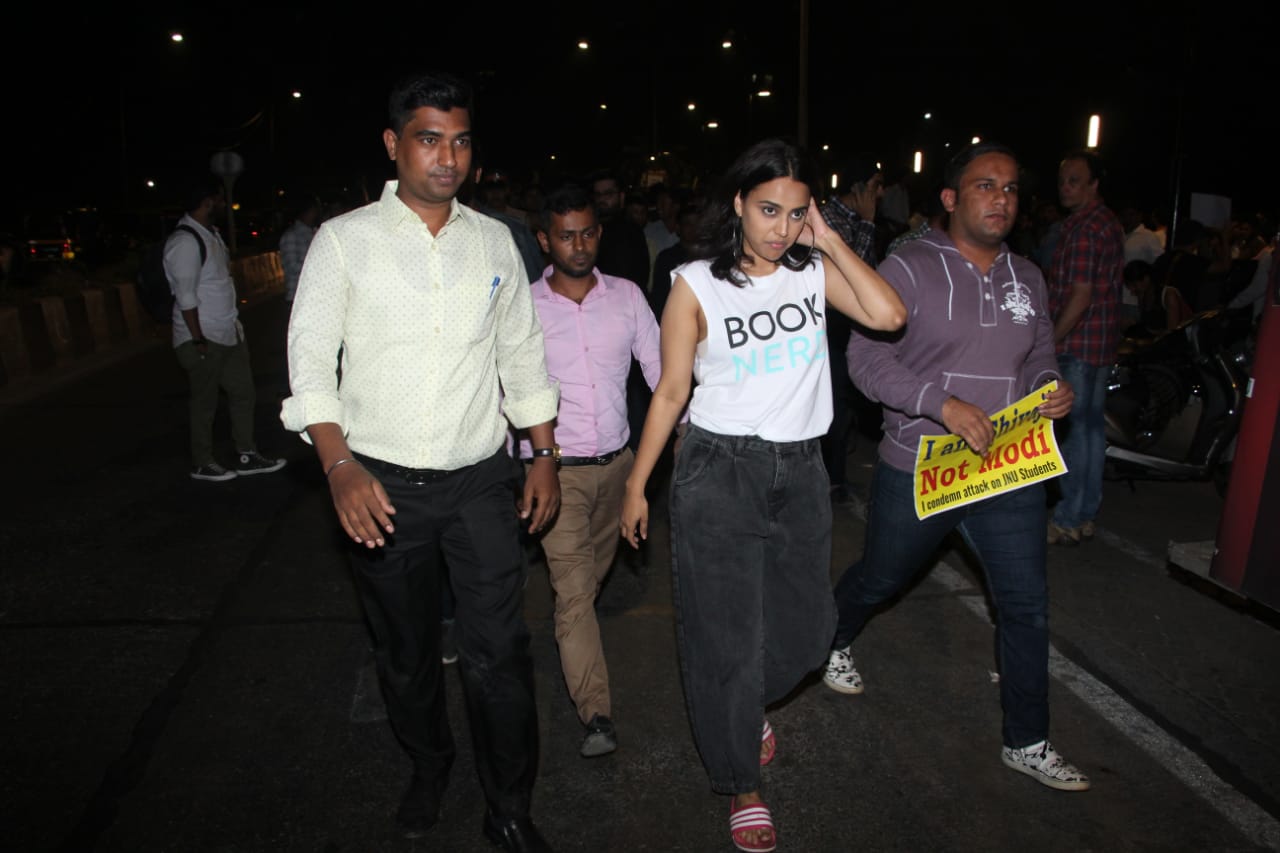 Swara Bhaskar at JNU Protests
PM Modi had also been invited to various high-profile weddings such as that of Virat Kohli and Anushka Sharma (both of whom have not really stood with the students of JNU) and Priyanka Chopra and Nick Jonas (they were attending the Golden Globes 2020 as mass protests were breaking out in India). Deepika Padukone's husband, Ranveer Singh, was a part of that big Bollywood meet up which also included various other bigwigs.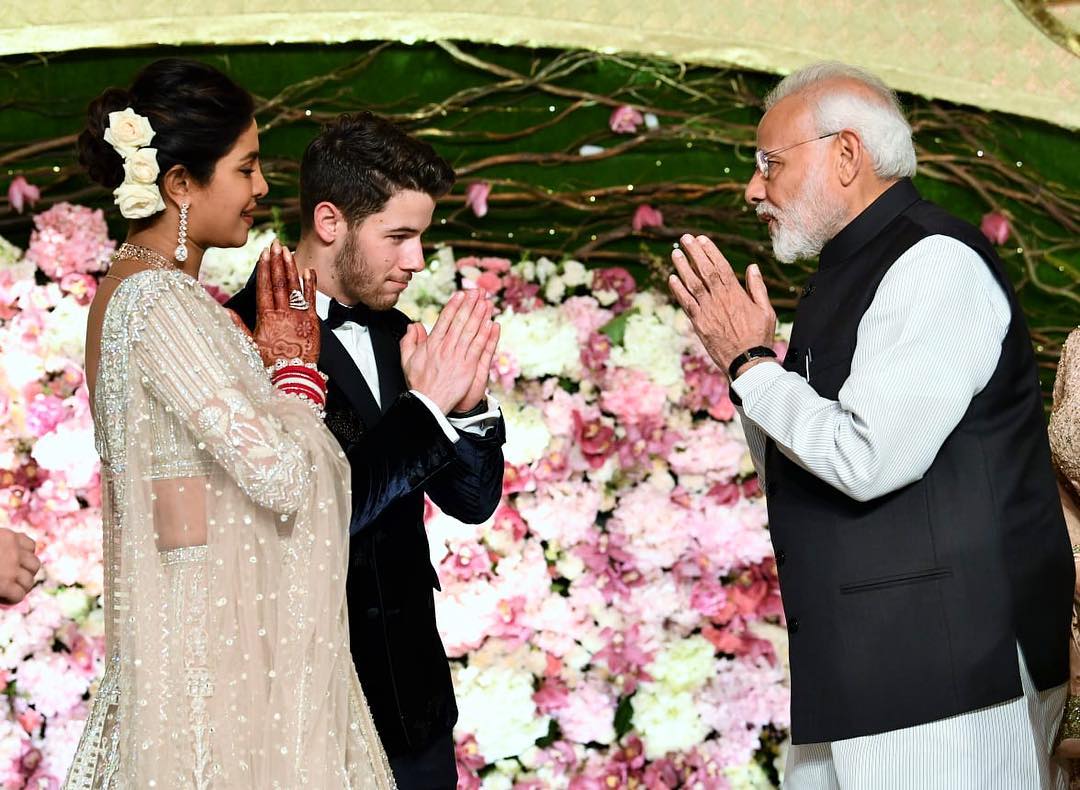 PM Modi at Priyanka Chopra and Nick Jonas' wedding reception in India
The spotlight was also on the three big Muslim Bollywood stars, aka, the Khans. Shah Rukh Khan and Aamir Khan were recently seen posing with PM Modi whereas Salman Khan has largely remained silent and away from it all. Many had questioned their silence and many had said, 'look when they spoke out no one came to defend them'. Shah Rukh Khan had often been told to 'go to Pakistan' and his film My Name is Khan was also threatened with a ban and so was his film Raees in which he starred with Pakistani actress Mahira Khan. Aamir Khan, when voiced India was intolerant, was ostracized on a massive scale. Salman Khan released his film Bharat last year which had a lot of good and positive messages of Hindu-Muslim unity – but that was about it. He promoted his film Dabangg 3 with a lot of gusto – while protests went on in India.
Deepika Padukone joined JNU Protests
At a time like this, Deepika Padukone attending the protest with JNU students standing in solidarity was a magnificent moment in time. Last night, she stood with Kanhaiya Kumar, a young Leftist leader who is a massive critic of PM Modi and his regime. Students were protesting against abrupt fee hikes and ABVP attackers were said to be carrying acid as a mode of attack. Deepika Padukone's film Chhapaak tells the story of an acid attack survivor (based on the life of Laxmi Aggarwal) and the film is also produced by Padukone herself. BJP warriors on social media immediately trended #BoycottChhapaak as soon as Deepika was seen with the students of JNU. It came as a stark reminder of when right wingers in India had threatened to cut off Deepika Padukone's nose and had even put a price on her head if the filmmakers dared release Padmaavat, a film based on a Rajput queen, directed by Sanjay Leela Bhansali.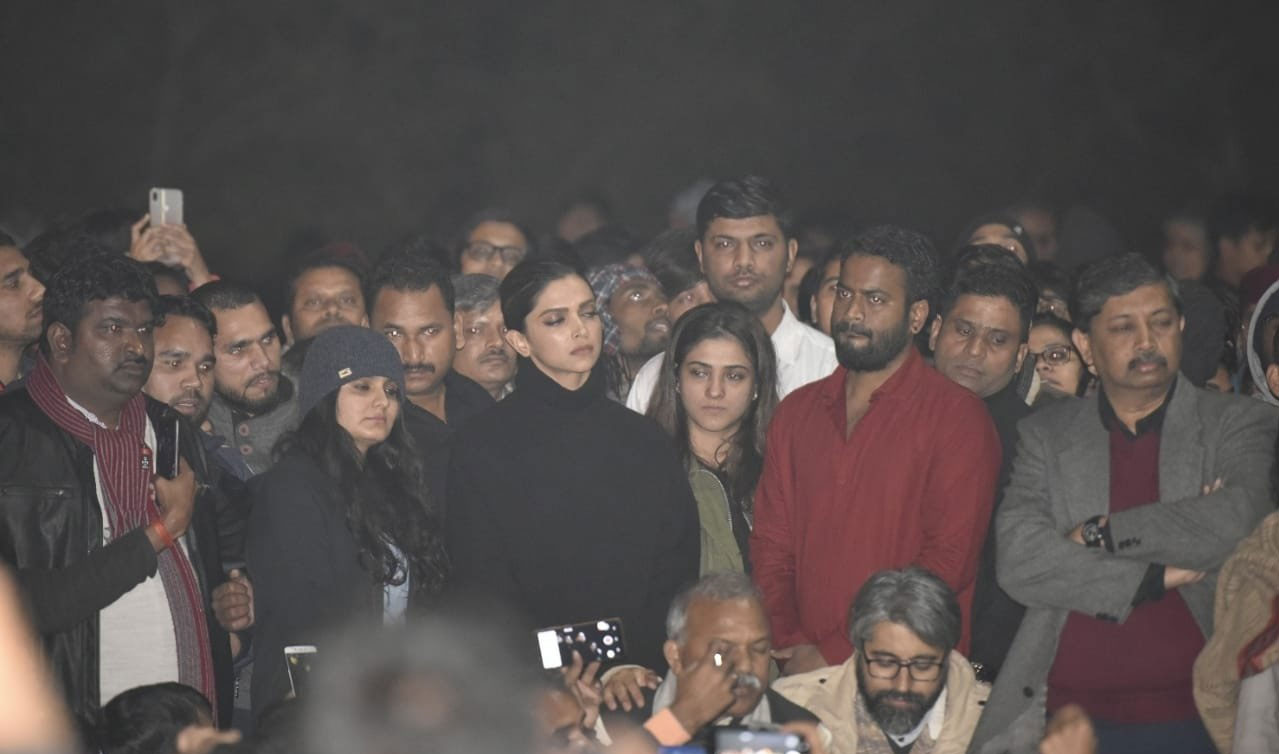 Deepika Padukone joined JNU Protests
Not a lot of people were actually expecting Deepika to take this stand because of precedent: all the top brass in Bollywood had been largely silent or avoidant of the entire issue. Now, as a result of her stand, Deepika will most likely lose out on her right-wing fans and will also face credible threats from the violent groups that haven't spared female activists from their wrath. Though many have stood up to support her, the threat is real and as credible as it gets.
Many cynics called it a publicity stunt for her film. But this is why the cynics are wrong. The threat that comes with a 'stunt' like this outweighs the possible benefits given how Bollywood generally aligns with the status quo. For Deepika to put her face with the leftists when a mob actually believes that 'leftists are terrorists' is nothing less than absolute bravery. In the entertainment writing business, you can cut through the PR stunts and see the perfect photo-op being used to further your product sales. You can see how the backdrops are coordinated and the lines have been memorized. But not this time. This is Deepika Padukone's bravest stand, her shiniest moment and quite possibly one of the most iconic moments in Bollywood's history.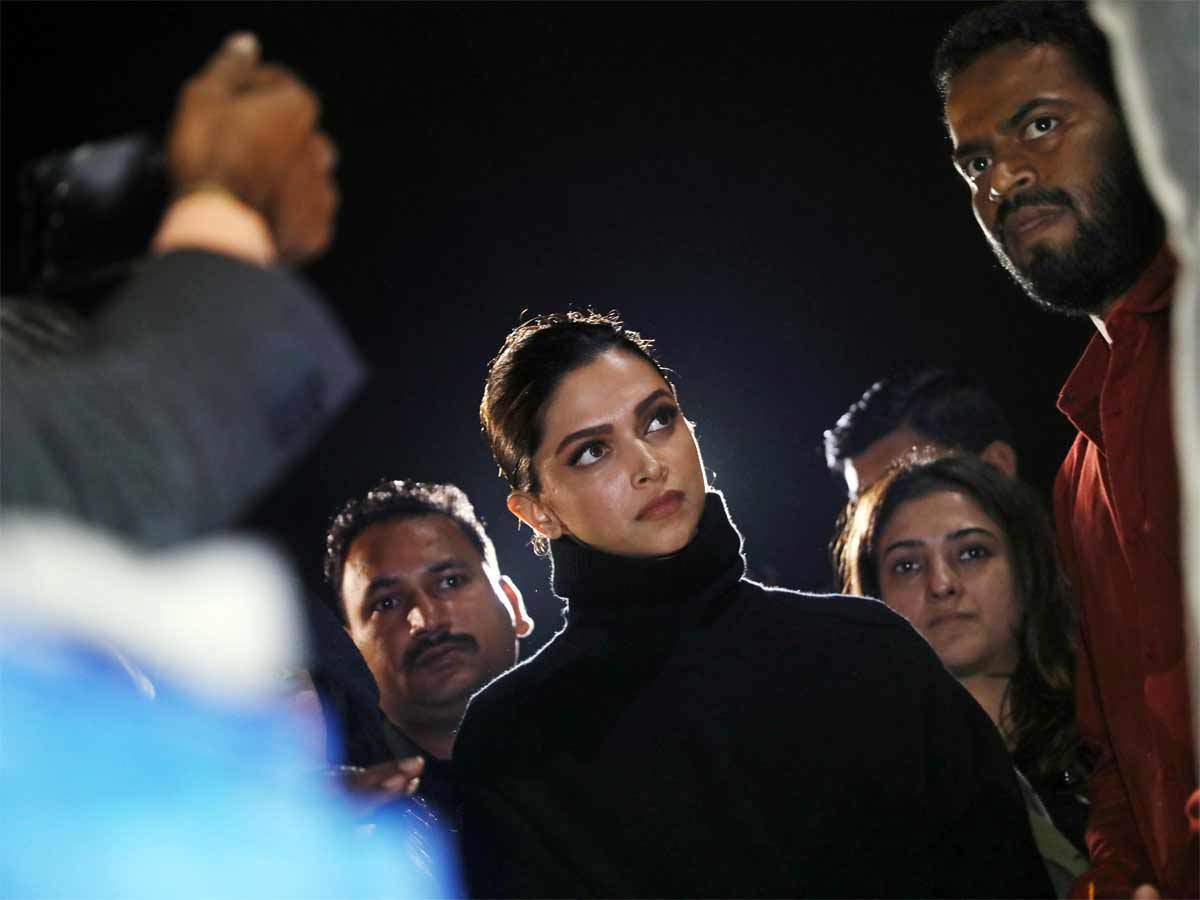 Deepika Padukone joined JNU Protests
While the road to justice and harmony may be long and difficult and perhaps there are many more places where Bollywood will have to be much braver than it is now, Deepika Padukone's stance today has definitely made a mark. It has shown many A-listers that if you are brave enough, you can stand for something if you truly want to. There will be calls for boycott and violent threats – but if you are fearless enough to tell the story of a woman who faced an acid attack, you are fearless enough to stand with the actual students in your country who are facing the same. For this brief moment in time, Deepika Padukone historically coincided the line between real and reel and for that, Bollywood should be grateful. Because just by showing her face, she has elevated and proved that her entire industry can have the guts – only if they are as strong and as brave as Deepika Padukone.