Celebrities
Nick Jonas and Family Wish Priyanka Chopra a Happy Birthday in the Most Loving Way
Priyanka Chopra rung in her 37th birthday and was showered with love and well wishes. Nick Jonas wished her in the most adorable way and the Jonas clan followed suit
Priyanka Chopra has become a global icon and has been making headlines as of late. The Bollywood beauty turned 37 on Thursday and all her friends and family took to social media to wish the star in the most adorable way. Her husband, Nick Jonas, however, wished her in a rather unforgettable way. The Padmaavat actor has worked her way up and created a niche for herself and is now one of the most recognised faces in fashion and film. The Bollywood beauty knows just how to make heads turn and is snapped by paparazzi at every given opportunity. She recently returned from her romantic getaway in Italy with Nick Jonas and also attended the wedding of Joe Jonas and Sophie Turner in the south of France.
Now on her birthday, Priyanka has been getting all the love she deserves and more. Nick Jonas who is an avid user of social media, took to his Instagram account to wish his wife a very happy birthday. His birthday wish for Priyanka Chopra included an album of two of her pictures in which she looks rather pretty in pink. Pee Cee can be seen clad in a powder pink sari and smiling away while wearing her tinted sunnies. It appears the pictures were taken at the reception of Sophie Turner and Joe Jonas. "Light of my world. My whole heart. I love you baby. Happy birthday," he captioned the post and fans couldn't get enough.
How adorbs! Priyanka and Nick tied the knot in an extravagant reception last year and are so in love. They have been seen on a cooking date, working out together and singing karaoke together and have been inseparable ever since they tied the knot. They often take to each other's Instagram accounts to write adorable comments for each other and have just been serving real relationship goals ever since they were spotted on the Cannes Film Festival red carpet in 2018.
Nick Jonas was not the only one who wished Priyanka on her birthday of course, and the whole film fraternity came out to send her lots of love and best wishes. Sister-in-law Sophie Turner also took to Instagram and wished her sister in the most amazing way. She shared an Insta story of the two of them huddled together on a couch and wearing paper crowns. The two seem to be bonding and lazing around in their pjs. "Happy Birthday to my sis @priyankachopra, love you," the caption on her post said.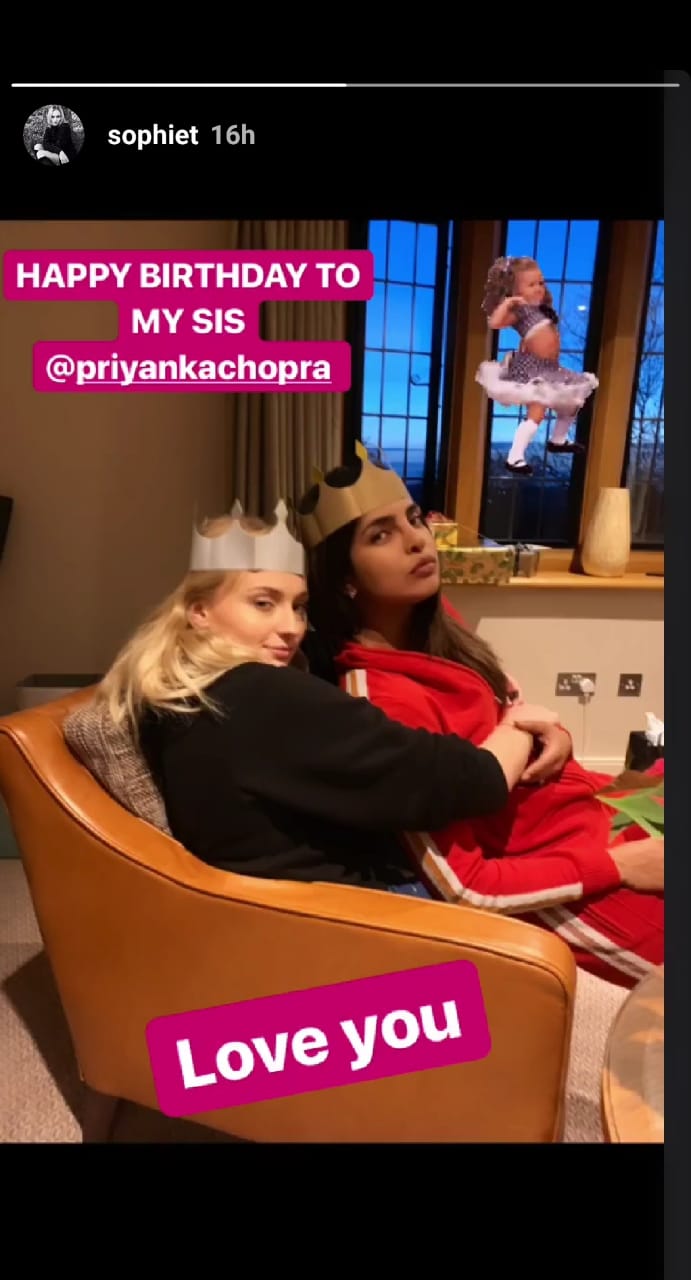 Her brother-in-law, Joe Jonas had an even better wish for Priyanka Chopra and she must feel oh so loved on her special day. Joe Jonas took to his Instagram story and shared a picture of himself holding a copy of a magazine on which Priyanka is gracing its cover. "Happy Birthday sis, love ya! Look it's you!" his caption on the picture read.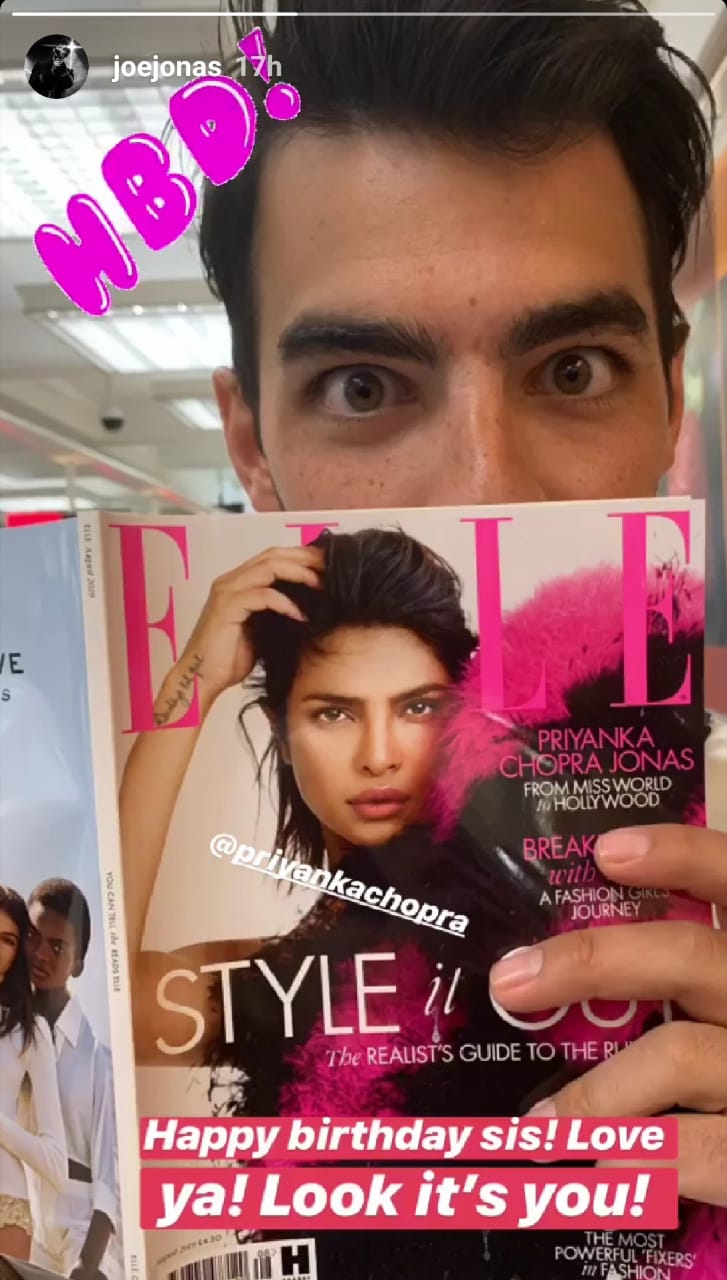 Now if you think that was a cute wish then you need to see how Priyanka Chopra's mother-in-law wished the Padmaavat actress. Denise Jonas who goes by the handle of @mamadjonas on Instagram took to her insta story and shared a picture of herself with Priyanka from what appears to be Priyanka's mehndi. The two are clad in traditional attire and her caption for the birthday girl reads, "Gorgeous birthday for a gorgeous girl. I love you Dil." It looks like Pee Cee has been teaching her in-laws some Hindi with all the time they've been spending together as of late.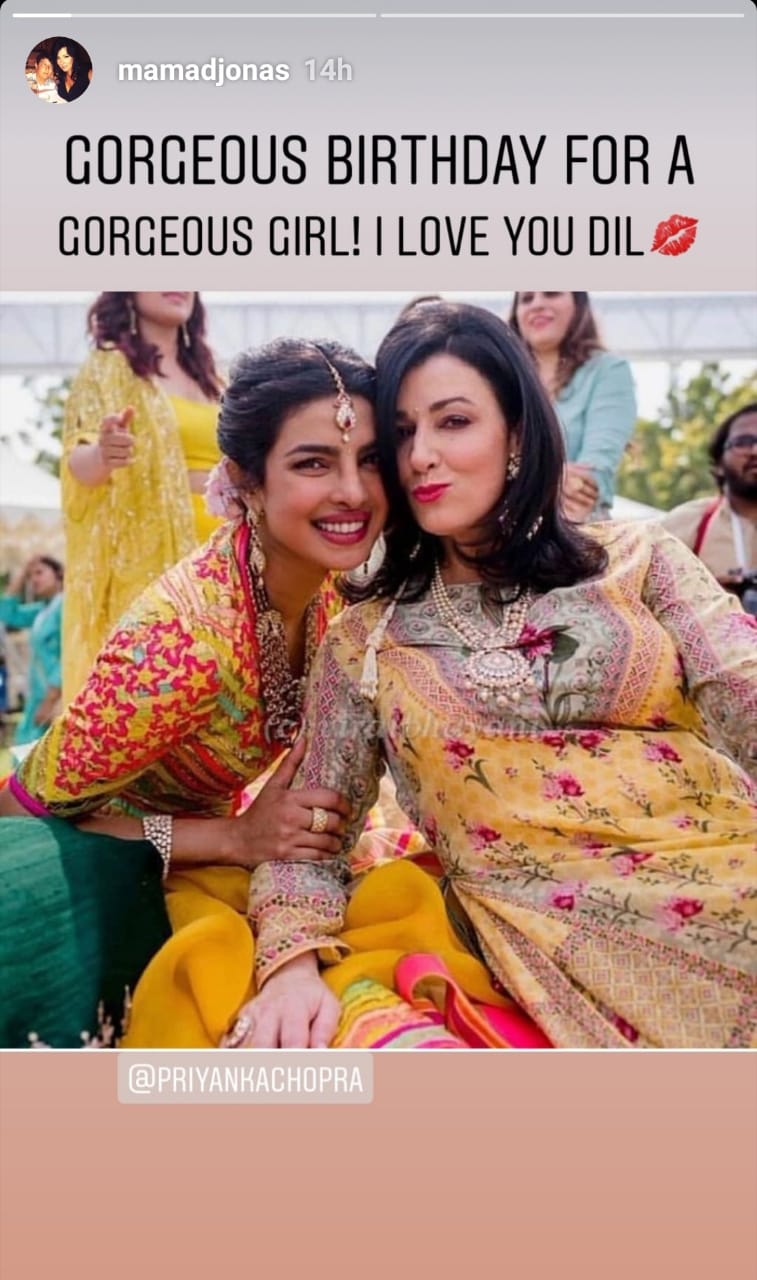 Now if we were Priyanka Chopra, we wouldn't have been able to ask for anything better after the way the Jonas clan wished her on her birthday.