Bollywood News
Nepotism Row: An Analysis of Karan Johar, Saif Ali Khan and Varun Dhawan's Reactions
Soumyadipta Banerjee takes stock
They say that you are at your worst when you are angry. All the filters that are there between your brain and your heart come off when you are enraged. If you really want to know what the person feels deep inside in his heart, then get into a nasty argument with him or her. As the argument becomes shriller, the layers start coming off.
With the nepotism debate slowly reaching the stage of an angry argument, the usual filters that guide an actor into faking it have started malfunctioning. Karan Johar has been dealing with the Nepotism debate in his own way when he tried to justify why he went for Alia Bhatt even though he auditioned 400 hundred girls for the role of Shanaya in Student of the Year. Karan justified that Alia was, by far, the best among all the girls he had auditioned because she had an "X" factor. 
"We screen-tested over 400 girls from across Mumbai and other cities. This was when Niranjan Iyengar told me that Mahesh Bhatt's daughter Alia was raring to go and she could just be the right fit for the film. I did her test and was convinced that she had this X factor that could work for the film," Johar had said during the time explaining exactly how Alia Bhatt got the role through a recommendation of his closest pal Niranjan Iyengar, when other girls, with no connection, were also vying for the role. He also admitted in subsequent interviews that he had somebody else in mind before he decided to bring Alia in. 
One of the audition videos of Alia Bhat was released where she is seen as a regular chubby teenager. Here is the video.
By Karan's own admission, Alia was given the help of a dietician and a lead time of three months before she came and faced the camera. That was the exact point when the Nepotism debate started gathering steam because an outsider in Bollywood would have never gotten this chance.
The debate reached the zenith when Kangana Ranaut came on Koffee with Karan and gave it back to Karan without mincing any words. Though Karan smiled and took the punches, he was very angry with the way the press and social media hailed it as a victory of Kangana Ranaut. And his anger was seen in an interview with Anupama Chopra where he said, "I am so done with Kangana playing the victim card." That part of the interview was never published online but somebody was able to grab it on a phone and leak it to the media. Here is the phone grab video. 
When the video went viral, you knew that it had hit the right nerves because Karan was really angry. 
The debate kept on raging as film journalists realised it was a good question to ask star kids and the same question was reiterated to everybody including Alia Bhatt who answered it in a dignified manner.
The debate raged on and reached its stupidest low when Karan Johar, Varun Dhawan and Saif Ali Khan chanted "Nepotism Rocks" which spread like wildfire and the internet was filled with angry reactions at how entitled star kids could just make fun of everybody else.   
Then came the final reactions from Karan Johar, Varun Dhawan and Saif Ali Khan which tells us a lot about their personality. 
VARUN DHAWAN
Varun Dhawan was the first to post an apology message on Twitter, two in fact. He didn't name Kangana directly because probably Kangana never said that she was offended by him. Everybody applauded him for his courage to admit a digression. He bowed out of the controversy.
KARAN JOHAR
He finally realised that he had not been right all the way. He gracefully told everybody listening to him that he had not been graceful. More so, he showed great courage in admitting that he didn't behave in a manner that his parents raised him implying that he has disappointed his parents. His apology was accepted and nobody said a word. Everybody in Bollywood agreed that Karan Johar found his groove back. He was tracing his way back into the persona that everybody loved him for — a talkative, kid-faced, joke-cracking, partying Bollywood director with talent that can fill up the Indian Ocean.
SAIF ALI KHAN
His is a strange case. Initially nobody bothered about Saif Ali Khan. Like the Koffee With Karan episode between Kangana and Karan, Saif Ali Khan in this case too, was just a part of the episode. Nobody asked for his opinion about it, neither did anybody bother about his presence or participation in the IIFA episode. He was there in the stage and that's it. It didn't matter whether he apologised or not. It also didn't matter if he didn't want to react. There were the least social media mentions about him. 
But talk about seeking attention when there wasn't any! On his own, Saif decided decided to reach out to everybody through the online arm of a newspaper where he chose to write an open letter. The text of the letter was edited heavily on the desk because it contained a well written introduction and the letter was well spaced out and coherent. There were no terms or 'big words' thrown.
But soon came the part where Saif Ali Khan made personal attacks on media houses and journalists. He particularly advised one lady journalist to concentrate on her job and not of actresses' hemlines (See screenshot below).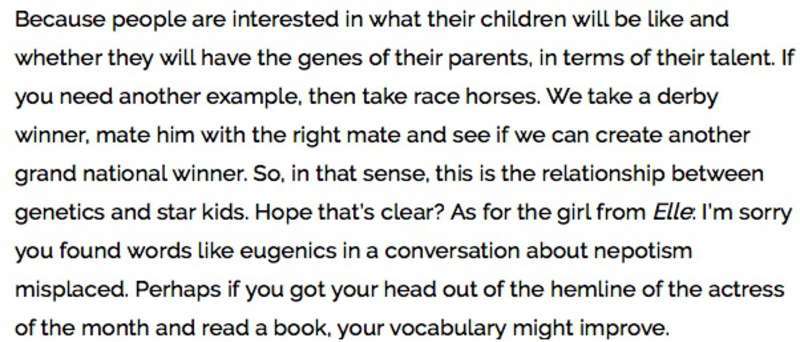 Like a Nawab, he proclaimed that the Nepotism debate was over because he had apologised to Kangana Ranaut. Unfortunately for him, the words he used – eugenics and genetics in particular – will continue to haunt him for a while. Some tittered over his choice of words, others retorted angrily but the damage was done. It could have still not blown into such a big controversy but this was the time Kangana jumped in after lying low for a few days with an open letter of her own. Here she didn't react to what Karan or Varun said, her target was Saif and his words. All of this showed him in very poor light, perhaps more than KJo or Varun!
The last word on this debate hasn't been heard yet and it is now an anxious wait for the next stupid statement on nepotism debate by a star kid! 
Reproduced with permission from www.bollywoodjournalist.com