Bollywood News
Neha Kakkar Calls for An End to Spreading Rumours and Social Media Trolling
Neha Kakkar has been making headlines as of late and has often taken to social media to speak about mental health and depression. Her recent posts come as a cause for concern
Bollywood singer Neha Kakkar has been making headlines as of late. She is recognized in the industry and beyond for her songs Chalti Hai Kya 9 se 12, Kala Chashma, and Trippy Trippy and more recently; Kuch Kuch among others. Her break up with Bollywood actor Himansh Kohli came under the media's spotlight and she has often take to social media to speak about depression and moving on post her break up with the actor. She also gained recognition for her 'Tik Tok' videos and has also been the subject of online trolling on many occasions.
A few months earlier, Neha Kakkar was trolled for a dress which she wore to a party. It was at a Valentine's Day bash that Neha wore an all-black ensemble which featured a lace bralet, baggy slacks and a black throw over on top. The pants featured slits at the knees and she teamed her outfit with suede nude shoes. "What on earth is she wearing? So cheap," one Instagram user commented, while another wrote, "Why is she walking around with her underwear on show?"
Now, Neha Kakkar has taken to her Instagram account and shared a series of posts on her Instagram story which may be a cause for concern. "While I'm writing this I'm not in a good condition. Neither physically, nor mentally. But I had to speak up. You know..they don't realise that I'm a daughter/ sister of somebody. I've worked so hard all my life and made sure that I make my family proud and do good with everyone who're not even my family/ friends ," she wrote in one of her posts.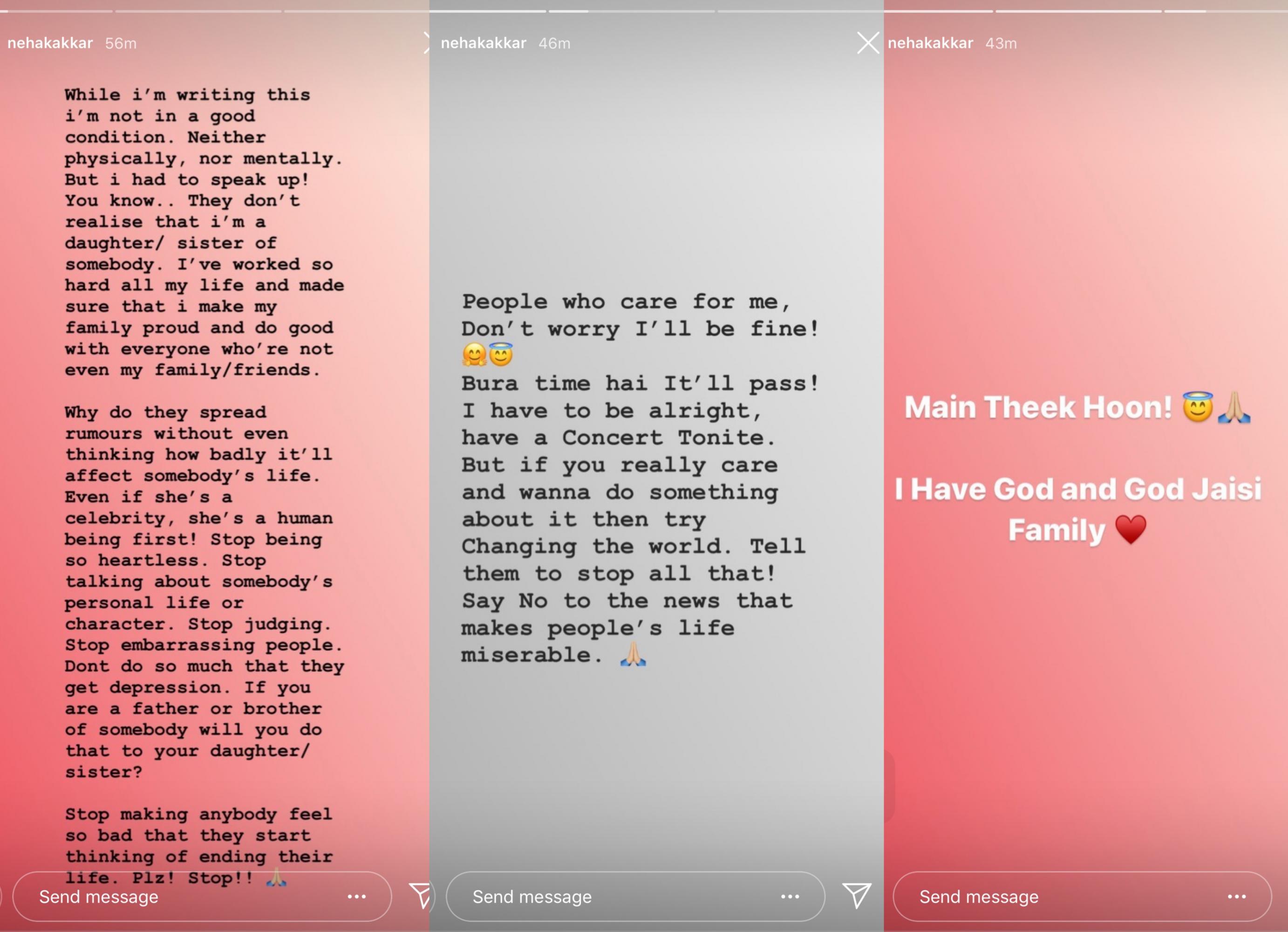 Neha Kakkar's Instagram Story
In the same post, she wrote "Stop making anybody feel so bad that they start thinking of ending their life. Plz! Stop!!
Neha Kakkar has often spoken about depression and discussed topics like mental health on her social media accounts. With her recent posts, her close friends and family showed lots of concern. "People who care for me, don't worry I'll be fine! Bura time hai it'll pass! I have to be alright, have a concert tonight," she said. She went on to add, "But if you really wanna do something about it then try changing the world. Tell them to stop all that! Say no to the news that makes people's life miserable."
She concluded the series of posts by saying that she had God and a family who was just like God.
While Neha Kakkar claims to be okay, her recent posts come as a cause for concern for her friends, fans and followers. She highlights the importance of being kind and positive towards those around you and makes a noteworthy mention of how social media bashing and trolling can lead to serious harm.