Celebrities
Nazish Jahangir Breaks Silence About Affair with Mohsin Abbas Haider, Denies Fatima Sohail's Allegations
Mohsin Abbas Haider has been accused by wife Fatima Sohail of domestic abuse and having an affair with Nazish Jahangir. Nazish has spoken up about the case via Instagram
Pakistani model Nazish Jahangir, who has been accused of having an affair with actor Mohsin Abbas Haider took to Instagram on Sunday night to rubbish all the rumors and allegations regarding her being a "home wrecker." It is pertinent to mention that Mohsin's wife, Fatema Sohail accused him of physically abusing her with kicks and punches after she caught him cheating with Nazish. ""Why was she [Fatima] was in contact with me if I had any relationship with her husband [Mohsin]," said Nazish, claiming that she and Fatema enjoyed cordial relations with each other even during her pregnancy.
"Whatever's true will come out as it is, eventually. Fatima has used a line on me without any evidence that I was sleeping with her husband and all of you accused me of being a home wrecker. Use your senses, if she had any evidence, she would have posted that too like she did of her husband abusing her," said Nazish on Instagram. "Fatima Sohail was on call with me a one before her delivery and I congratulated her as well. At that time Mohsin was doing some shoot in Karachi while I was in Islamabad. But anyway, if she is a victim of domestic abuse, then I have sympathy for her but I would like to announce that I am not the reason behind their marital issues."
The model further added that, "Fatima used to talk to me herself. She even used to discuss her personal life regarding marriage. Fatima used to call me during her pregnancy even. Why would she talk to me or call me if I was sleeping with her husband? I can raise so many questions in my defense but that's not who I am. For me this whole thing is very disturbing so I won't talk much on this topic. Mohsin is a very good friend to me and so was her wife. I have no idea what happened that she involved me in all of this and accused me for things I could never imagine."
However, it is important to note that apart from the aforementioned messages, Nazish uploaded a story on Instagram, confessing her love for Mohsin Abbas Haider and thanking God. She had captioned the story with many heart emojis. "All mine," it said.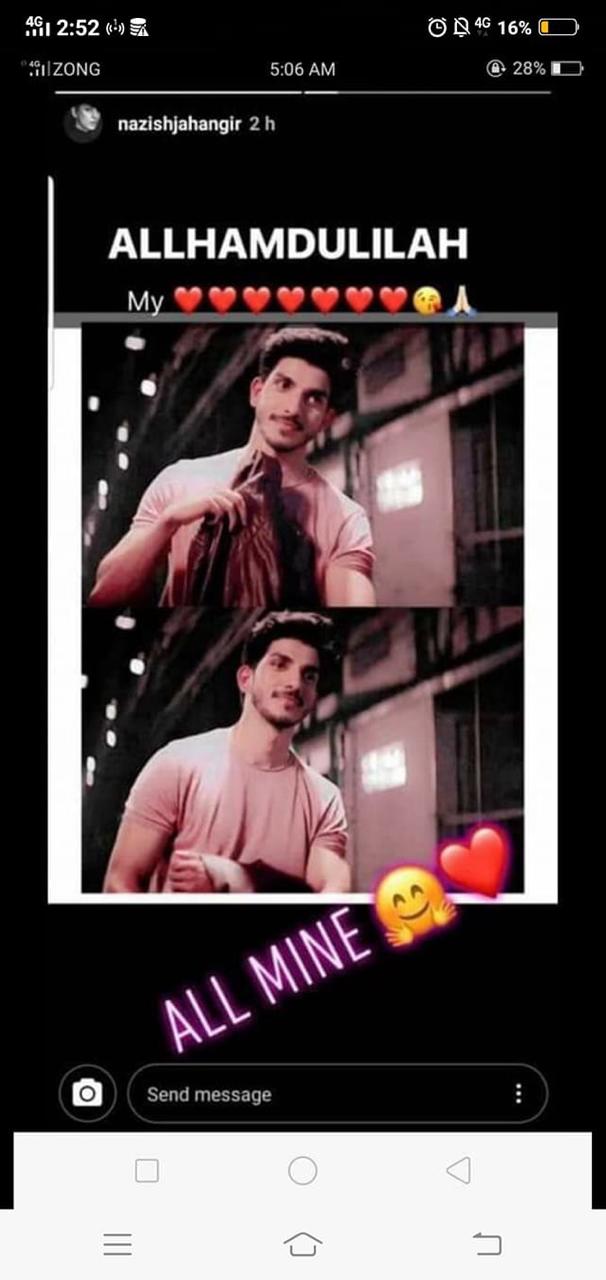 Mohsin had held a press conference yester night in Lahore and categorically denied all the domestic violence allegations against him. He also challenged his wife Fatema to prove the allegations with evidence. "My marriage was toxic. You can ask my family about it. But I never beat my wife. There are no medical reports to support her claim," he said, adding that the pictures of Fatima where she can be seen with bruises all over her face were from 2018 when she fell down the stairs.
"Crying woman don't speak the truth. Fatema is playing the woman card," said Mohsin in his press conference. "My marriage never worked and we had mutually realized that we are not compatible." Towards the end of his presser, Mohsin concluded that he did not write any abusive comment on Fatema's post and it was a fake account that was doing it.