Bollywood News
Everything You Need to Know About the Nawazuddin Siddiqui 'Call Detail Record' Scam
The actor and his wife speak up!
"All the accusations against me are false. My relations with my wife are good. I don't need to get her investigated. My wife is with me right now. All the rest is lies." This is actor Nawazuddin Siddiqui's statement to PeepingMoon.com on the controversy he is currently embroiled in. His claim was corroborated by his wife Anjali Siddiqui, who said, "I trust my husband, not the police. I haven't been sent any summons."
The actor has been in the eye of the storm when the Maharashtra police on Friday revealed that they had summoned the actor, his wife, and his lawyer Rizwan Siddiqui in Thane, in connection with a call detail records scam.
In January, the police arrested three private detectives, one of whom had reportedly helped Rizwan Siddiqui get hold of call detail records of the actor's wife. Deputy Commissioner of Police (Crime) Abhishek Trimukhi said that the three arrested accused had informed the police that an advocate had obtained the CDRs of Nawazuddin Siddiqui's wife from private detectives. It was to verify the same, that Nawaz was apparently summoned.
Trimukhi said the lawyer might have sought the records because of some dispute between the couple. "It will be clear only after the actor's statement is recorded," he added. Nawaz has refuted the allegation, calling it "random". "Last evening, I was helping my daughter to prepare her school project Hydroelectric Power Generator and went to her school this morning for Project Exhibition," he tweeted. "To my surprise, the media had questions about some random allegations on me #Disgust."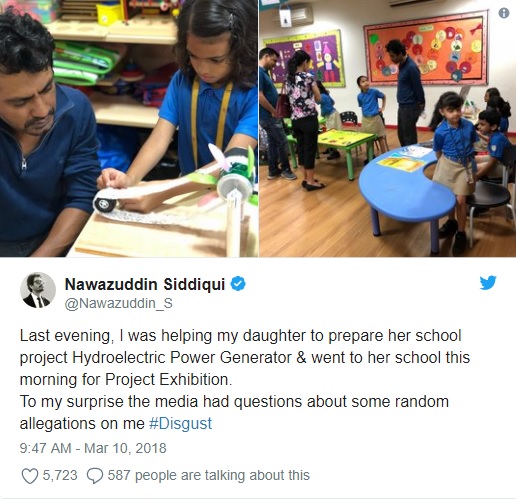 According to the statements of some of the accused, Siddiqui had allegedly obtained the call data records of his wife's phone through an advocate by hiring a private sleuth to investigate his wife's contacts and whereabouts. The Thane Crime Branch Senior Police Inspector Nitin Thakare said on February 9 that one of the accused has revealed Nawaz's name during interrogation. "We have issued summons to him, but he has failed to appear before us for investigations," said Thakare.
Sticky times in store for the actor, apparently.
Note: This article was reproduced with permission from Peepingmoon.com