News
Lockdown in Dubai: Here's What You Need to Know
The National Sterilization Program in UAE is currently underway. Here are the basic things you need to know as stated by Dubai Media Office
As of now there are over 1500 cases of Coronavirus in the UAE. The government has taken pro-active steps to control the spread and has been taking important measures to curb the spread for the past three weeks. Initially it stopped all events, public gatherings and parks and shut down nurseries. Soon after, the government announced shutting down malls, cinemas, restaurants. Save grocery stores and pharmacies, all commercial and non-essential establishments are now closed.
Dubai announced a 24-hour-sterilizatio program yesterday when it extended the sterilization program. Earlier you could go out during the day for essential purposes and in the night from 8 pm to 6 am you could go out with a permit. Later, the authorities suspended all permits. Since yesterday authorities have announced the sterilization program to be extended during the day as well. Here are also some other announcements that you need to pay attention to.
Wear Masks:
Dr. Farida Al Hosani, the spokesperson for the Ministry of Health, stated that yesterday, "Based on our continuous follow-up with latest studies and international recommendations, we affirm that a number of people can contract the virus without showing any symptoms and can infect others. Therefore, we recommend that everyone should wear masks when going out," she said.
Here is what you need to know about the lockdown, as per the Dubai Media Office.
Can we leave the house?
According to the Dubai Media Office, for the next two weeks you are to stay home. You can only go out if you need essential supplies and only one person from your family can go out to buy/get essential supplies. You can also go out if you need to do a Covid-19 test. There are some sectors which are exempt from this restriction. Dubai government has stated that those sectors are:
Healthcare services (hospitals, clinics and pharmacies)
Food supply outlets (Union Cooperative outlets, supermarkets, groceries)
Delivery services (food and medicine)
Restaurants (operations limited to home deliveries only)
Manufacturers of medicines and providers of healthcare and medical supplies
Industrial sector (only vital industries)
Industrial supply chain for services and basic commodities
Water and electricity sector, petrol and gas stations and district cooling services
Telecommunications sector
Media sector
Airports, airlines, ports, shipping
Customs duty and border crossings
Public and private security services
Municipality services and public and private service providers involved in garbage collection, sewage management and general cleaning and sanitation
Private and government sector organisations involved in combating the coronavirus (COVID-19).
Public transport (buses and taxis only; metro and tram services will be suspended)
Construction sector, subject to obtaining a permit from Dubai Municipality and the Permanent Committee for Labour Affairs.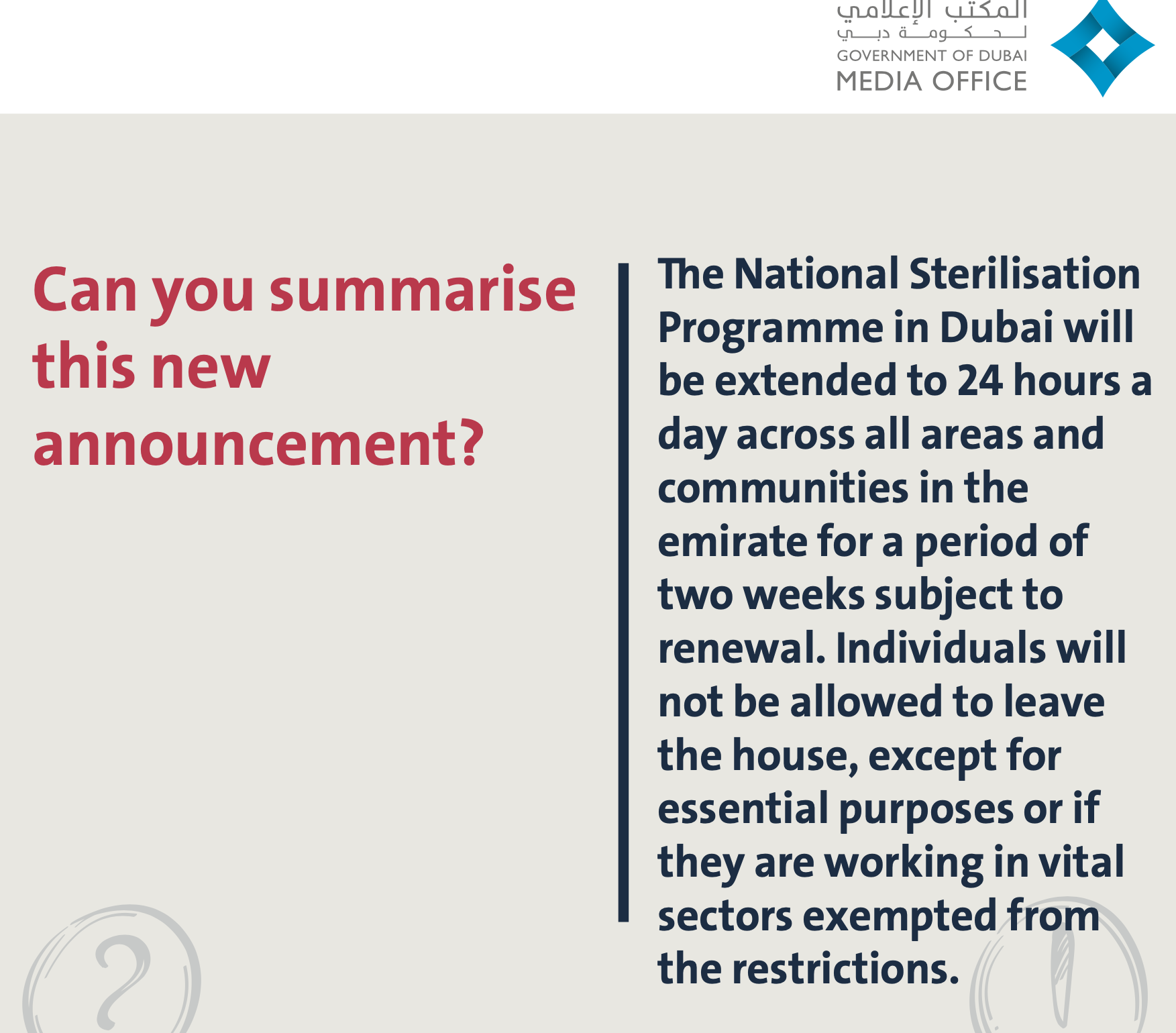 Food and Essential Supplies:
Now that everyone has been told to stay home, how will you get groceries or medicine? The Media Office explained that you can order in as the deliveries are going to run as normal. However, if you want to step out only one member of your family can go out and purchase the essentials

Wear Masks, Gloves and Follow the Rules:
If you are going out make sure you wear a mask. Also practice safe distancing rules. If you are deliberately flouting the rules, you will face legal action. The restrictions are placed for our own good and the sooner we fight this, the sooner life goes back to normal.

Going to Work in a Vital Sector on Public Transport:
Dubai Metro operations have been suspended however if you are someone in the vital sector (see above) and you have to go to work, keep your work id and proof of identification with you. You can use buses and taxis (they are operating at a discounted rate right now) to go to work.
More Testing:
Authorities will be conducting more testing for Covid-19. As per World Health Organization, more testing and isolating those individuals testing positive for Covid-19 despite not showing a lot of symptoms, can help flatten the curve.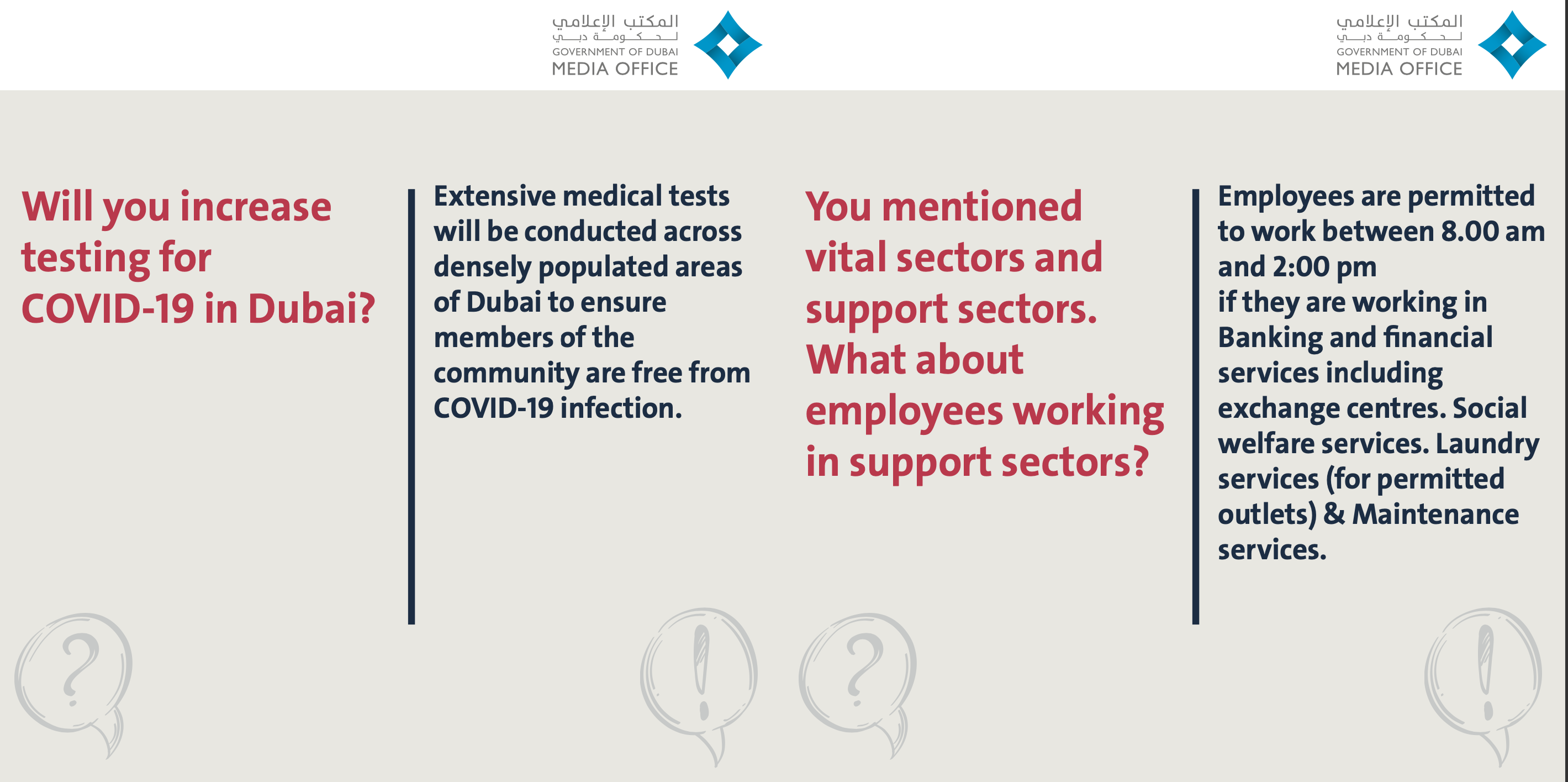 Discounts on Dubai Taxi:
As mentioned above buses are operating and Dubai Taxi will have discounts. Franchised taxis are also offering discounts.
The novel coronavirus has symptoms of fever, cough, difficulty breathing, body aches and fatigue. If you have any of these symptoms call a health professional immediately and get yourself tested. The UAE government has also launched a service called Weqaya which is a platform that can answer more questions related to the current situation. It has also launched the biggest laboratory, built outside China, for detection and diagnosis of COVID-19. According to Dr. Al Hosani, the lab is capable of conducting thousands of tests per day, and "with such capacity, we are able to rapidly identify suspected cases and screening close contacts and high-risk groups".