Bollywood News
Nargis Fakhri Officially Confirms Her Relationship With Beau Matt Alonzo
One of Bollywood's biggest rumours of Nargis Fakhri and Uday Chopra's relationship is finally put to rest
It seemed obvious from her Instagram feeds but there was no official confirmation from Nargis yet. However, the actress has now officially confirmed that she is dating Matt Alonzo.
With that, one of the biggest Bollywood rumours about Nargis has come to rest -- that she's dating Yash Raj scion Uday Chopra. On Monday, Nargis, 38, shared a picture of freshly-inked tattoos on the side of her and 33-year-old Alonzo's palms with his-and-her crowns and their initials, 'MN'. That according to sources was Nargis' confirmation of the relationship. The only other actress to ink her buea's name earlier was Deepika Padukone when she inked Ranbir Kapoor's name on the back of her neck but they are not together anymore.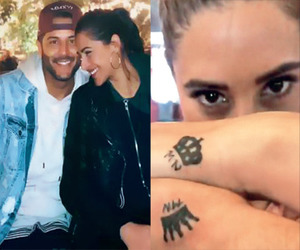 Who is Matt? Well, according to NewsX, Alonso was a pioneer in developing one of the first popular YouTube channels Skee.TV, having 2 Billion views and 300,000 plus subscribers. His impeccable line-up of clients starts from recording companies like Interscope, Universal Music Group, Warner Music Group featuring prime time players in the music and sports industry such as Justin Bieber, Tyrese, Chris Cornell, Tyler The Creator, Lil Wayne, The Game, Far East Movement, Snoop Dogg, Kevin Durant, Floyd Mayweather and Marcos Maidana.
Alonzo took centre stage when he choreographed Lollipop hit maker and Hip hop icon Lil Wayne's concert in 2008. With his impressive spells for SkeeTV, Alonzo started his new venture by signing with International Creative Management for feature film representation in 2 years later, according to NewsX.
You can check Matt's website here -> https://www.mattalonzo.com/