Bollywood News
'Mukesh Ambani Is An Ideal Husband And Father,' says Nita Ambani
Mukesh Ambani and Nita Ambani got married in an arranged wedding ceremony on March 8th, 1985. Together they have three children: Isha, Akash, and Anant.
Mukesh Ambani is the richest man in India, at the moment. His wife Nita Ambani is also a strong and successful woman in her own capacity. Together, they have always been each other's strength. No wonder why both of them reached much greater heights since getting married and coming together. Being married to one of the richest business families in India, Nita Ambani had the choice to enjoy lunches and parties like all trophy wives. But she chose to pursue her dreams and did not become a shadow of her husband. Instead, she earned an identity for herself by the dint of her hard work perseverance. According to Nita Ambani, her husband Mukesh Ambani is the force behind her which has always kept her going.
The two met through an arranged marriage arrangement set by Mukesh's father Dhirubhai
Ambani.
However, Mukesh Ambani was a progressive young man who wanted to know his future life partner first before deciding to get married. Courting for three months made Mukesh see that Nita was the girl he would have wanted as his life partner. He was impressed by her simplicity and honesty. Interestingly, Nita was also drawn to him for his humbleness. Despite being a rich businessman, Mukesh Ambani had no qualms about eating at the roadside restaurants and traveling by the local transport. Both of them knew that they were meant to be.
After getting married in a traditional Gujarati wedding, Nita Ambani decided to pursue her passion for teaching. As a traditional Indian girl, she asked Mukesh for his permission and he had no objection. Nita Ambani started working at a meager salary of Rs. 800 but did not stay home and just enjoy the wealth. Mukesh Ambani remained her rock when she was told she could not become a mother. He also motivated Nita Ambani to complete the Jamnagar project. When Nita was at work, Mukesh Ambani made sure that he was there for the children. He loved helping them with their school homework and even attended their calls when he was in the meeting if his children needed help.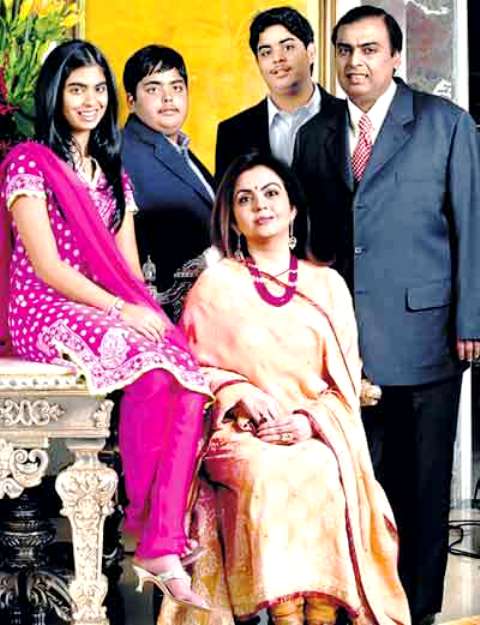 Their children are also very close to their father Mukesh Ambani as he has always been the lenient parent for them while Nita was a strict disciplinarian. He could be seen breaking down into tears during the marriage of their only daughter Isha.
According to Nita Ambani, Mukesh Ambani is an ideal husband who has always stood by her in all her endeavors. Together they share a set of mutual ethics and parenting values. According to Nita Ambani, their dreams are always joint dreams as she and Mukesh Ambani have always worked as a team. It is interesting that despite being a busy and successful businesswoman and philanthropist, Nita Ambani still cooks for her husband when the time permits. Nita Ambani calls Mukesh Ambani her 'backbone.'