Mukesh Ambani's Heartfelt Speech and Dance with Isha Ambani at Her Engagement Party Shows Off Their Bond
By Masala Web Desk Thursday, 27 June 2019
Mukesh Ambani and Isha Ambani are well known for their loving father-daughter bond and this unseen photo of a younger Isha dancing with her father is proof enough!
Mukesh Ambani may be primarily known for consistently being amongst the richest people in India, but the business tycoon's family have also made headlines plenty of times for everything from their charity work to, most recently, their fabulously glamorous weddings! But the Ambanis are also known for their strong familial bond with each other. Mukesh and his daughter Isha Ambani's closeness as father and daughter caught the public's attention during her grand wedding which happened last year. Though there was plenty of news on the lavishness of the wedding events and celebrations, Mukesh's love for his daughter was very clear and stole people's hearts. Recently a rarely seen throwback photo of Mukesh and Isha has been making rounds on social media and people cannot get enough of how sweet they look!
In the photo, Isha is seen at a much younger age and looking totally adorable in her glamorous outfit with dazzling jewelery to match. She's in the her father Mukesh's arms as the two are dancing together and smiling cheerfully. Mukesh's expression while dancing with his daughter is too cute to handle!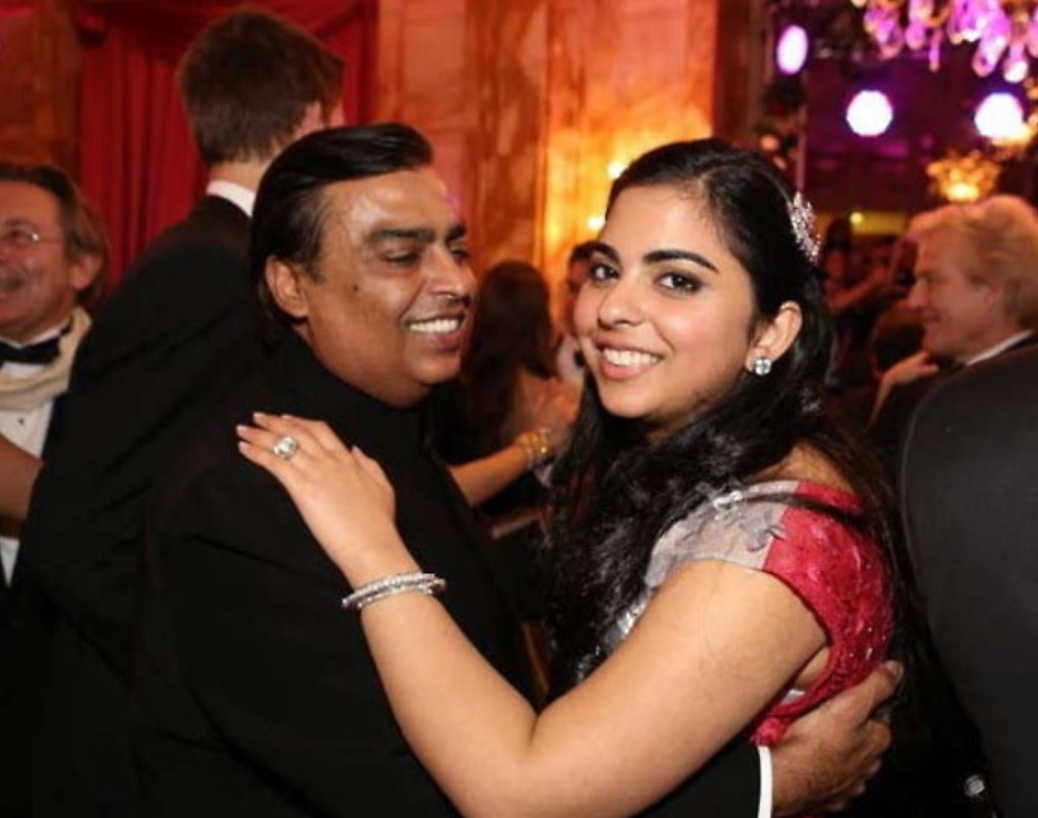 Here's a video of Isha Ambani dancing with her father Mukesh Ambani at her engagement party.
The doting father also read out the lovely words he had penned straight from his heart at the engagement party. "The last weekend, thanks to our dear Isha, has been a whirlwind and a surprise for all of us and we are still recovering from it," said Mukesh Ambani. Check out the complete speech below:
The Ambani family recently hit headlines again when Mukesh and Nita's son and Isha's brother Akash got married earlier this year to his childhood sweetheart Shloka Mehta. In true Ambani style, the events were just as elegant and luxuriant as expected. The family also collectively connected with Bollywood royalty a few weeks ago as Mukesh and Nita visited Rishi Kapoor and Neetu Singh in the United States. Rishi has been recovering from an undisclosed medical issue while in the States and many celebrities have made a visit to the actor to show their support. Neetu shared the below snap of the Ambani couple visiting to her Instagram page.
The family also went viral when a previously unseen photo of Mukesh and Nita with a young Isha and Akash made the rounds on social media. The married couple are shown in their younger days with their children as infants. It's safe to say that social media loves a good Ambani throwback!
For all the latest Bollywood News and gossip, follow us on Twitter & Instagram, like us on Facebook and subscribe to our channel YouTube. New videos up every day!
Comments