Monty Python Star Terry Jones Passes Away at 77: See Tributes
By Ayesha Hoda Thursday, 23 January 2020
Terry Jones, a member of the Monty Python team, passed away on Tuesday. Many stars took to Twitter to pay tribute to the late Welsh actor and comedian
Welsh actor, writer, comedian, screenwriter, film director and historian, Terry Jones, passed away on Tuesday at the age of 77. Terry wrote and performed in various high-profile British comedy programmes, such as The Frost Report and Do Not Adjust Your Set. He created  Monty Python's Flying Circus with American animator/filmmaker Terry Gilliam and Cambridge graduates John Cleese, Eric Idle and Graham Chapman. He was appreciated for his depictions of middle-aged women. Terry had a rare form of dementia called FTD in the last few years of his life. Following his death, many stars took to Twitter to pay tribute to him: 

Comedian and actor Russell Brand tweeted, "May the dear, great Terry Jones find eternal peace in the loving embrace of Jesus Christ. Or more likely of Brian."

Actor Stephen Fry wrote, "Farewell, Terry Jones. The great foot has come down to stamp on you. My god what pleasure you gave, what untrammelled joy and delight. What a wonderful talent, heart and mind."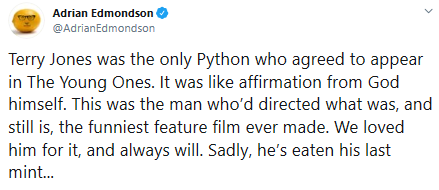 Comedian Adrian Edmondson said, "Terry Jones was the only Python who agreed to appear in The Young Ones. It was like affirmation from God himself. This was the man who'd directed what was, and still is, the funniest feature film ever made. We loved him for it, and always will. Sadly, he's eaten his last mint…."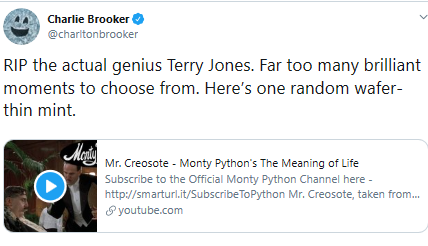 Humourist and critic Charlie Brooker tweeted, "RIP the actual genius Terry Jones. Far too many brilliant moments to choose from. Here's one random wafer-thin mint."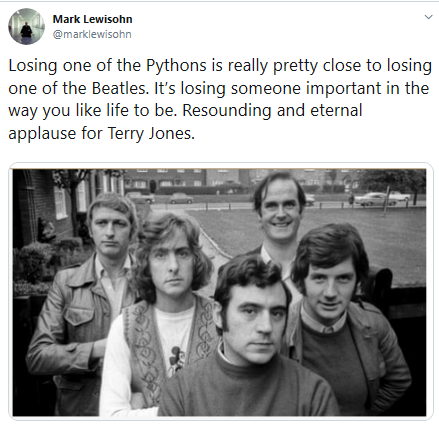 Writer Mark Lewisohn posted, "Losing one of the Pythons is really pretty close to losing one of the Beatles. It's losing someone important in the way you like life to be. Resounding and eternal applause for Terry Jones."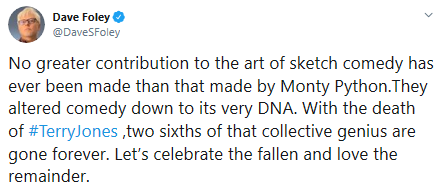 Comedian Dave Foley wrote, "No greater contribution to the art of sketch comedy has ever been made than that made by Monty Python.They altered comedy down to its very DNA. With the death of #TerryJones, two sixths of that collective genius are gone forever. Let's celebrate the fallen and love the remainder."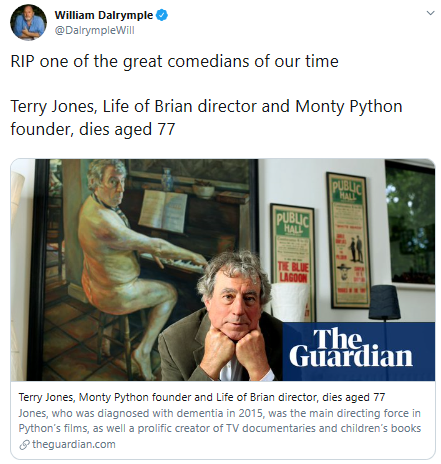 Author William Dalrymple tweeted, "RIP one of the great comedians of our time. Terry Jones, Life of Brian director and Monty Python founder, dies aged 77."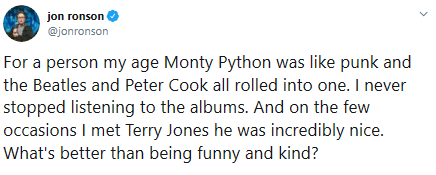 Journalist Jon Ronson said, "For a person my age Monty Python was like punk and the Beatles and Peter Cook all rolled into one. I never stopped listening to the albums. And on the few occasions I met Terry Jones he was incredibly nice. What's better than being funny and kind?"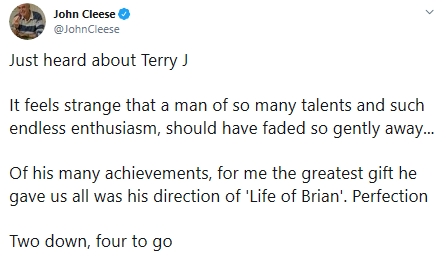 John Cleese wrote, "Just heard about Terry J. It feels strange that a man of so many talents and such endless enthusiasm, should have faded so gently away… Of his many achievements, for me the greatest gift he gave us all was his direction of 'Life of Brian'. Perfection. Two down, four to go."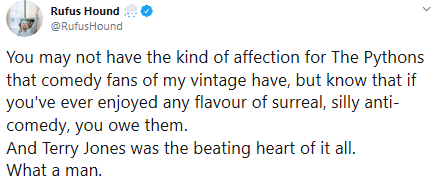 Comedian Rufus Hound tweeted, "You may not have the kind of affection for The Pythons that comedy fans of my vintage have, but know that if you've ever enjoyed any flavour of surreal, silly anti-comedy, you owe them. And Terry Jones was the beating heart of it all. What a man."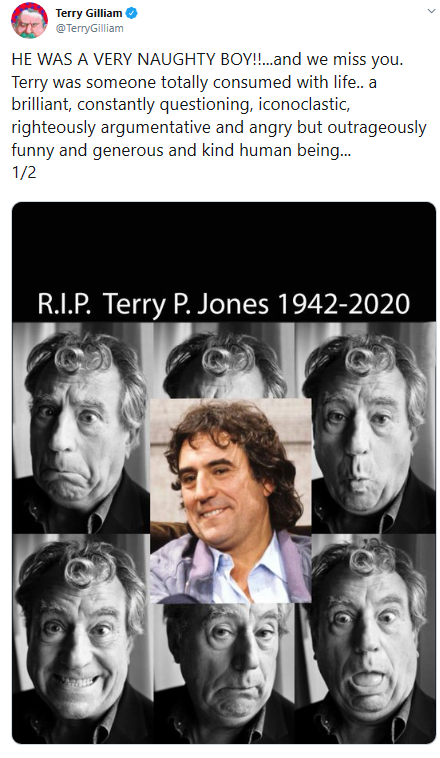 Former member of Monty Python, Terry Gilliam shared, "HE WAS A VERY NAUGHTY BOY!!...and we miss you. Terry was someone totally consumed with life.. a brilliant, constantly questioning, iconoclastic, righteously argumentative and angry but outrageously funny and generous and kind human being…."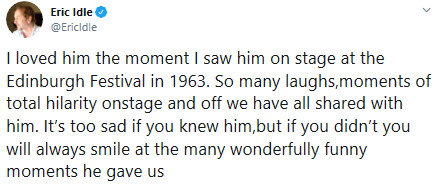 Writer Eric Idle said, "I loved him the moment I saw him on stage at the Edinburgh Festival in 1963. So many laughs,moments of total hilarity onstage and off we have all shared with him. It's too sad if you knew him,but if you didn't you will always smile at the many wonderfully funny moments he gave us."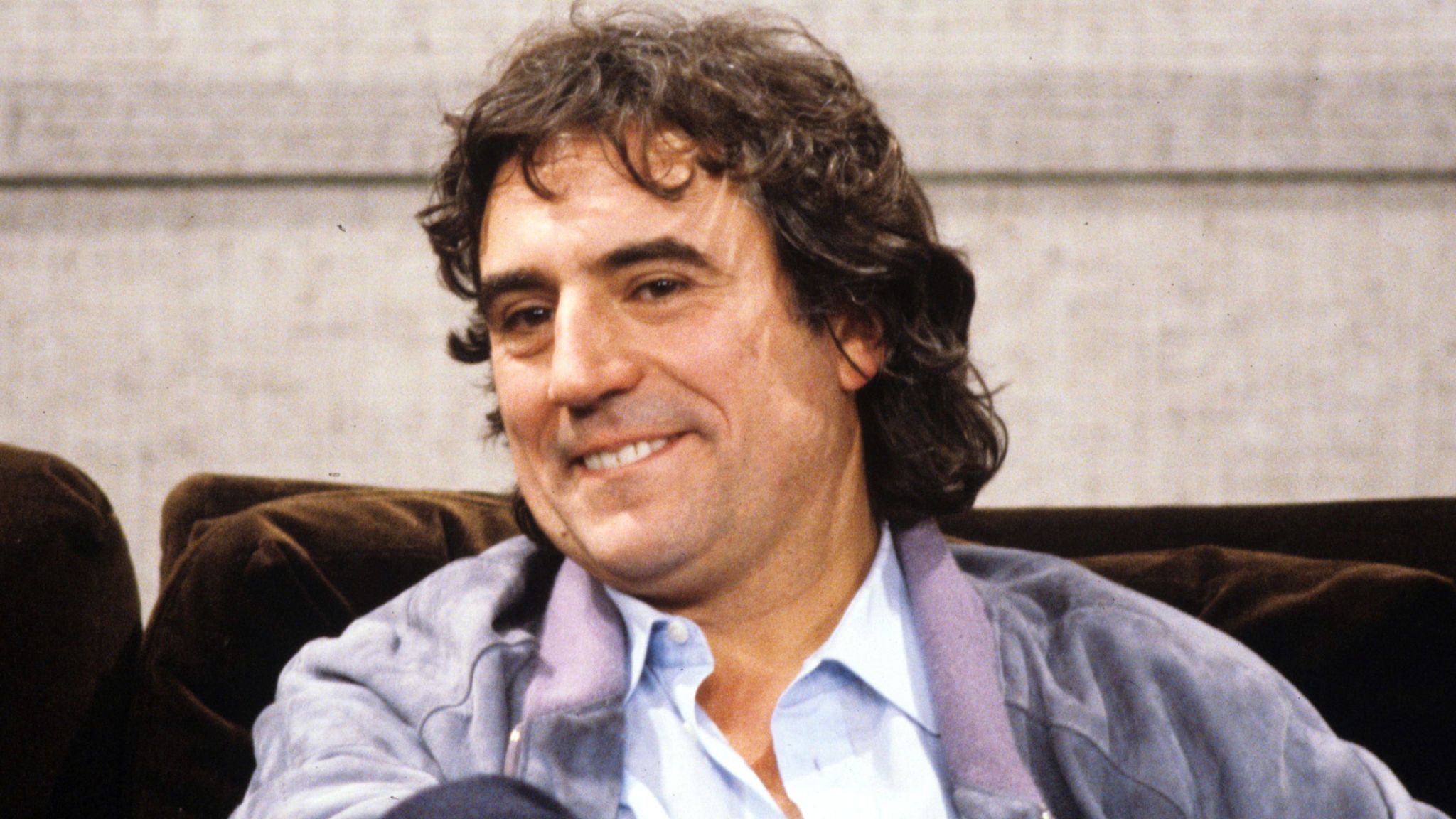 It was revealed in 2016 that Jones had a rare form of dementia
In a statement, Terry's Monty Python co-star Sir Michael Palin said Terry was one of his "closest, most valued friends." He added, "He was kind, generous, supportive and passionate about living life to the full. He was far more than one of the funniest writer-performers of his generation, he was the complete Renaissance comedian – writer, director, presenter, historian, brilliant children's author, and the warmest, most wonderful company you could wish to have."
For all the latest Bollywood News and gossip, follow us on Twitter & Instagram, like us on Facebook and subscribe to our channel YouTube. New videos up every day!
Comments