Celebrities
Nazish Jahangir: The Woman Mohsin Abbas Haider Has Allegedly Had an Affair With
Mohsin Abbas Haider has been called out for physical and emotional abuse by his wife Fatema Sohail in a recent Facebook post. Fatema also alleges that Mohsin had been cheating on her with upcoming model and actress Nazish Jahangir - here's what you need to know about her.
Mohsin Abbas Haider is a Pakistani actor and singer best known for his roles in the film Na Maloom Afraad and the television drama Meri Guriya, the latter of which earned him much praise for his performance as a child abuser and murderer. Mohsin most recently appeared on the big screen for a supporting role in the Meera-starrer Baaji, where he played an aspiring actor. In the Lollywood world, Mohsin was regarded as a multitalented star, with his humble nature and artistic sensibilities such as song writing and poetry. But fans were shocked when late last night, Mohsin's wife Fatema Sohail took to Facebook to post an exposé where she alleged that Mohsin was verbally and physically abusive towards her and had cheated on her a number of times. You can read here for more on the initial story.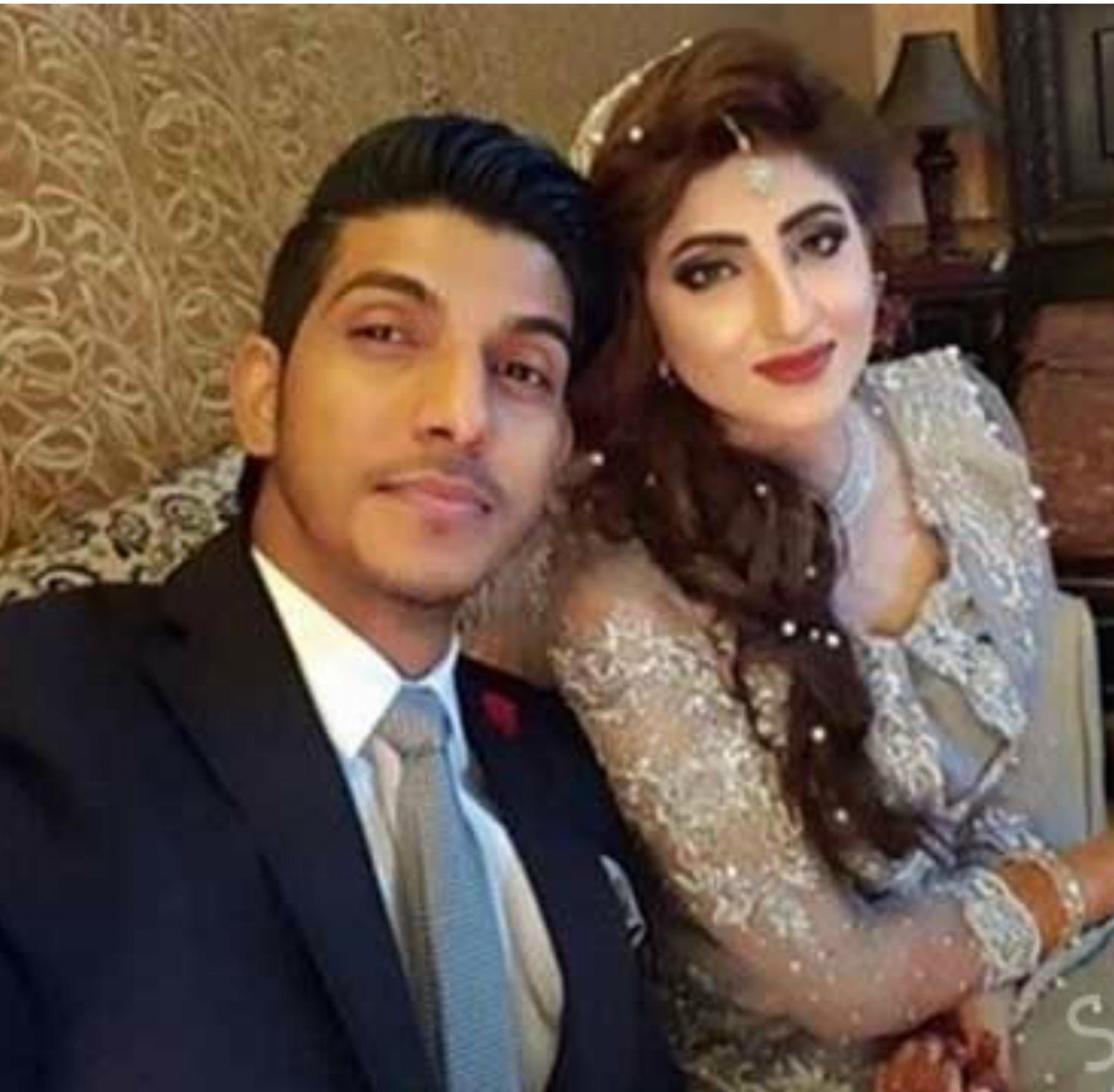 Mohsin Abbas Haider and Fatema Sohail
According to Fatema's post, she had confronted Mohsin last year of having an affair and the actor reacted by beating her repeatedly. Fatema states that she was also pregnant at this time. "On 26th Nov 2018, I caught my husband cheating. When I confronted him, instead of being embarrassed he started Beating me. I was pregnant at that time! He pulled me from hair, dragged me on floor, kicked me several times, punched me on face & threw me on the wall. I was brutally beaten by my husband. My caretaker!" Fatema shared photos of her bruises as proof of abuse.
Expanding on Mohsin's alleged affair, Fatema has revealed that the actor was "sleeping with his GF" when she was suffering from complications while giving birth to their son. This girlfriend has been publicised by Fatema to be an up-and-coming model and actress by the name of Nazish Jahangir.
Who is Nazish Jahangir?
Nazish has already appeared in a number of Pakistani dramas, including Thays, starring Hira Mani and Junaid Khan, and leading roles in Beparwah and Gali Mein Chand Nikla.
The purported relationship between Nazish and Mohsin is not a complete surprise for fans of the model and actress. One Twitter user has posted screenshots revealing that Nazish has publicly had a crush on Mohsin for a while and would post about the actor several times on her social media. The user posted a screenshot of an Instagram Story of Nazish's, where she shared a photo of Mohsin and captioned the story, "ALLHAMDULILAH", "My (heart)", and "All Mine."
I don't know but I'm a regular follower of Nazish Jahangir on insta & let me tell you that she sevral times have expressed her felings for Mohsin in her insta stories, i myself have witnesed with my own eyes. Here's a proof
What a shame#MohsinAbbasHaider pic.twitter.com/Y8zyqwcMTX

— Farshaid Naushad (@FarshaidNaushad) July 21, 2019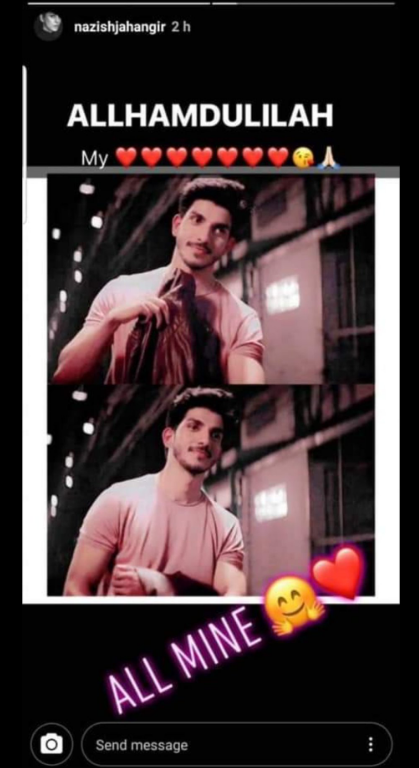 A screenshot of Nazish's Instagram story of Mohsin
Another post of Nazish's that some are taking to be further proof of a relationship between her and Mohsin is a caption she shared on a recent Instagram. In the below Instagram post, the caption, according to the Twitter user, seems to be a reference to the lyrics of "Uddi Ja", a song that Mohsin had written and performed for an episode of Coke Studio Season 9.
Want more ? pic.twitter.com/egRIcW2Lqi

— Farshaid Naushad (@FarshaidNaushad) July 21, 2019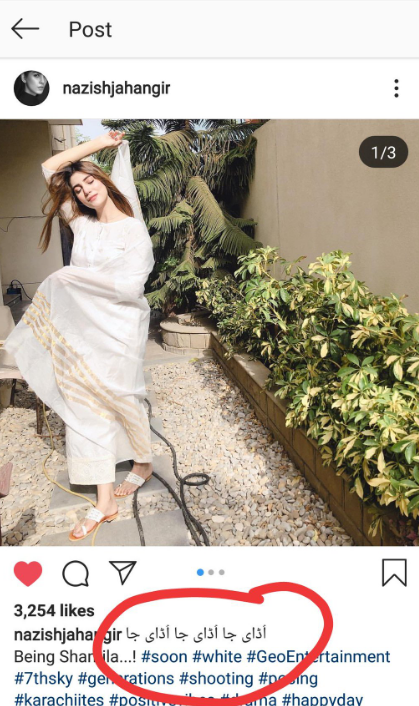 Nazish's Instagram post and caption with the lyrics to "Uddi Ja"
Mohsin's song writing and performance skills in the episode received a lot of praise and the video of the performance is currently sitting at more than 11 million views on YouTube.
Nazish had also publicly congratulated Mohsin for the release of his recent song "Na Jaa", featuring Sohail Haider earlier this year. Nazish re-grammed a post by Patari Music announcing the song's release and captioned the post: "(Thankyou mohsin abbas haidar for updating our playlist :) You gave us a wonderful combo in winters with your mesmerising voice and soothing lyrics...!"
Nazish and Mohsin have yet to publicly comment on the post by Fatema Sohail alleging their affair.
Reactions on Social Media
Reactions to the news on social media have largely been out of outrage against Mohsin, with many calling for the actor to be "cancelled" and kicked out from the industry. Nazish has also received a ton of backlash and has similarly been criticized for reportedly getting involved with a married man.
END HIS CAREER. And while you're all at it kindly end nazish jahangir's career too cause that bitch knows he's married and still choosing to become his gf https://t.co/ewujICOkjd

— Faliha (@failheenn) July 20, 2019
Are we going to ignore Nazish Jahangir who was flirting with a married guy? She's equally responsible for what happened with Fatema. Aurat he aurat ki dushman hai.

— (@TheDumbMedico) July 21, 2019
The phrase "men are trash" is suitable for men like Mohsin Abbas Haider, thats some pretty disrespectful and unethical behavior, not to forget about Nazish Jahangir who equally shares the representation in defining meaning of shit ass personalities...

— Halal_Oreos_ (@issa_no_) July 20, 2019
I just wana ask Nazish jahangir why?
Knowing that he is married you still prefer to date him
Ok if he reached you you should have refused him on the fuckin first place....
Such women are real Snakes

— Brown ty Desi (@pengistaani) July 20, 2019
When you condemn Mohsin Abbas Haider, don't forget about Nazish Jahangir too.#MohsinAbbasHaider

— M Asim Ameer Khan (@itsasimameer) July 20, 2019
Men are trash, there's no denial to that, BUT what about the girls like Nazish Jahangir, who date a guy knowing that he's married or already in relationship?
I personally know many girls who flirt with guys who're in relationship.
Aren't those girls trash too?#MohsinAbbasHaider

— abaid (@KhawajaAbaid) July 21, 2019
However, while outright support for Nazish is few and far between, some users feel that the criticism towards Nazish is unbalanced and that many are attacking the actress without reserving the same treatment for Mohsin who should receive just as much, if not more, condemnation.
i can't comprehend how people are more pissed at Nazish Jahangir than that asshole Mohsin Abbas. He was a married guy, he hit his pregnant wife but people are out there calling that woman several names. both of them are assholes but why is the outrage only for the woman???

— wonderbano (@kalashankauf101) July 21, 2019
All these comments on Nazish Jahangir insta are so insensitive,we don't know her story yet, what lies he must have said to her, what hopes he must be given to her,we don't know and he'd beat up his wife not for her, he'd do tht bcos he's a douchebag & a monster #MohsinAbbasHaider pic.twitter.com/zE85Dh6kwK

— Irritated. (@eyesonroll) July 21, 2019
As mentioned before, everyone involved in the matter other than Mohsin's wife Fatema have spoken out since her Facebook post. There is no word yet however on how Fatema will proceed since the reveal and what Mohsin's actions will be. Many of the posts alleged to be proof of Nazish and Mohsin's relationship are still up on her Instagram page, which is now receiving hordes of negative comments since the news has broken out.