Mission Mangal Social Media Reviews Are In! Here's What Twitter Had to Say About the Film
Mission Mangal released in cinemas everywhere today and Twitter users have already snapped up to post their reviews of the film. Many are praising Mission Mangal for being entertaining and inspirational.
Mission Mangal, a film based on the true story of the work that went behind the Mars Orbiter Mission, India's first interplanetary exploration to Mars, has finally released! The drama flick stars an ensemble cast consisting of Akshay Kumar, Vidya Balan, Sonakshi Sinha, Taapsee Pannu, Nithya Menen, Kirti Kulhari and Sharman Joshi as a group of scientists that set out to complete the Mars Orbiter Mission and how they overcome personal hurdles along the way. The talented cast as well as the inspiring true story behind the film's plot led to a ton of hype building up in advance of its release. Now that Mission Mangal has hit cinema theatres everywhere, Bollywood moviegoers have immediately taken to Twitter to share their thoughts on the film.
So far, reviews for the movie have been largely positive, with many praising the film for its perfect combination of drama, humour, and inspirational message. Check out some of the top social media reactions below!
Actress Bhumi Pednekar clearly adored Mission Mangal as she tweeted, "#MissionMangal is a celebration of India's space missions, talent & brilliance. Full of fantastic performances. So inspired and moved."

One user totally lauded the flick and awarded it four out of five stars. In the review they posted, they stated that Mission Mangal appeals to the lowest common denominator of India in a positive way and is among the best films to come out of Bollywood this year.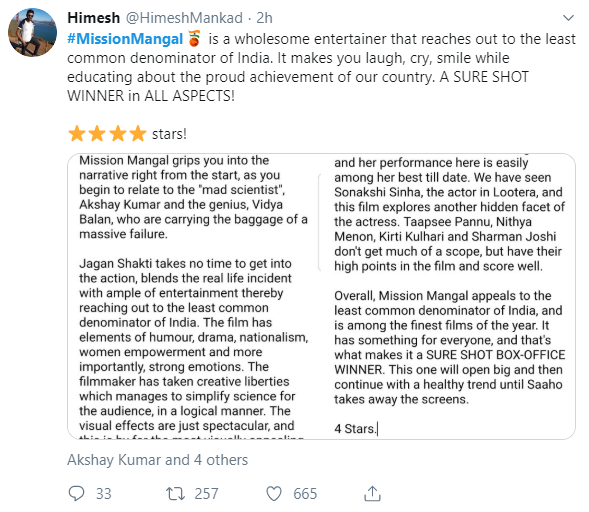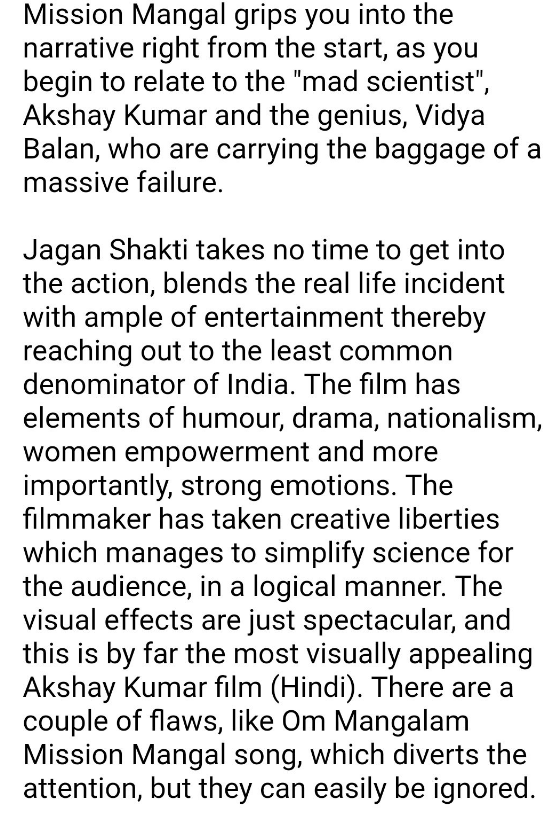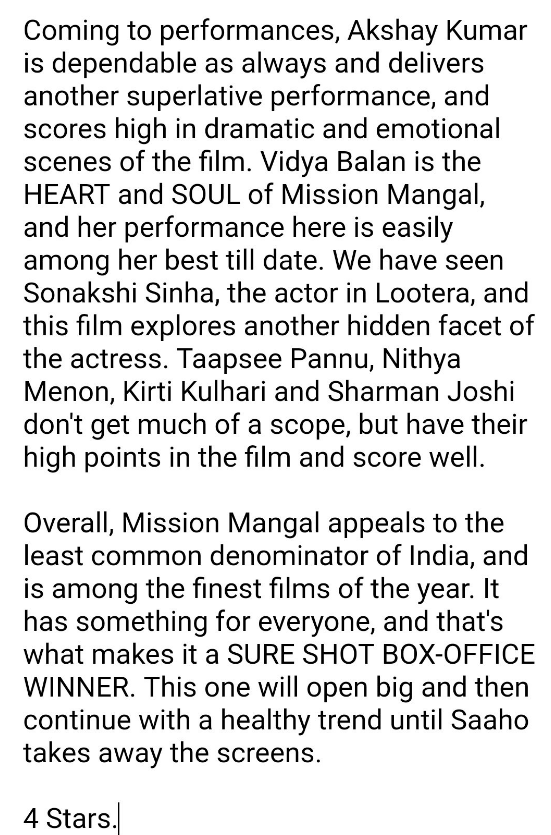 The fact that Mission Mangal was released on the same date as India's Independence Day was clearly not lost on many viewers as they openly praised how proud they felt about India's achievements after watching the film.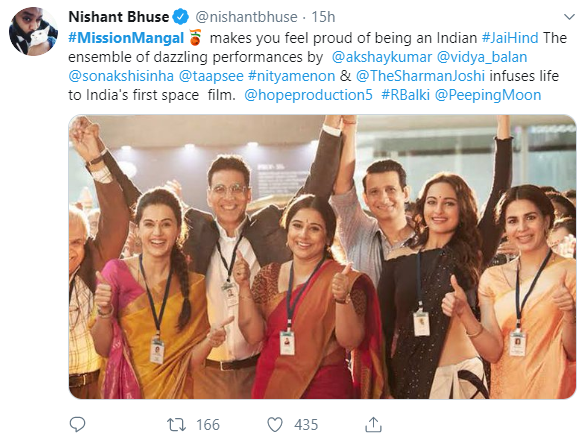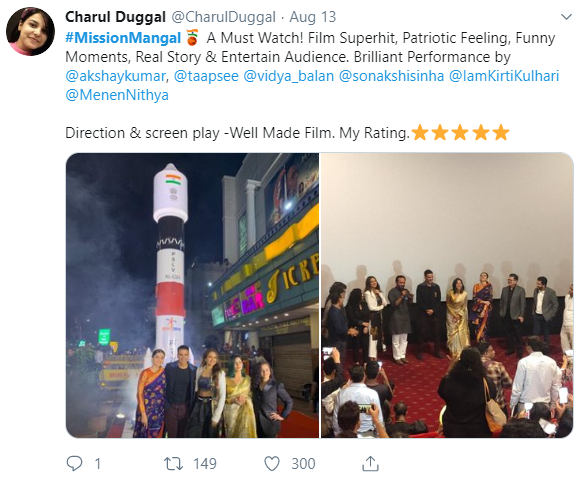 Faridoon Shahryar of Bollywood Hungama also shared his thoughts on Mission Mangal. The Talking Films host tweeted out a two-minute clip wherein he called the film "wonderful" and praised the writing.
Writing of #MissionMangal
is its biggest strength. A project involving a lot of scientific jargon has been presented in a simplified manner. Most importantly it's entertaining right through the course of the film..

My views
pic.twitter.com/6mIalpl4wd

— Faridoon Shahryar (@iFaridoon) August 15, 2019
Viewers also loved how plain entertaining and engaging the film was, from the tension-filled moments to its more light hearted and touching scenes.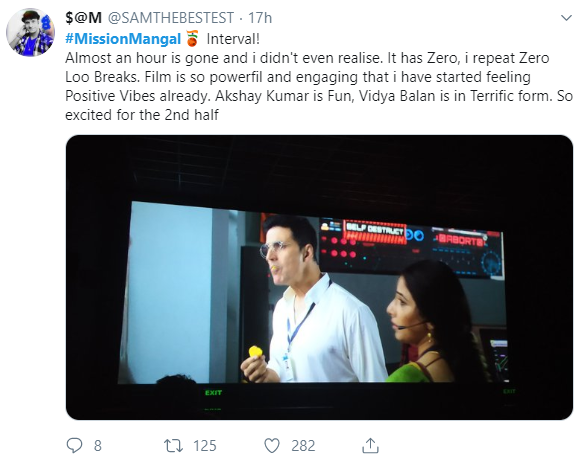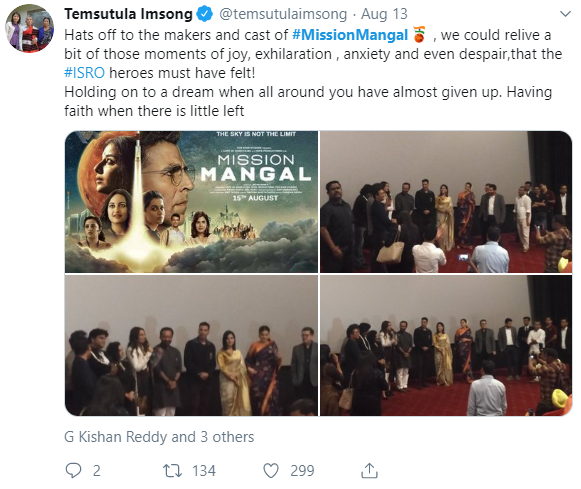 It looks like Mission Mangal is already shaping up to be a certified hit with audiences! Box office predictions for the movie are optimistic. Ticket bookings for the film have already seen astronomical numbers, according to one Twitterati's analysis.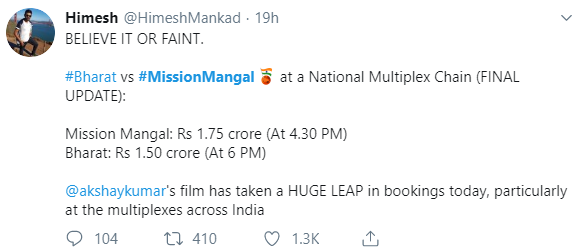 For more news on box office reports and reviews of upcoming films, be sure to stay tuned in to Masala!