#Metoo: Akshay Kumar Speaks Up. Stops Shoot of 'Housefull 4' After Charges Against Director Sajid Khan
Both Sajid Khan, the director of 'Housefull 4' and Nana Patekar, one of the actors in the film, have been accused of harassment
The #metoo movement that has shaken Bollywood ever since Tanushree Dutta made sexual harassment allegations against Nana Patekar has had its first big casualty - Housefull 4, the movie that starred Nana Patekar and was directed by Sajid Khan. Incidentally, Sajid's name has now popped up in a blog by actress Saloni Chopra who detailed how he harrassed her. Another journalist has also spoken up about the Heyy Baby director's obnoxious behaviour with her during an interview and thereafter.
Now, superstar Akshay Kumar has taken a stand. He expressed support to the movement by completely calling off the shoot of the comedy film in which he is playing the lead. Akshay was on a break with Twinkle and his kids and upon return, he issued a statement on Twitter. Reports say, once he landed, the first thing he did was to get an understanding of the entire issue and then decide to hold the shoot completely till the people concerned have been cleared of the charges.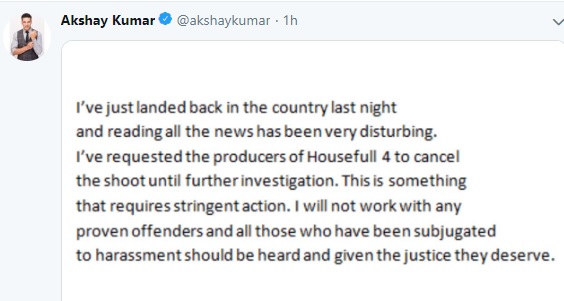 Peepingmoon.com reports that producer Sajid Nadiadwala had erected a huge set for the film costing about Rs. 14 crore in Lokhandwala for the fourth schedule of his comedy franchise that was to begin today. However, Akshay put his foot down despite the fact that both, Sajid Khan and Nana Patekar are his good friends.
Incidentally, even Akshay's wife Twinkle has been supportive of the movement. "Appalled hearing multiple incidents of harassment and it is truly horrific to hear what these women have been through. Everyone involved in Housefull needs to take a firm stance on this issue. This cannot go on."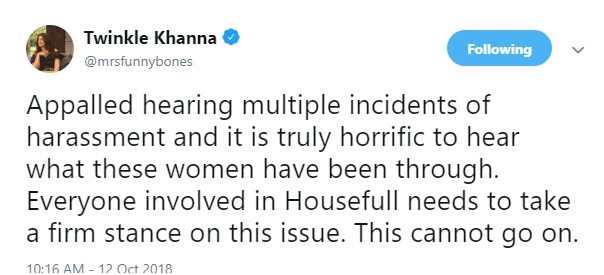 Kudos to Akshay Kumar for taking a film stand against sexual exploitation.